Casper's most famous turkey went missing. A reporter investigates.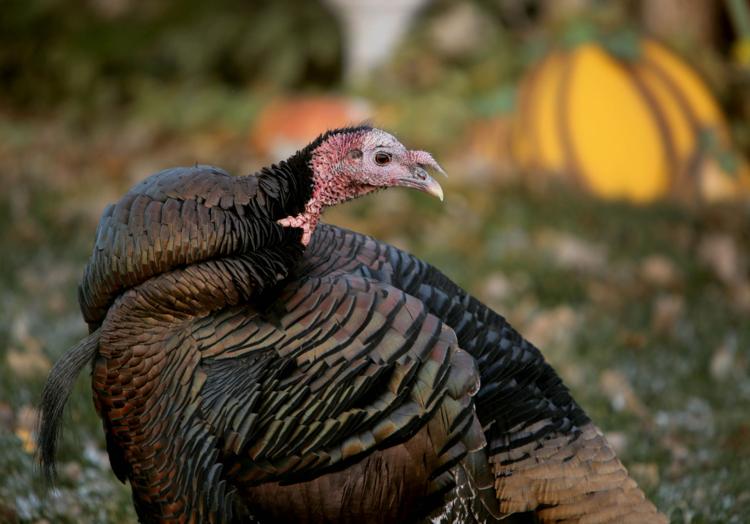 I met Casper's own wildlife celebrity on my second day in town.
There, in the middle of Wolcott Street, stood a large male turkey. The threat of my 3,000-pound car, idling feet from his fragile bird body, didn't even appear to ruffle his feathers.
I peered at him from behind my windshield. He looked back at me, his beady bird eyes surrounded by his bright red, bald head.
I honked. He blinked. I honked again, and then slowly inched my car toward him. He continued to stare until my bumper was inches away. Satisfied he had held his ground, the turkey finally ambled off.
The turkey, known to some as Thomas Gobbles, was a strange and ugly welcoming party to the city that I now call home. At the time, I didn't know he was a quasi-celebrity.
Known for standing in the middle of busy intersections and chasing innocent pedestrians, Thomas has been profiled in the Star-Tribune, featured on Inside Edition and appeared on a Houston television channel. He warranted an individualized warning from the Casper Police Department last summer.
"Thomas has no common sense nor does he follow the clearly articulated statutes governing pedestrian crossing of a roadway (jay walking)," Sgt. Scott Jones wrote on the department's Facebook page. "Thomas also likes to play "chicken", so to speak, and will chase cars down the street. Pedestrians, especially females, should take notice and avoid Thomas. For reasons unknown he is a woman chaser and has chased several ladies on the Casper College Campus."
A few months after my first Thomas encounter, somebody introduced me to his Facebook page, which lists him as a "public figure" and has collected more Facebook likes than the governor's. Dedicated fans posted photos of the large turkey strutting in traffic, snacking in their yards, sleeping on porches and peering through their blinds. One video showed Thomas enjoying one of his favorite hobbies: chasing a UPS delivery driver.
This summer, however, Thomas' Facebook page went quiet. For months, there were no photos. No anecdotes. Thomas' fans began wondering: Where did our friend go?
"Thomas, where are you?" one poster wrote. "Miss you."
And so, with Thanksgiving nearing, I put on my detective hat and went to find out.
Surveillance
First, I needed to survey Gobble's regular stomping grounds myself. One uncharacteristically warm fall day, I drove up to Thomas' neighborhood just north of Casper College and wandered about.
There were no signs of an aggressive tom turkey.
I popped my head in the Werner Wildlife Museum, on the north edge of campus. If anybody would know, it would be the wildlife people.
Two women sat behind the main desk and stared back at me as I explained my mission.
"Shoot, I haven't seen him since summer," said Eileen Lemm, an assistant at the museum.
Museum staff usually encountered Thomas at least once a month, she said. And while they've seen Thomas' girlfriend, distinguishable because of her limp, Mr. Gobbles has been missing for at least a few months.
I stepped back into the wind and started knocking on the doors of neighboring homes. After a few attempts, a woman cracked open the heavy red door to her home and peered at me inquisitively through the 2-inch gap.
Kathy Parker explained she would've invited me into the home where she's lived for 19 years, but just had eye surgery and wasn't supposed to expose her eyes to the light.
Had she seen Thomas recently?
Nope.
"I used to see him almost every day," she explained. "But I'm worried about him."
I knocked on a few other doors. One man, confused by the young woman at his doorstep asking about a turkey with a name, explained he's from out of town.
"I'm just visiting my brother, man," he said.
I realized I couldn't explain Thomas Gobbles succinctly to this man. How does one encapsulate the glory and community importance of a cantankerous turkey in a few seconds without sounding loony?
I thanked the man and walked away.
At a blue house on Durbin, Kiki Rochelle told me she hadn't seen Thomas in about six months. He would sometimes disappear for a few weeks, she said, but has never been gone this long before.
Thomas liked to sit on the welcome mat outside the front door, Rochelle said.
"He would leave a whole bunch of unpleasant presents," she said, toeing the now-clean mat. The day before last Thanksgiving, Thomas had decided to take up his post there. When Rochelle attempted to take a selfie with him, he charged and Rochelle ran screaming.
Despite the attempted assault, Rochelle said she treasures Thomas as a charming neighborhood quirk.
"I hope you find him," she said as I walked away.
I felt similarly.
On the trail
With initial surveillance unsuccessful, I started making phone calls.
Previously, Casper College security would get regular calls from panicked students being pursued by the turkey. But they hadn't had any reports of T-Gobbs recently and hadn't seen him in at least six months, a security officer told me. Casper Police told a similar tale.
I called Metro Animal Services, which also regularly processed reports when Thomas got feisty, and was put on hold. As the hold music played — a loop of a very loud advertisement for an upcoming Judas Priest show at the Casper Events Center — I pondered my career ambitions.
I set out as a reporter to tell the hard-hitting stories. That's what I told my parents when they questioned my decision to pursue journalism. How did I come to be here, in a windowless Wyoming office, calling various public officials about a turkey?
I shook off the doubt. This story needed to be told.
The horrific hold music ended and a Metro employee told me they hadn't had any Thomas Gobbles reports in a while, though she couldn't tell me exactly how long it had been. The animal control office used to get regular calls about Thomas, but the reports had tapered off in recent years.
"People realized he wasn't going anywhere so they stopped calling," she said.
Over Facebook, I reached out to some of the people who regularly posted photos of Thomas to see if they had seen him. Stefanie Jackson said Thomas used to come by her house on 14th Street every day for breakfast and dinner. But he hasn't come by for his daily snack since March, she said.
"I have asked many people on my walk if anyone has seen him," she wrote. "No one has. I miss him so much."
In any good detective movie, there reaches a moment when the protagonist is stumped. By this point, I was there.
Nobody knew where Thomas had gone, and nobody could confirm the worst.
But I had one last source to contact. I left a voicemail.
About a week later, I got the call.
Pick up Thursday's Star-Tribune for the next installment in the search for Thomas Gobbles.