2925 Cy Avenue
Casper
,
WY
82604
Last Updated: May 12, 2017
| | |
| --- | --- |
| Sunday | |
| Monday | |
| Tuesday | |
| Wednesday | |
| Thursday | |
| Friday | |
| Saturday | |
Holiday hours: 24 hour emergency services available.
Special hours: 24 hour emergency services available.
Welcome to
All Trees
---
All Trees is a full-service tree company that has proudly serviced the Casper community since September 6, 2013 by providing a variety of tree services. Locally owned and operated by Corey Nielsen and Ryan Wenger, we are fully licensed and insured. All Trees also is Better Business Bureau accredited and has an A+ rating on Angie's List.
At All Trees, "no job is too small or too tall." We have multiple ISA certified arborists on staff and are the only tree company in the entire state of Wyoming to have a Master ISA certified arborist on staff. Although our roots are in Casper, we take care of residential customers and commercial clients in a 150-mile radius surrounding Casper. We also take a lot of pride in being a "good solution arborist."
In addition to having five licensed applicators on staff, our team has more than 40 years of combined professional tree experience. With this expertise, you can count on our veteran specialists to tackle any type of tree issue at your residential or commercial property. Whether you're dealing with hanging branches or a bothersome stump, we take on any tree. We have nine members on staff and each is committed to giving 100 percent on every job.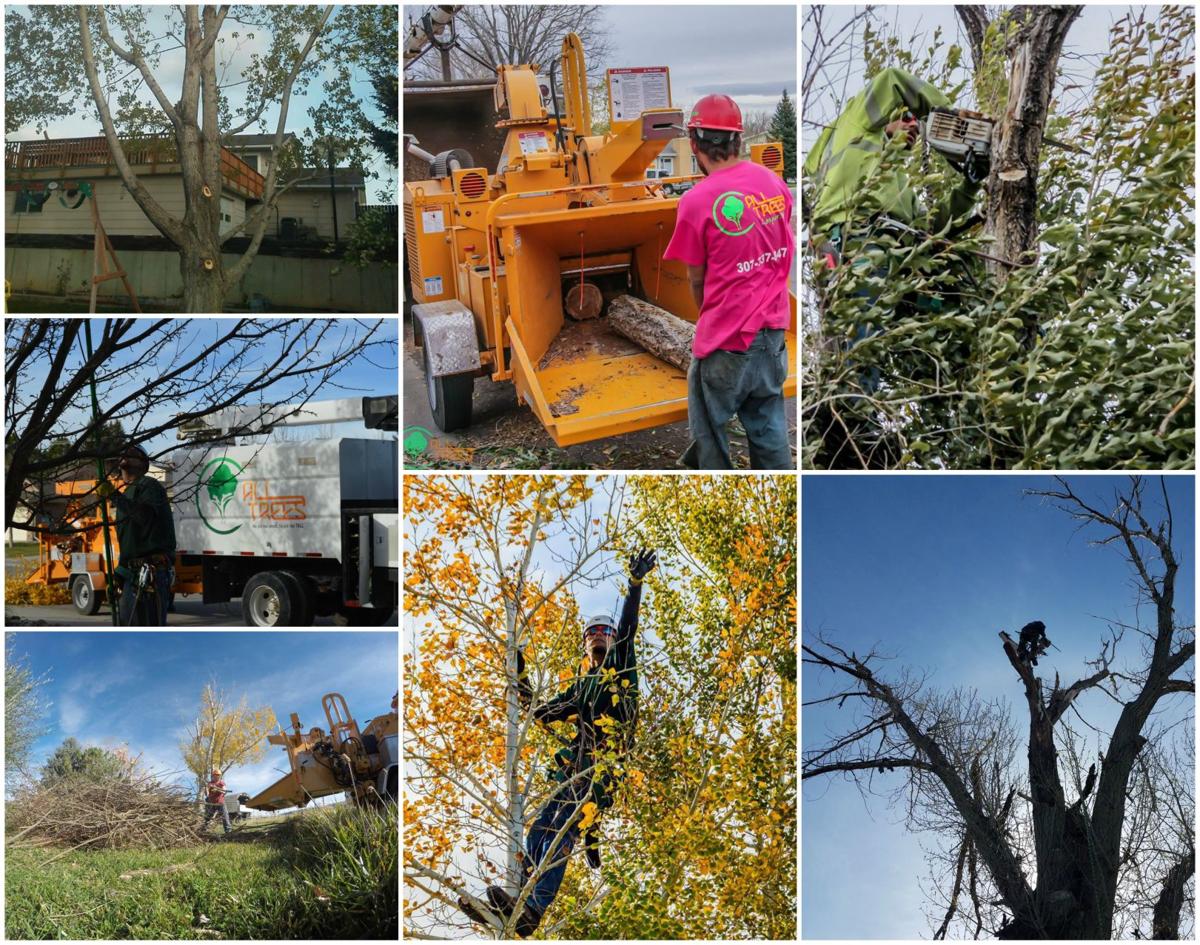 Services
---
We are available for 24-hour emergency services and will work with your insurance in case of disaster. Although we specialize in tree trimming and tree pruning, we also provide several additional services:
* Tree removal
* Stump grinding
* Irrigation
* Landscaping, including water features, retaining walls and ponds
* Fertilizing
* Plant healthcare
* Planting
* Snow removal
For more information on our services, you can call us at (307) 337-8474. To submit a request for a free bid, you can visit our website at: http://alltreescasper.com. You also can like us on Facebook at: http://alltreescasper.com or email us at: info@alltreescasper.com.
How We Are Different
---
All Trees takes time with your tree, leaving it looking better than when we started. Unlike our competitors, we don't hack away at branches. We take our time with pruning and trimming. Our prices are competitive and fair. Give us a call or visit our website to submit a request for a free bid.
Three things that really separate and differentiate All Trees from the competition:
(1) We utilize environmentally-friendly fertilizers and techniques
(2) We have safe and effective equipment for tree trimming and tree removal
(3) We offer free on-site consultations for new customers
Each of our specialists has their own truck, equipment and tree tools. We are fully equipped to handle trees of all shapes and sizes. Our veteran crew has tree trimming and pruning down to a science.
Branch out and call All Trees today at 307-337-8474!
Testimonials
---
"My daughter's cat was stuck up in a tree for almost 24 hours. Corey and his partner were so kind and thoughtful and came and rescued Sox for her. They were quick, understanding, and wonderful. Would recommend them anytime. Thanks again you two. Hope you both have a wonderful Christmas."
- RANDI S.
"I hired a gentleman to trim off a few branches from my old cottonwood, long story short my issue became dangerous, DON'T JUST HIRE ANYBODY TO TRIM TREES. I Called All Trees today and in 10 minutes they were at my house, another 20 minutes and they had a bucket truck here. They trimmed the two branches that we agreed upon, and continued on and trimmed my entire tree for no additional charge. I more than highly recommend them, I am so grateful. I'm 49 years old and I've never been treated in such a fashion. Thanks guys!"
- JAMES F.
"We had All Trees remove the dead tops of two of our trees which had died in the late spring freeze a couple of years ago. They were friendly and did a great job, not only removing the dead tops of the trees but also removing dead branches that we had not noticed in the leafy areas of the trees as well.While they were working they thinned the trees a bit to promote better future growth. Ryan, their Certified Arborist (and one of the few in Casper), took the time to examine our trees and found that one of them had a fungal infection. He pointed out the damage in several areas and explained how the fungus was hurting the tree. He told us that we needed injections to help the tree recover. Since All Trees does not provide that service, he referred us to another company who could help us out. All Trees not only cleaned up after themselves very well but left our lawn in better shape than they found it. Highly recommended!"
- LEROY C.
"All Trees does an awesome job! They are very professional, quick, and thorough. They do great work and I would hire them again!"
- JENNY M.
"None of the other tree service companies were interested in removing my trees...if fact they got irritated with me because they wanted my to keep them and spray them continually. However, I found All Trees who answered so many questions that I had and explained to me things I needed to know about my trees. They did remove 3 trees. WOW! Good thing they did - they were rotting on the inside!!! (And the other companies refused to cut them down for me.) I am so grateful for the men at All Trees. They are honest, efficient, and very helpful. Great personalities. It is very obvious that they totally enjoy their job! (It sure looked to me like they were having fun doing it.) Then the big surprise came...They not only cleaned my yard, but the sidewalk and street too. When they were done with the job the only evidence that they were at my home is the fact the trees no longer were there! I will only do business with All Trees from here on out! Thank you gentlemen for your excellent service!!!"
- DEBI K.
"Very professional and courteous and very good clean up after they finished. Highly recommend them!"
- RYAN H.
"Very pleased with the work they just did on my yard. Fast yet careful from start to finish. The work was above and beyond expectations and the whole crew was courtius and seemed to enjoy what they do. The clean up was quick and left my yard with no trace of brush. I highly recommend to anyone."
- STEVEN L.
"Best crew around. Good cleanup, friendly guys, very knowledgeable. Highly recommended."
- HANNAH S.
"Ryan, Cory and the guys have trimmed our trees the last two years. They tell you what they are going to do and then do what they said they would. They are very courteous and professional. I WILL HIRE THEM AGAIN."
- JIM H.
"Everyone is so enjoyable to work with. All Trees takes care of you like there your family. Best Tree service in town, and they do it right the first time. I would recommend them to everyone."
- COREY N.
Accepts:

American Express

Cash

Check

Discover

MasterCard

Visa
All Trees, LLC is a new, locally-owned and operated business for your tree services. Here at All Trees, we provide a variety of tree services, including trimming, pruning, removal, stump grinding, stump, removal, and more. We take our time with your tree, leaving it looking better than when we started. Unlike our competitors, we don't hack away at branches, but take our time with pruning and trimming. Our prices are competitive and fair. Give us a call or visit our website to submit a request for a free bid.
Services:
*tree removal
*tree trimming
*hedging
*pruning
*stump removal
*stump grinding