Ice skaters flocking to the new ice rink in downtown Casper this winter haven't had to look far for coffee and hot chocolate. Metro Coffee, located just across the street, has enjoyed a large influx of business from the temporary rink at David Street Station, and the coffee shop's owners say visitors have boosted business in the summer as well in the nearly 1½ years the plaza has been open.
The Downtown Development Authority opened the plaza in time for the August 2017 Wyoming Eclipse Festival. Construction of the second phase finished in June with a new splash pad and seasonal ice skating rink, which will remain open through Feb. 14. City officials hoped David Street Station would help make downtown more attractive and bring more people and increased business to the area. Several new businesses opened along with the plaza before the 2017 eclipse, and the plaza has continued to be a hot spot downtown, hosting events like festivals, nationally performing acts, local performers of all ages, movie nights, farmers markets, game nights, Art Walk events, a University of Wyoming athletics rally and even a fly fishing expo.
It's no surprise that the excitement would draw customers to Metro, the nearest warm oasis of hot (or cold) beverages. Co-owner Sean Peverley said the coffee shop has experienced roughly a 25-30 percent increase this winter from ice skaters.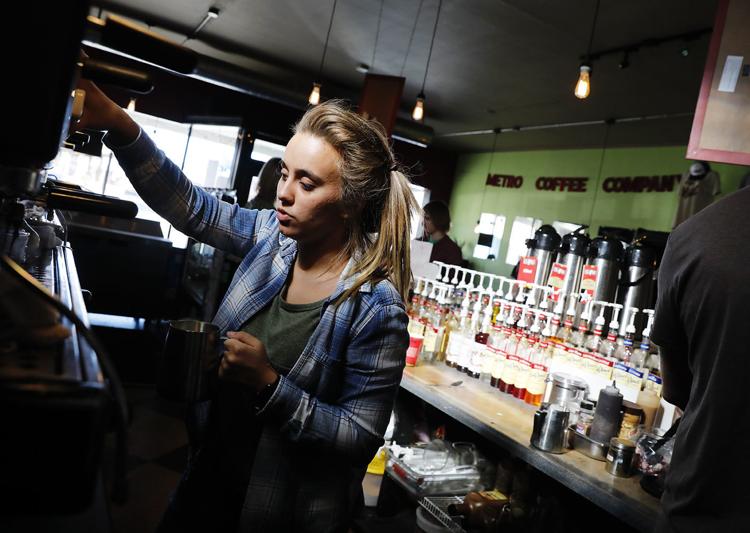 Many downtown business owners, however, don't notice the plaza having such an effect on sales. Though most seem to generally agree the influx of people and attention will help the entire area and its businesses in the long run, some say that if they are not next door to the plaza, they aren't close enough for business to benefit. And the question remains of how to translate increased foot traffic to increased sales.
Downtown Development Authority CEO Kevin Hawley said businesses have told his staff that the increase in people downtown is making a positive impact. Hard numbers are coming soon from the state based on taxable gross sales receipts totaled from the business district, Hawley said.
What's certain, he said, is that people are gathering downtown and talking about downtown.
"More important than any dollar figure," Hawley said, "... is that we've changed the narrative or the conversation about downtown."
***
Since June, the station has hosted more than 100 events, seen 385,000 visitors and is about to crest its yearly goal of 10,000 ice skaters, Hawley said.
The opening of the splash pad brought about a 10 percent business boost for Metro's summer sales, which didn't dip much after, Peverley said. During ice skating hours, business often doubled, he said.
The shop staffed more employees during skating hours and set out a second espresso maker to help move coffee orders faster, Peverley added.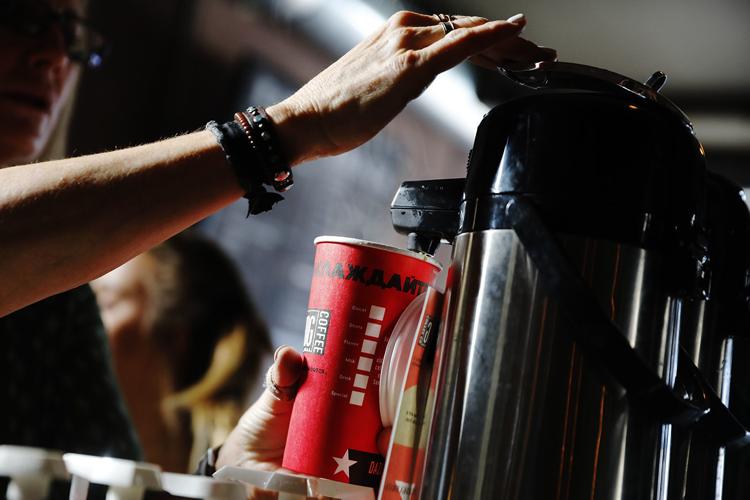 They stocked more coffee and at first found themselves running out of items they couldn't have predicted, like cup carriers for bringing beverages across the street. The coffee shop is seeing more families in addition to its previous clientele of mainly adults and teens.
"But now all of the sudden, we're seeing little kids — a huge increase in the amount of hot chocolate," Peverley said in early January. "Our chocolate syrup inventory has honestly doubled."
The rink has slowed since school resumed, though Metro's owners hope to keep drawing families after the skating season.
"We're trying to make it still ... be a family-oriented place where people can kind of come and hang out after they're done with their busy days," Peverley said.
Owner Jason Dye moved 307 Metal Works there from the Wolcott Galleria last month for the opportunity to be closer to activities like ice skating and the splash pad, he said.
"Everything is kind of moving that direction in the downtown area I think," he said. "Everything kind of centralizes from there out downtown."
Just across Second Street, Wyoming Camera Outfitters owner Dinty Miller expects that his business has also benefited.
"Just the general traffic has improved, which makes the core area just so much more viable and attractive to people," he said. "And since we're right down in the middle of all this action, we have to have some small benefit from it at least, just because of the foot traffic."
***
It's clear more people have visited downtown Casper in recent months with help from the plaza. Most businesses in the area, though, have not received as dramatic a boost in sales from the plaza as Metro Coffee.
Kathy Edwards owns clothing and accessories shop The Cadillac Cowgirl, which also houses the maternity shop Bump Ahead. She is the president of the Downtown Casper Business Association, which is comprised of "merchants and professionals whose goal is to make downtown the premiere (sic) shopping and entertainment district in Casper," according to its website.
She's seen a major increase in downtown daytime foot traffic from David Street Station during warmer months. The plaza draws large crowds as well as tourists, especially in the summer, she said.
"I think it really is starting to make Casper a tourist center more, and I think those people who are coming to visit are going to naturally want to see what's downtown," Edwards said.
Anytime people are downtown, they're reminded about what the area has to offer, Edwards said. Families skating in the evenings and on weekends, for example, will be drawn to restaurants and see shops they want to visit.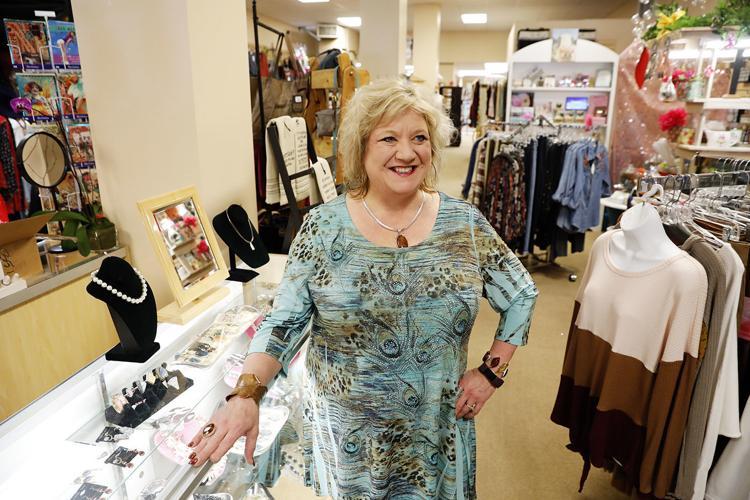 She hasn't seen a direct increase in sales because of David Street Station. But to her, the value is in the people visiting and thinking about downtown Casper, she said.
"As long as downtown is doing something prosperous, and we're adding really neat features to it, we all benefit. Every single merchant down here benefits," Edwards said. "It may not be that very day but, like I said, you may be driving down to go to the splash pad and you have to circle the block and you see my window and go, 'I'm going to go there when I have a minute.' And people do."
Jacquie Anderson, who owns Jacquie's Bistro, Brunch & Bar, said the plaza is part of the equation for a successful downtown. She tells customers about other businesses and the skating rink and splash pad, for example.
"What I think David Street Station does is it becomes part of the experience downtown," she said.
Like a handful of business owners, Anderson said business has been good but she doesn't directly attribute it to the plaza.
Owner Wayne Wilson said the skating rink hasn't directly affected sales at Wyoming Shirt & Gift on Second Street, but he also noted that the station brings people downtown.
"It's more people, it's more awareness and more family events, and those are all good things," he said.
"It's not going to be an instant overnight change," said Vicki Burger, owner of Wind City Books. "But it is growing and I think the more activities that are available downtown the more people are excited about joining us down here."
Pete Owen, owner of Steamboat Deli & Outlet on Center Street, said he too sees the plaza as a positive impact for downtown businesses. He sees many more people out, particularly in the warmer months, for activities and events at the plaza, like concerts, farmers markets and festivals.
"Anything that brings a crowd is great because before and after those events go off, people are looking to eat or have a drink or go get a cocktail at the bar," said Owen, a past president of the Downtown Casper Business Association. "All of that benefits the downtown area. We have everything you need right here so once you're downtown, you don't need to leave."
***
Edwards said her shop is off the beaten the path from David Street Station, even though its Center Street location is just a 3 minute walk from the plaza.
"It doesn't trickle as much as we would like for it to, to this area," she said. "But you know, I think that that just means that we need to do something more and special to bring people from the station down on to (Center) Street. But I think in the summertime we really see that they have a push for people walking up and down the blocks because the weather is nice; it's just kind of a natural progression."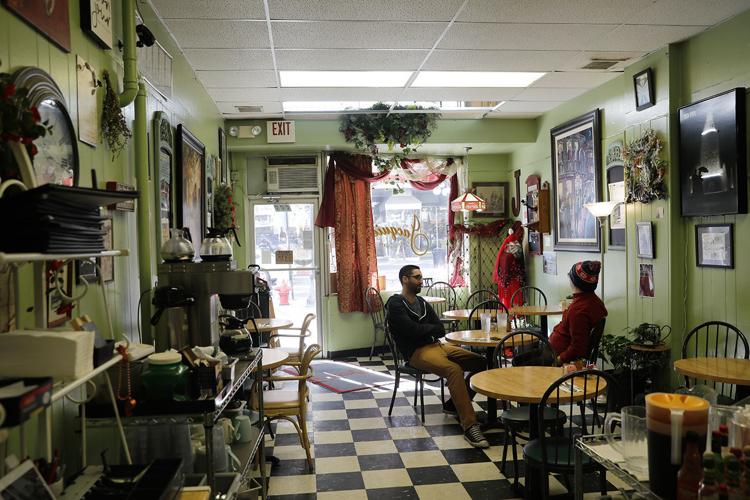 Anderson also said Jacquie's Bistro is too far away to be directly affected.
"But indirectly it definitely is a positive impact — the energy, the new things that we're coming up with to engage the community in downtown," she said.
Her restaurant also is just minutes from David Street Station.
With foot traffic only going so far in Casper, parking is a big part of the equation.
Many business owners agree that parking downtown has always been an issue. But Edwards and others said they don't see problems arising from increased traffic from David Street Station.
"Our issues with parking are the people who work here park in front of their buildings instead of in their authorized parking spaces," she said.
She'd like to see more customers use the city's parking garage. Her shop, The Cadillac Cowgirl, is among businesses that offer a validation sticker that customers can put on their garage ticket stubs for two hours of free parking. Some downtown merchants who offer the stickers want customers to spend money in their business first, but she said she'll validate anyone's parking.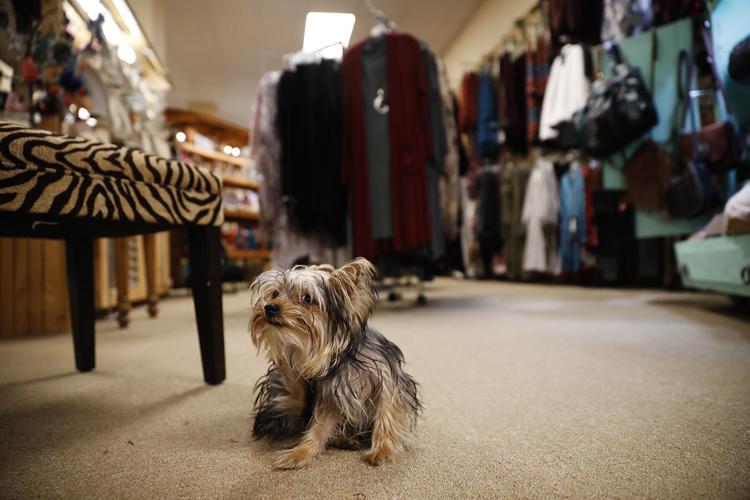 The 50-cent cost of each sticker is one Edwards said she is happy to pay, but she still has four stickers left from a $20 roll she bought 3 1/2 years ago when she moved her shop downtown.
"I would do anything if we could do something neat to get people using (the parking garage)," she said.
Owen's customers at Steamboat Deli & Outlet, just feet from the garage, tell him they don't park there. He hopes a downtown parking study that came out last spring will lead to solutions.
"What we've found from our customers is people just don't like parking in there," he said. "It just doesn't have a feel that people are comfortable with, whether it's lighting or I don't know. I know we spent $80,000 on a parking study, and I hope that the city is looking very closely at those recommendations and making some improvements."
The Downtown Development Authority manages the city-owned parking garage, which is free on nights and weekends. Without a validation sticker, it costs $2 for two hours and $1 for each additional hour on weekdays. The garage also offers monthly rates.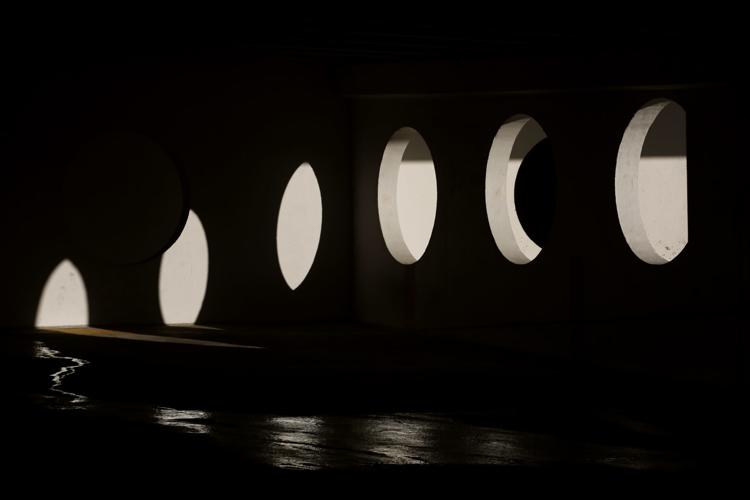 About 15 to 20 downtown businesses offer validations for two hours of free parking, David Street Station operations manager Jackie Landess said.
In response to a stigma with the parking garage as being dark and possibly unsafe, the Downtown Development Authority 1 1/2 years ago paid for a section of LED lights near the Center Street entrance that are three times brighter than the older incandescent lights, Hawley said. The city has budgeted an upgrade of the LED lights for the whole parking garage.
Anderson said parking is part of the growing pains for downtown, and she doesn't see David Street Station as a parking issue, either. She said long-existing traffic issues are more problematic than parking issues and believes one-way streets should become two-way streets.
Parking near David Street Station is plentiful in lots available around the station, Hawley said, and he hasn't heard complaints about it. Plaza visitors seem happy to walk to the station during busier times when spots aren't available on adjacent streets, he said. In fact, Landess said it's more common for people to park near the station and walk into downtown proper than vice versa.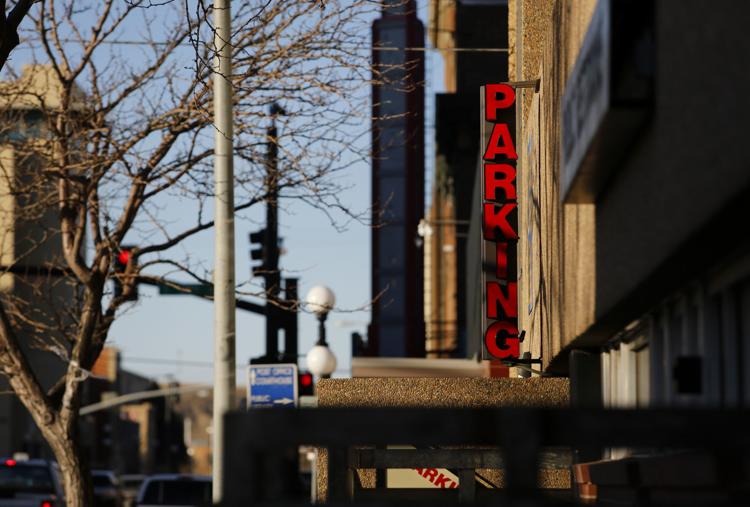 Owen said parking isn't an issue because of the plaza, though it would be a good problem to have if that were the case.
"I would say if somebody parked right there and walked over to David Street Station, it might be the first time they see our business, so at least we're being noticed," he said, "and I think those are good things in the long run."
***
Rialto Soda Fountain owner Rob Staffig-Piotter said he saw an influx of business when the splash pad opened last summer, especially during peak hours in the daytime.
But he said he would like to see business promotion and advertising opportunities at the plaza, including banners and announcements reminding people to shop local downtown businesses.
"I would like it if they would go a step further to promote the downtown businesses, the downtown as a whole, reminding shoppers to shop downtown Casper," he said.
Hawley said the Downtown Development Authority encourages businesses to take advantage of the plaza's crowds in their own marketing and encourages people and business to reach out to them with ideas about partnerships.
"Our goal all along was to build something for the community — a space where families and citizens could come together, you meet new friends, see old friends — it never was just to drive sales to businesses," Hawley said. "That was an ancillary benefit, certainly. But that's something that we can't control. What we can control is bringing bodies downtown, and then how those neighboring businesses participate or engage with those bodies, that's kind of up to them."
Several businesses offer sales and promotions that coincide with events at David Street Station, Hawley said. The plaza has helped bring downtown to the forefront of people's minds as a gathering and meeting place. But they can't control sales and business.
"David Street Station isn't the silver bullet that's going to save everything," Hawley said, "It's a component in our redevelopment strategy and an opportunity for downtown to continue to grow, for us to continue to invest in our community and the heart of our community, which is our downtown."
The plaza is a public project that benefits the whole community, he said. The community responded with new businesses like Racca's Pizzeria Napoletana, Gaslight Social and the Wold family's renovations on David Street, he said.
"We did a project that was for everyone, that benefited everyone, and the private sector responded," Hawley said. "So our job at David Street Station is to make sure that we fulfill our end of the agreement by continuing to program that space and bringing people into downtown and giving them a positive experience. But the rest of it is up to the private sector. They need to continue to invest and grow downtown."
***
David Street Station itself was a result of public and private cooperation.
The plaza was built with more than $5 million in private donations and $4 million in public funds. Its operations and event costs are all covered by private donations, so continued financial support and volunteers are needed to continue and create the events, Hawley said.
"I think it's important to remind people that this happened because the community got behind it and the community supported it," Hawley said. "So if there are all of these new businesses that you're excited about, and you like the direction that downtown is going, you need to continue to support it because these businesses don't run on well wishes or a pat on the back."
Businesspeople like Miller, of Wyoming Camera Outfitters, see the plaza as a piece of the puzzle in downtown Casper's growth.
"Fundamentally if a convention center could be located down here," Miller said, "that would be the flower in everyone's cap."
Owen, the Steamboat Deli owner, looks forward to a planned state office building just off downtown, where he's heard 400 employees will work, and upcoming improvements to Midwest Street.
"So I think there's very good things happening in the downtown area that are continuing," he said.
As for David Street Station, the plaza is planning its second full summer with another lineup of events. The community has responded by attending events and supporting the plaza through donations and sponsorships as well as volunteers, Hawley said. And after its first full summer and first winter with the ice rink, Hawley expects bigger and better things in the future for the plaza and downtown, as long as the community continues its support.
"We're just going to continue to fulfill our mission at David Street Station," Hawley said. "I think if we continue to do our thing and people continue to talk about downtown in a positive manner, they're excited about downtown, people continue to come down here and support it and attend events, that the private sector is going to continue to respond.
"And as the private sector does one greater thing and then the next greater thing, it only strengthens all of downtown and spurs more development. So if you were to ask me, I would say this is just the beginning. The best days are ahead of downtown and Casper."