Can blockchain save Wyoming? Why the Cowboy State is banking big on the technology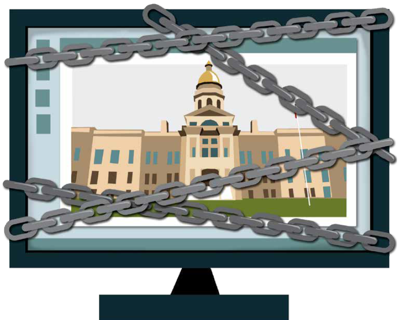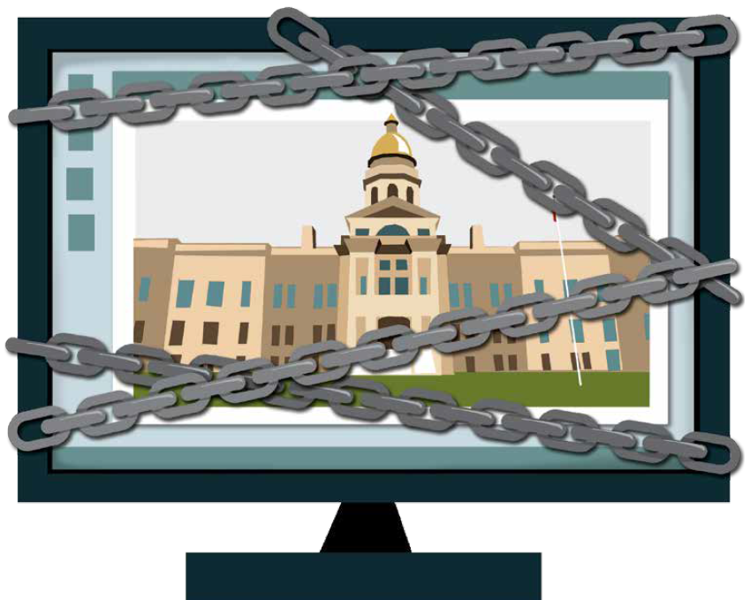 The buzzwords at Wyoming's Legislature rarely change. For decades, lawmakers have talked about whether spending delivers enough "bang for the buck" or whether a bill is "ready for prime time." Political observers of all stripes complain of legislators' tendency to "kick the can."
But this year, a new word entered the legislative lexicon: "blockchain."
It came up at unexpected times, typically with a hearty dose of confidence attached, like when House Speaker Steve Harshman, R-Casper, was trying to convince a group of senators that his plan to funnel corporate filing fees from the Secretary of State's office to schools was a sure thing.
"You can see the revenue coming out of their office — about $13 million per year," Harshman said. "Now there are the blockchain boys ... and that thing is just starting to take off."
That thing — "blockchain" — is a relatively new technology that allows for secure online transactions. It underlies virtual currencies like Bitcoin, but advocates say it's also a useful tool for pretty much anything where internet security and verification matter (think bank transfers or online voting).
And, overlooking its seedy and sometimes strange reputation, blockchain seems to have captured the hearts of powerful Cowboy State players, from top lawmakers to Gov. Matt Mead's economic diversity team and professors at the University of Wyoming. In just a few months, Wyoming went from one of just a small handful of states that barred virtual currency trading to a playground for blockchain entrepreneurs. But what blockchain can actually do for Wyoming remains unclear.
A more secure internet
The inner-workings of blockchain technology are fairly complex, but it is a big deal because it enables online transactions that don't require a central entity — a bank, government or single company — to verify that a particular digital file, such as money, has changed hands and that only one, distinct version of that file exists.
It operates by using decentralized databases, similar to ledger books, to verify digital transactions. Thousands or more of these ledger books are housed on the separate computers of users scattered across the world, and for a transaction using blockchain to be verified, all of these computers must simultaneously confirm that the individual transferring the data is the rightful owner. Once the deal is complete, the books will all reflect that the data has changed hands.
It's easy to understand how this applies to virtual currencies. Before blockchain, creating a virtual coin that wasn't connected to a nation's hard currency and tracked through the formal banking system was impossible. Anyone could simply duplicate a single copy of the virtual coin endlessly, the same way one might make a copy of an audio file to share with friends or email a word processing document to a colleague while keeping another copy on their own computer.
Obviously, such a system wouldn't work if the file in question was supposed to be a cash equivalent, just as the American monetary system would collapse if photocopies of dollar bills were considered legal tender. But it's not just virtual currencies that blockchain has enabled. Advocates tout its potential role in online voting and other internet-based systems where security is essential.
For example, while a Wyoming county could theoretically allow online voting right now, the typical way in which the internet operates means that the county would run that voting through its own website or that of a contracted company. If someone wanted to manipulate the election results, he or she would just have to gain access to that one website. By putting an election onto a blockchain, each vote would have to be verified by the entire decentralized database — if one part of the system was compromised, the voting system would freeze.
In other words, for all the hype surrounding virtual currencies like Bitcoin, which has skyrocketed and plummeted in value as it becomes a source of wild speculative investing, blockchain technology itself is really about online security writ large — and Wyoming is hoping it'll prove to be big business for the state.
Creating a blockchain 'sandbox'
The argument for how Wyoming, a state with an anemic high-tech industry, could see major growth in a cutting-edge field of new technology, rests on the regulatory environment that the state can provide blockchain businesses. Because many applications of blockchain seek to usurp existing legal mechanisms, like contracts and currencies, which are currently strictly enforced and controlled by the government, regulation matters much more than it does for companies creating, say, video games or photo-sharing websites.
So far, states have varied widely on how they treat such so-called cryptocurrencies like Bitcoin, the most visible application of blockchain. Just last week, New York State announced an investigation into 13 cryptocurrency exchanges, a move that corresponds with recent crackdowns on some types of such trading by the Justice Department and Securities and Exchange Commission.
"With cryptocurrency on the rise, consumers in New York and across the country have a right to transparency and accountability when they invest their money," New York State Attorney General Eric Schneiderman said in a statement, according to the New York Post.
The looming threat of an investigation or sudden passage of legislation that shuts down cryptocurrency trading or the use of blockchain for legal documents is a big issue for start-ups looking to the future, said Matt Kaufman, a Cheyenne attorney working on Mead's economic diversification initiative.
While many states haven't weighed in on blockchain technology at all, Wyoming was actually one of the first states to take an explicit stance. In 2015, state financial regulators ruled that the Wyoming Money Transmitters Act effectively barred the trading of virtual currency.
University of Wyoming economics professor Rob Godby said this move was meant to protect banks in the state, operating under the faulty assumption that cryptocurrency exchanges could replace the financial institutions.
"That was a bit of a head scratcher, because exchanges don't really work so much as a bank," Godby said. "They work more like Western Union."
The bills passed by the Legislature this year reversed that decision from three years ago and sought to create more stable footing for blockchain companies. The new laws do the following:
cryptocurrency can now be traded freely in Wyoming;
virtual currency will be exempt from property taxes;
corporations can use blockchain technology to securely store company records;
"initial coin offerings," which function like initial public offerings but with virtual, blockchain-based tokens rather than traditional stock shares, will become legal;
a new corporation type called "series LLCs," was created with blockchain businesses in mind.
"It's all about economic development," said Rep. Tyler Lindholm, R-Sundance, a driving force behind the blockchain legislation. "Everybody is trying to find ways to attract new businesses to Wyoming."
Kaufman said the new laws provide tangible benefits for blockchain companies while also making clear that lawmakers in the state support the technology and are unlikely to spring any nasty surprises on such businesses a few years down the road.
"Companies (will) feel comfortable rolling out technology like this in Wyoming," he said. "It becomes an inviting regulatory sandbox."
With the new laws signed just weeks ago, whether the gambit will work remains unknown. The Wyoming Secretary of State's Office has not noticed an uptick in corporate filings since some of the blockchain bills were signed into law earlier this year, said spokesman Will Dinneen. He noted that the series LLC legislation, tailored to blockchain companies, does not take effect until July.
But Wyoming has certainly received significant media attention, with major websites like Yahoo Finance, CNBC and Forbes covering the legislation and dozens of cryptocurrency-focused websites feting the state. One headline asked whether the Cowboy State could become "America's 'Crypto Valley.'"
"We know that blockchain is white hot," said Caitlin Long, who helped start the Wyoming Blockchain Coalition. "We know there are lots of application that could help the state — in the energy area, in the cattle ranching area, in terms of boosting the prestige of the UW computer science program."
What success actually looks like for a blockchain industry in Wyoming remains an open question. Many of the new laws incentivize companies working with blockchain technology to incorporate in the state, though often that means that a business is based here only on paper. Wyoming charges a filing fee and could see a significant increase in that revenue if hundreds or thousands of blockchain firms make the state their corporate domicile.
Lindholm also pointed toward the "initial coin offerings" that will now be legal in Wyoming as another exciting opportunity for the state. While initial public offerings on the New York Stock Exchange or NASDAQ are currently limited to accredited investors, the coin offerings are a way for companies to sell shares directly to the public.
For a legislator with strong libertarian leanings, this accessible form of lightly regulated investing appealed to Lindholm. He said the standards for becoming an accredited investor on stock exchanges are cumbersome and require individuals to have large cash reserves. That bars some savvy investors, like the ranchers he knows in Crook County whose wealth is in livestock rather than liquid assets, from participating.
While having Wyoming create a new class of securities — the virtual coins backed by blockchain — might be an eccentric move, Lindholm said the state had little to lose.
"Why not? We've run wild bills in the past," Lindholm recalls thinking. "We might be able to catch something by the tail here."
But even dozens of blockchain companies incorporating in Wyoming and launching initial coin offerings under the state's jurisdiction does not necessarily correspond to many new jobs or corporate headquarters in Cheyenne or Casper.
No promises
The biggest blockchain boosters in Wyoming are quick to tell anyone who asks that they aren't promising anything. There was nothing to lose by the Legislature passing bills to enable blockchain trading and encourage the technology's growth in the Cowboy State — so why not do it?
The Wyoming Blockchain Coalition was one of the main catalysts behind the new laws passed this year, and the group took to Facebook toward the end of the legislative session to clarify that no benefits from opening up the blockchain market in Wyoming were guaranteed.
"We didn't promise anything, nor were any economic impact studies done," the coalition said in a post. "But we do know the initiative didn't cost the State anything, so every benefit is an incremental gain."
Despite this hedging, Blockchain's perceived importance to Wyoming can be seen in the list of preliminary recommendations released in January by Endow, the group formed by Mead to work on economic diversification. Among just 10 suggestions for diversifying the state's economy, "authorizing virtual currency business to operate in Wyoming" — this refers to blockchain companies — was sandwiched between more obvious ideas, like improving transportation infrastructure and incorporating computer science standards into the public school curriculum.
Kaufman, an Endow Council member who has worked on the effort's technology projects, emphasized that the preliminary recommendations were largely focused on short-term goals that could be relatively easily achieved. From that perspective, fixing Wyoming's laws so that blockchain companies could operate in the state was an obvious item to include.
But Kaufman is also a true believer, and said that encouraging the blockchain economy may find a place in Endow's long-term recommendations to be made late this summer, laying the groundwork for what is meant to be a 20-year plan.
"It's absolutely part of the discussion," Kaufman said.
But if Wyoming's low-tax status has proven insufficient to shift the state's dependence on the energy industry, will loose regulations on blockchain companies fare any better?
Chris Mehl of Headwaters Economics in Montana said companies tend to look first at whether a region has a trained workforce and adequate infrastructure. In the case of blockchain, he said property tax exemptions and a more generous or stable regulatory environment was unlikely to work on its own to bring many new technology companies.
"It's usually rare that any one thing is enough to be a reliable business attraction," Mehl said. "It almost always is a combination."
Advocates don't see the blockchain legislation existing in isolation, though. People like Lindholm and Kaufman, as well as University of Wyoming faculty, have been addressing audiences around the state to make the case for blockchain companies to be included in a host of economic diversification efforts.
Kaufman said that rather than the blockchain legislation during the session being seen as an end in itself, it can be looked at as just one example of Wyoming's moving quickly to appeal to a new industry that needs regulatory responsiveness from state governments — and part of a larger attempt to attract a host of smaller startups that have the potential for exponential growth, rather than landing a few more established companies that are unlikely to expand much.
"The advancement of technology and the marketplace is way outpacing how quickly states are able to react with regulation," Kaufman said of this broader strategy. "That's where Wyoming has a distinct advantage because we're so small and we're able to act so quickly."
A cloudy past
Trying to ride the blockchain wave might seem odd for Wyoming of all states. In addition to its previous ban on cryptocurrency trading, the blockchain faithful across the world can be a strange bunch. There's a utopian streak that underlies the thinking of many hardcore believers in the technology who see it as a way to replace many government functions and perhaps usurp the entire financial system as we know it.
Earlier this year, The New York Times profiled a group of blockchain entrepreneurs who had set up shop in Puerto Rico following the devastating hurricane there. The leader posed for a portrait wearing a leather vest and no shirt, with a colorfully adorned hat.
The group tried to name the project "Puertopia" before someone told them the word meant "eternal boy playground" in Latin.
In other words, blockchain is booming. But it attracts some odd characters. And cryptocurrency itself has roots in the "dark web," where users could use it similarly to cash for anonymous online transactions (think drugs and other unsavory purchases that criminals wouldn't want appearing on credit card statements).
There have also been incidents of fraud in initial coin offerings, with criminal or simply naive entrepreneurs raising large sums through the essentially unregulated investment vehicles before taking the money and running or simply being unable to deliver on whatever investors were promised.
While the Wyoming Blockchain Coalition and Endow have presented many legitimate uses for the technology, some might be surprised that the conservative Wyoming Legislature would be so eager to embrace a technology that is both in flux and that has been long-associated with the odder corners of the internet — a digital frontier, for better and worse.
But a key legislative supporter of the relevant bills, Rep. David Miller, R-Riverton, said that opening up Wyoming to blockchain pioneers of all stripes is precisely part of the technology's appeal for him.
"I love the Wild West," Miller said. "People keep saying that there's going to be lots of fraud, the drug people, the gang people and all of this are going to be moving around money — I don't doubt that."
Of course, Miller doesn't support such illegal activity. But he said it already takes place in the existing financial system and the threat of criminal uses of blockchain shouldn't deter Wyoming from embracing its many legitimate uses.
In other words, Miller argues that Wyoming's general support for limited regulation overlaps nicely with attracting a blockchain industry that has been stifled in some other corners of the country.
Potential for 'mining'
Another apparently logical, if unexpected, synergy between Wyoming's past and its possible blockchain future lies in the state's large energy reserves.
Being one of the first states to create a welcoming regulatory environment is about all Wyoming can do if it wants to foster the industry in the Cowboy State, said Godby, the UW economist.
"Is there anything inherent about Wyoming that would make this the place (blockchain companies) want to locate? Probably not," he said.
Wyoming's current combination of resources serve one thing very well: energy development. Though hampered by the distance between Wyoming and larger markets, the state remains a major producer of fossil fuels like oil and gas. It is also the country's largest producer of thermal coal used in power production.
That's where Wyoming's energy makeup could be a boon for one aspect of blockchain development that hasn't been much discussed by lawmakers or other advocates in the state: mining.
It's the term for the production of additional pieces of a blockchain, and it comes up most obviously in the creation of cryptocurrency like Bitcoin. Producing a single Bitcoin, for example, burns significant amounts of electricity as computers go into overdrive to essentially build off the algorithm to create a new piece of the blockchain on which Bitcoin is based.
Godby explained it as a lottery in which mining firms use many computers to increase the chance of unlocking new Bitcoin code, which can be worth tens-of-thousands of dollars per coin. In Godby's analogy, mining is similar to buying multiple lottery tickets.
That process requires a ton of power. According to a recent report by the investment bank Morgan Stanley, global demand for mining of cryptocurrency is set to have phenomenal growth in 2018, potentially hitting 0.6 percent of total power usage in the world.
From a mining company's perspective, electricity is a necessity. It's also a cost. Like the data centers that Wyoming has drawn to the state, cheap power access and cool weather alleviate the price tag of doing business.
But, as it turns out, Wyoming power is a little too expensive to entice mining so far, said Caitlin Long, one of the founding members of the Wyoming Blockchain Coalition and a UW alumna.
Though costs of electricity fluctuate, the industrial and commercial electricity rates in the Cowboy State exceeded Utah, Idaho and Montana in January of 2018, according the Energy Information Administration.
Utah has seen a small rush of miners seeking industrial sites that are already set up to service high electricity demand, said Spencer Hall, a spokesman for Rocky Mountain Power.
The utility, which serves Wyoming, Utah and Idaho is eager for new power draw represented by mining, but the firm has not received those inquiries in the Cowboy State, Hall said.
In the long term, the competition from other states may not hamper Wyoming's blockchain mining prospects, said Long.
"I don't feel like all the work that's been done working with the mining companies and the energy companies is a waste," she said. "As this industry grows, I think they are likely to come back to Wyoming."
On the other hand, mining may go out of style, Godby said.
"This is probably the biggest flaw in Bitcoin, how much energy that activity takes," he said. "It's very costly and very expensive and frankly a waste of resources. It doesn't have to be done that way."
'Nobody knows' what's next
The energy story, like other aspects of blockchain that Wyoming could benefit from, is uncertain.
That circles back to the reason that Long, and other founding members of the Blockchain Coalition, have been cautious to avoid selling a blockchain revolution in the Cowboy State pouring jobs and revenue into the economy, she said.
"We've not promised anything in terms of new jobs coming in, because we honestly don't know," she said.
So, for now, the more certain goals are modest: enhance the reputation of the University of Wyoming's computer science program, bring in the additional corporate filing fees and hopefully land a handful of companies.
As one senator told Long in passing during the legislative session, if 100 jobs come from the Legislature's work on blockchain this year, he'll be satisfied.
"What it looks like long term?" Lindholm, the state representative from Sundance, asked rhetorically. "First of all, nobody knows."