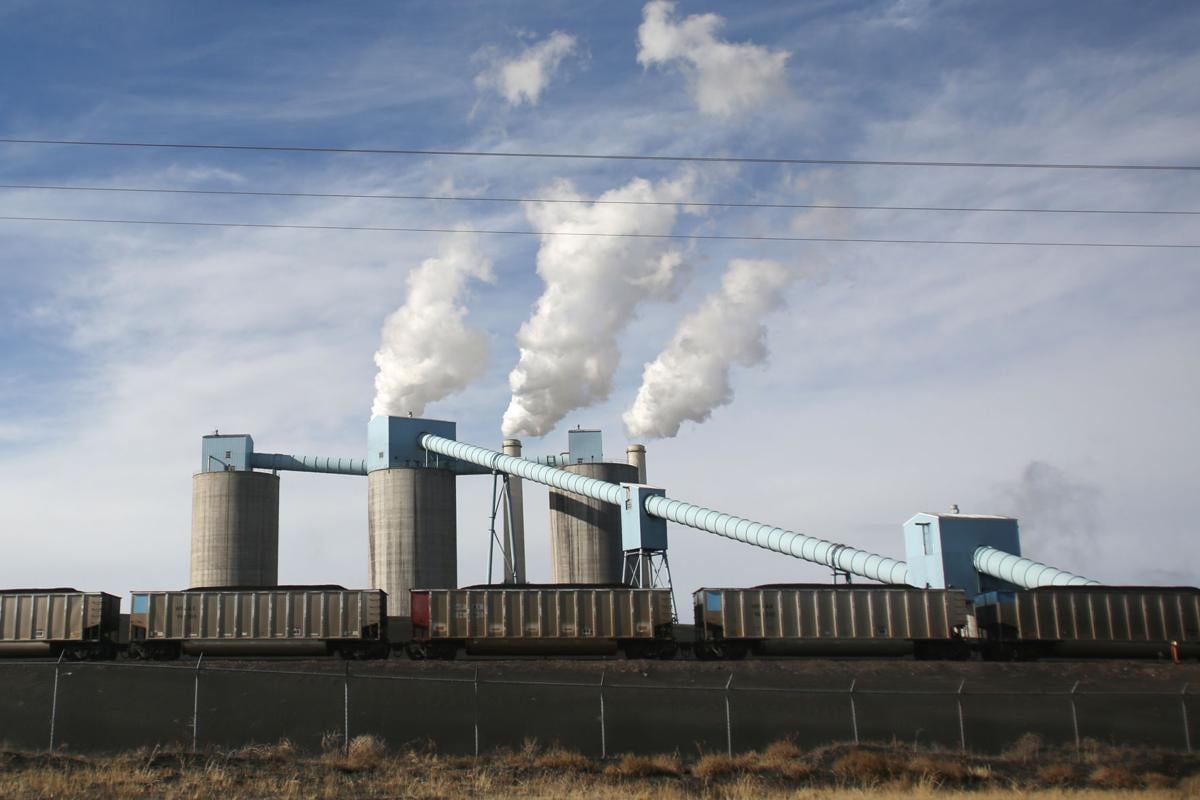 After a bruising year battling the one-two punch of the COVID-19 pandemic and collapse in energy markets, coal operators in Wyoming could receive a small boost in demand in 2021, but it may be short-lived.
In 2020, U.S. coal production came in around 26% below the levels of the prior year, according to initial data compiled by the U.S. Energy Information Administration, an impartial data center. Residential and commercial demand for electricity slumped during the pandemic as states enforced stay-at-home orders and industrial activity slowed.
Wyoming is the country's largest producer of coal. And the drag on demand hit the state hard.
Over 600 miners in the Powder River Basin, the epicenter of coal production, were either furloughed or laid off in 2020 when operators tightened their belts and cut back on production.
In one of the latest setbacks for the region, the owner of the Decker coal mine near the border of Wyoming and Montana filed for Chapter 11 bankruptcy and laid off nearly half of its workforce at the facility.
But coal could have a small comeback in 2021.
Several energy analysts predict demand for Powder River Basin's high-quality thermal coal could have an uptick in customers, if natural gas prices inch up this year as many expect.
Both natural gas and coal can be used to produce electricity. Utilities tend to favor the commodity that is cheaper.
Coal producers could also enjoy the benefits of higher electricity usage this year, especially if COVID-19 vaccines successfully curtail the number of infections saturating the country, and help the economy recover.
According to a report compiled by the EIA, coal production in the U.S. this year will likely rebound. The data agency predicts the U.S. will produce about 20% more coal in 2021 than in 2020 because of higher natural gas prices. (The EIA predicts natural gas prices could jump by 39% this year compared to 2020.)
Travis Deti, executive director for the Wyoming Mining Association, said the new year looks brighter when it comes to Wyoming's king commodity, citing the higher gas prices caused in part by the slowdown in oil production.
"Demand brings production and production brings more jobs," he said. "There's reason to be optimistic, but the pandemic is still with us."
The long-term outlook for coal is a bit more gloomy for coal too.
Since peaking around 2008, coal production in Wyoming has been undergoing a steady decline, with annual production now about half what it was just a decade ago. With that decline has come the loss of jobs: There are 40% fewer miners employed here in Wyoming than there were about 10 years ago, according to University of Wyoming economist Rob Godby's analysis.
Fifteen years ago, coal was responsible for generating about 50% of the country's electricity. In 2019, coal's contributions were half that amount. Coal-fired power plants have continued to shut down, chipping away at what demand for coal there is left.
Many utility companies supplying customers with electricity across the country have been divesting from coal. Growing public pressure to transition to renewable energy along with cheaper alternatives have bullied coal out of its top ranking in the generation market.
In Wyoming, about 4,400 workers have jobs in coal, about 1.6% of the state's population. That may seem like a relatively small number. But when you account for the indirect and ancillary jobs connected to the mammoth industry, the number of jobs tied to coal in Wyoming increases to 12,000, according to Godby.
Though Wyoming still supplies the country with about 40% of its coal, state exports continue to lag.
Then, there's also the taxes that stem from coal. About 14% of state revenue flows from coal production. The state has a lot to lose as the sector weakens.
"The reality is the coal sector is declining, the question is how quickly and how predictably," Godby said. "And clearly the state should be worried, because there are a lot of tax liabilities."
"There's a lot at stake," he added.
Over the next decade, Godby estimates the state could lose around $77.5 million in taxes from coal on an annual basis. And about 1,600 coal jobs could also disappear in the next 10 years.
But for now, coal operators may be able to recover some of the ground lost in 2020 this year.
The composition of the Powder River Basin is also hanging in the balance.
The top two players in the basin — Peabody Energy and Arch Resources — failed to secure federal approval for a proposed joint venture in 2020. The companies operate five coal mines in Wyoming and had hoped to join ventures, reduce costs and increase profitability. Together, they control about two-thirds of the southern Powder River Basin's coal reserves.
But the Federal Trade Commission, charged with protecting consumers, was concerned the move could stifle competition and hurt the public by hiking up prices for coal. A court ultimately supported the FTC's decision to block the venture from moving forward.
The basin and Wyoming as a whole will likely be contending with more uncertainty in the near term because of the court's decision, Godby forecast.
Both companies reduced their workforces and instituted budget cuts last year. Arch Resources has been clear it plans to exit the basin eventually, transitioning from electricity to steel production.
Peabody also announced in July it would write down the value of its largest coal mine by $1.42 billion, as conditions for thermal coal production continue to weaken.
A slate of new laws promulgated by both state and federal lawmakers to advance carbon capture here will be tested this year. With an incoming presidential administration intent on departing from fossil fuel dependency, 2021 could be a consequential year for Wyoming's top industry.
— Coal giant Peabody Energy announced on Christmas Eve it had reached an agreement with creditors to refinance a majority of its debt. As part of the financial solution reached with creditors last week, Peabody Energy will have a new due date for a majority of its loans — pushing the payback date from 2022 to the end of 2024. Extending the debt maturities essentially buys Peabody Energy a few years of financial flexibility, or time to come up with the cash it needs to pay off what it owes.
— University of Wyoming faculty members recently published a comparative study identifying the regulatory shortcomings slowing the deployment of carbon dioxide utilization and storage technologies across the country. The study's findings could help eliminate regulatory blindspots that pop up when projects are proposed with federal or private surface and subsurface interests.
— A piece of legislation tucked into the federal spending bill signed by President Donald Trump on Sunday could help speed up the development of carbon capture technologies in Wyoming and across the country. Long championed by Wyoming lawmakers, the Utilizing Significant Emissions with Innovative Technologies (USE IT) Act aims to boost carbon capture research and ease regulatory hurdles. Carbon capture involves trapping, reusing or storing carbon dioxide, a greenhouse gas and pollutant emitted when fossil fuels are burned.
— This past year, Wyoming oil and gas developers have been slammed by depressed market conditions caused by a glut in oil supply worldwide and a global economic recession. Price volatility has long been a normal fixture in oil and gas global markets. Oil and gas operators said Wyoming's energy industry knows how to ride the choppy waves of the global market. But last year was different. Here's a look back at the most volatile year in oil's history.
— The U.S. could establish a national strategic uranium reserve for the first time in the country's history, thanks to $75 million in funding included in the federal spending bill signed by President Donald Trump. In addition, a piece of legislation passed in the giant omnibus funding bill would limit the import of uranium from Russia in favor of boosting uranium production in the U.S. This act aims to reduce the amount of uranium U.S. companies can purchase from Russian suppliers and incentivize the development of a domestic nuclear fuel supply chain.
Efforts by Wyoming residents to fight climate change and lower carbon emissions at the local level often face opposition from state lawmaker who have been instituting policies to instead promote fossil fuels, according to reporter Dustin Bleizeffer (via High Country News.)
The week in numbers


West Texas Intermediate (WTI) $48.24, Brent (ICE) $50.74, as of Dec. 30
Henry Hub $2.42, as of Dec. 30
Baker Hughes rig count, as of Dec. 31
U.S 351 (+3), Wyoming 4 (-0)
"This is a case of a company under stress. They're buying a few years, hoping that coal markets will recover and that the company can avoid a financial meltdown."
— Clark Williams-Derry, an energy finance analyst for the Institute for Energy Economics and Financial Analysis,
Follow the latest on Wyoming's energy industry and the environment at @camillereports