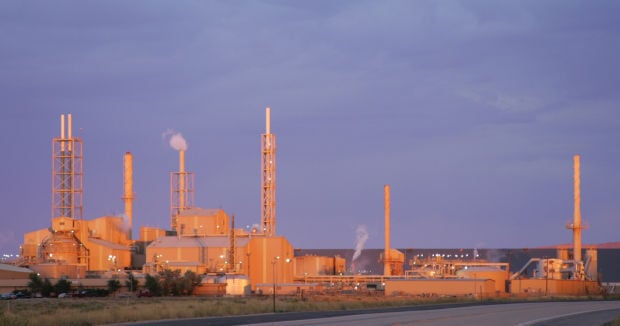 Wyoming companies have long dug minerals from the earth and shipped them across the country. Few inside the state have turned those minerals into finished products.
But some business leaders see signs of change in fertilizer maker J.R. Simplot Co.'s plans to build a $300 million ammonia production plant near Rock Springs. The ammonia will be used as a key ingredient in the fertilizer made at Simplot's existing production facility 4.5 miles outside the southwestern Wyoming town.
Others see the development as a result of the fertilizer industry's unique dynamics, namely its need for cheap natural gas and its rural customer base.
The pay-off for Rock Springs, and Wyoming, is potentially large. At its height, in 2015, construction will require 440 workers. The project is expected to generate more than $11 million in local tax revenue for Sweetwater County through 2016, according to company filings with the state. And 25 fulltime jobs are anticipated to be added once it begins operations in 2016.
Simplot has long bought ammonia for its fertilizer production. Now the company will be able to improve the efficiency of its operations by producing ammonia on its own, said David Cuoio, a Simplot spokesman. The new plant, which will produce 600 tons of ammonia daily, is expected to cut the company's shipping costs, he said.
"Rock Springs makes sense for a variety of reasons, such as proximity to a natural gas pipeline that is used as both a feedstock and fuel in the new plant," Cuoio said.
Natural gas is the key feed stock in the ammonia production process.
In one sense, Simplot's expansion could be the sign of an emerging trend, said Robert Godby, who teaches economics at the University of Wyoming.
Natural gas prices are low today due to increased drilling in the Marcellus and Eagle Ford shale formations. It makes sense for a natural gas consumer to take advantage of the low prices by locking into a long-term contract in a place where the gas is produced.
By building the plant in Rock Springs, near the Jonah Field, Simplot is saving on the cost of shipping the natural gas via pipeline to a plant in the Midwest, Godby said. Other companies might be tempted to make similar moves.
"This is part of the big benefit of low natural gas prices," Godby said.
But the fertilizer industry has different customers than other sectors that rely on Wyoming's extractive industries.
Companies often prefer building power plants, refineries and chemical plants near urban centers where their products are purchased. Fertilizer customers are rural. The fertilizer industry, therefore, is not necessarily an indicator other industrial growth expanding in Wyoming, Godby said.
Since Simplot already has a fertilizer plant in Wyoming, expansion of its operations in the Cowboy State likely makes sense, he noted. And fertilizer plants are also potentially dangerous, making them less likely to receive a warm welcome in densely populated areas, Godby said.
A 2013 explosion at a West Texas plant killed 15 and injured 226. Improper storage techniques, lack of a sprinkler system and poor training for emergency responders later was deemed to be the cause.
The Wyoming Department of Environmental Quality's Industrial Siting Commission approved the plant in June by a vote of 6-0, with one member abstaining. The seventh member, Sandy Shuptine abstained from the vote with the concern that insufficient safety information was provided to the council.
Simplot officials say the site is being built with safety at the forefront of the design and Wyoming Department of Environmental Quality officials are confident in the new plant's proposed safety measures.
"With the comprehensive, state-of-the-art safety features incorporated in the design, it will be as safe as humanly possible," Cuoio said.
When asked what lessons Simplot officials learned from the explosion of an ammonia storage site in West, Tex., Cuoio declined to go into details.
"Safety is the number one concern at the Simplot Company," he said. "We do everything humanly possible every day to ensure the safety of our employees and anyone who visits our facilities."
Rock Springs officials are confident in the safety precautions taken at the plant.
"From day one since the announcement, the city of Rock Springs has been very supportive of the project," Rock Springs Mayor Carl Demshar said. "We did go through the industrial siting process. We feel confident that the proper safety mechanisms are in place, and we really don't have an issue at all."
Beyond worker safety, the Wyoming DEQ focused on air emissions in the permitting process.
DEQ officials proposed installing equipment able to curb nitrogen oxide emissions from the plant. They also suggested using lower carbon fuels to reduce the amount of greenhouse gases produced by the plant.
"This is what we call a minor source," said Cole Anderson, Wyoming DEQ New Source Review Program Manager. "It's not a high level of emissions, but we did evaluate it with our most complex permitting process to account for greenhouse gas emissions. This really will produce emissions that could be considered the lower range of any industrial source."
Rock Springs has been receptive to the expansion. Demshar, the mayor, said the city is excited about the prospects of an economic boom, especially during construction when an influx of workers will descend on Rock Springs.
Wyoming business leaders are also hailing the economic potential of Simplot's expansion.
Ben Avery, business and industry division director at the Wyoming Business Council, said the plant could signal a new trend. He noted he recently held discussions with an undisclosed company looking at a $100 million facility which would turn Wyoming minerals into a finished product.
Wyoming policymakers and the business council have long made efforts to attract such businesses to the state, in hopes of boosting revenues and adding jobs, he said.
"At times there are great advantages in Wyoming," Avery said. "When we can provide natural gas and electricity on an equal or competitive basis, Wyoming becomes an attractive place for them to build."
The business news you need
With a weekly newsletter looking back at local history.