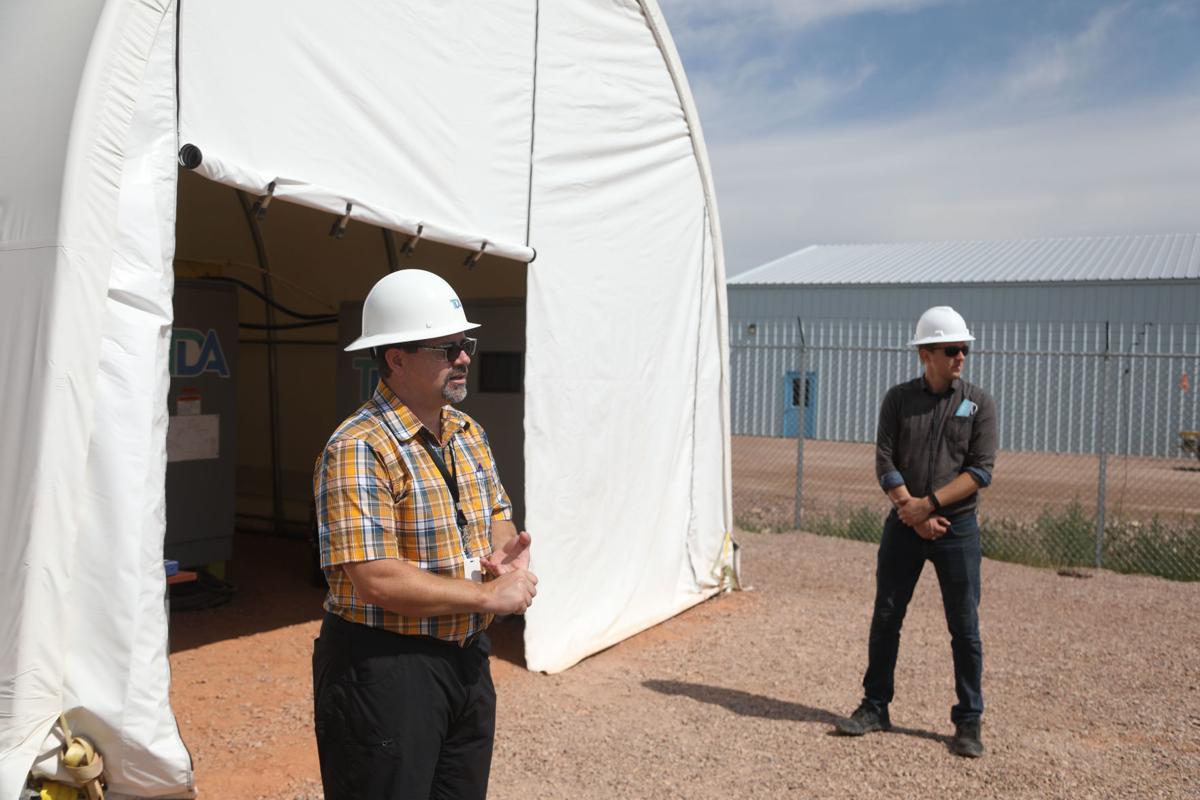 A piece of legislation tucked into the federal spending bill signed by President Donald Trump on Sunday could help speed up the development of carbon capture technologies in Wyoming and across the country.
Long championed by Wyoming lawmakers, the Utilizing Significant Emissions with Innovative Technologies (USE IT) Act aims to boost carbon capture research and ease regulatory hurdles. Carbon capture involves trapping, reusing or storing carbon dioxide, a greenhouse gas and pollutant emitted when fossil fuels are burned.
The act asks the Environmental Protection Agency to develop a competition to catalyze advancements in the field of carbon utilization and direct air capture research. It calls on the Council on Environmental Quality to come up with ways to accelerate the development of such projects too.
The USE It Act could also help expedite the permitting of carbon capture projects or carbon dioxide pipelines by making these types of projects eligible for a streamlined regulatory processes.
"President Trump has signed important legislation to help grow Wyoming's economy and reduce carbon emissions through innovation," Wyoming Sen. John Barrasso said in a statement. "Wyoming is already leading the way on carbon capture research. At the Integrated Test Center in Gillette, researchers are developing innovative solutions that will allow us to keep using Wyoming's natural resources."
The Integrated Test Center is one of the world's only utility-scale carbon capture laboratories attached directly to a coal facility and capable of hosting large pilot projects.
"The USE IT Act will lead to considerably more groundbreaking research," Barrasso added. "By converting carbon emissions into valuable and marketable products, we can help address a changing climate and boost Wyoming's economy at the same time."
The legislation had originally been approved by the Senate as part of National Defense Authorization Act. However, it was ultimately folded into the federal spending bill.
On Aug. 19, Barrasso and Sen. Mike Enzi conducted a field hearing on carbon capture in Gillette as part of the Senate Committee on Environment and Public Works. Barrasso, the committee's chairman, initiated the hearing to discuss ways to promote investment in energy innovations.
The hope of Barrasso and other Wyoming lawmakers is to find a commercially viable method to eventually capture all carbon emissions coming from coal-fired power plants or other industrial facilities. The captured carbon could then be used for enhanced oil recovery, transformed into new products or sequestered underground.
But first, developers need to figure out a way to make carbon capture economically viable and efficient enough to promote on a commercial scale.
Skeptics have urged caution: Carbon capture should not be considered a silver bullet for coal-dependent states like Wyoming. That's in part because, even with federal support, carbon capture projects have generated mixed results, especially when executed for commercial purposes, they say. Retrofitting carbon capture onto coal-fired units has, so far, been energy intensive, expensive and less efficient. Critics worry taxpayer money could be more effectively spent on the transition from fossil fuels toward cheap renewable energy.
That said, energy scientists are still on the hunt for ways to apply carbon capture, sequestration and utilization to other industrial activities beyond coal.
Carbon capture received another infusion of support for the next two years, thanks to the government funding bill passed Sunday.
That's because the bill also included an extension to 45Q tax credits. The credits were first introduced to incentivize the capturing of carbon. But the credits were on track to expire.
Adopted in 2018, the 45Q federal tax credit is given to companies for each ton of carbon dioxide they sequester in the ground. Although, some advocates for the environment and taxpayers say more stringent monitoring requirements are needed.
Follow the latest on Wyoming's energy industry and the environment at @camillereports