After layoffs begin, mine workers grapple with new sense of vulnerability
The bars open early in Gillette, and when most people are starting on their coffee and eggs, you can get a Budweiser and sympathy from a bartender that knows your face, knows your name.
April Fool's Day was no different. A crew of laid-off Black Thunder workers sat around a table at Lakeside Lounge trading stories, venting their frustrations, avoiding what was coming next and focusing instead on what could have been.
They blamed Washington. They blamed regulations. They blamed change.
They didn't blame the coal company. They didn't blame one another.
On Thursday and Friday, the Black Thunder coal mine near Wright laid off 15 percent of its workforce. So did North Antelope Rochelle, south of Gillette.
Combined, about 460 people lost their jobs at America's two largest coal mines.
Kim Riggen is one. She used to drive haul trucks for Black Thunder. Her phone buzzed all morning with messages from people who still have jobs.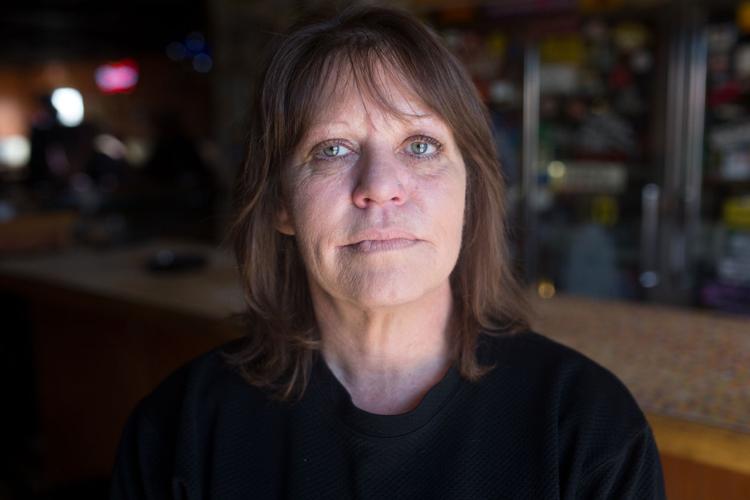 Riggen said she was glad others were still working. Life wasn't great, but she'd deal with it, she said. She'd find something else.
"It's just luck of the draw. That's all I can say," she said.
A familiar refrain repeated in this bar and in others in the heart of Wyoming's coal country.
There's no rhyme or reason, the miners said. None that they can see, anyway.
Their mines, their jobs, seemed untouchable. Now, it seems like anything could crumble.
Pat Avery lived in Gillette during when the bust hit hard in the 1980s. The real estate broker said it's too early to tell what will happen this time.
"This is home to a lot of people," Avery said. "So there's a nucleus of people that it may not affect or if it affects them, they're still going to stick around."
There are more homes on the market this year compared with last, figures show. But the number of homes actually being sold is down.
But Jim Engel, chairman of the Wyoming Workforce Development Council, downplayed what he saw as the doom-and-gloom reaction to the cuts.
The losses are significant, but the coal companies are still running, said Engel, a real estate broker.
"As far as the real estate aspect, yeah, there is going to be a little bit of a downturn," he said. "I think the reason that we're seeing a lot more homes available on the market is because people were being proactive months ago trying to get ready for whatever may happen.
"Yeah, there is going to be a downturn in our market. But is it going to be a devastating blow? I don't think so."
The layoffs may not affect the local real estate market until about a year from now, said Chad Friedt, a realtor with Team Properties Group in Gillette.
There's never been a time where oil, gas and coal have all been down at the same, he said, because even if one starts lagging, another industry has been able to keep Gillette afloat.
"We've never been in a situation like this," he said. "The crash of '08 — nobody knew when's the end, when's everything going to come around. Nobody knew. Here, there's a slight glimmer of hope, you know, that if we get a Republican in office, we won't have this war against us no more. And maybe things will be ah, OK, let's go. Everybody's on edge, waiting for that to happen, wondering."
Kori Koester, the manager at Eastside Liquors, said there hadn't been a fight in the bar in almost two years. The night the layoffs started, employees had to break up scuffles.
Koester told her children that losses like this can affect the whole community, not just the workers. A parent's anxiety can be higher during difficult times, and that can trickle down to the kids. If they can help another kid by giving them a compliment or buying them lunch, do it, she told them. She'll pay for it.
"That's their job right now," she said. "That's what they need to watch out for as being part of the community."
Even before last week's layoffs, Campbell County's unemployment rate was rising. It hit 6 percent in January and now, it's likely to grow further.
The bar's business is down about 10 to 15 percent compared with this time last year. They've cut hours here and there, and her father, Zeke Retzlaff, who owns the bar, has picked up shifts to save money.
There are rules during the bust. Don't over-pour; make sure to count back change.
Retzlaff has been here since 1974, and he's seen the city's fortunes rise and fall. Koester, his daughter, was born and raised here. No matter how bad it gets, she won't leave, she said.
The resounding sense, from the folks that still have their jobs to the ones who've lost them, is that the last seven years have led to a week like this.
They don't say President Barack Obama's name, just "the administration." They don't care who becomes president in November, as long as it's a Republican, as long as it's someone they feel is friendly to coal, as long as it's not Hillary Clinton or Bernie Sanders.
Gibby Barnett, who works for North Antelope Rochelle, pulled out his phone and looked at a recent picture of himself on a ruby red motorcycle. For now, he had a job. Without one, perks like the bike would become rare. And if the pink slip did arrive, he could always head back out on the road, eyes to the sky, and follow the construction cranes to the next place.
"It's scary right now," Barnett said. "All I can do is cross my fingers and hope for the best."
At the end of the day, he'd have to make a living.
Shane Younger can remember a little over a dozen homes being for sale during the boom. He said you could count on two hands how many apartments there were for rent. He'd worked in a copper mine in Arizona before moving here and said he'd never known that Wyoming had coal before he decided to come to the Cowboy State.
He'd been in mining, in some form or another, for all his life. He'd moved his family out here to be with him. Everything had been good until this week.
This isn't the kind of thing Younger does very often, he said, passing an evening at Lakeside in Gillette. And on the day he lost his job as a production technician at North Antelope Rochelle, there he was, in a place he didn't come often at all, talking about what his final meeting was like and reflecting on what brought him here.
He'd really like to stay in the area, try and find a job. His kids are here. He might have to start driving trucks so his wife and kids can stay put and he'll try and get home whenever he can. And if he can't do that, he knows he'll have to go somewhere where he can support himself.
He doesn't blame the energy companies for the cuts. He doesn't feel any ill will to the folks that showed the workers the door. By the time it was over, Younger felt like he was just a number, one of the 235 unemployed at day's end.
"You could see the writing on the wall," he said.
Even before the shock subsided, there were small acts of kindness, of a community caring for its own.
Back at Lakeside, the bartender slid another drink toward Kim Riggen.
No, no. No need to pay. Someone had already bought this one. They'd heard what had happened and picked up the drink for the crew of laid-off workers.
Sometimes, it's all you can do to say thanks, to say we're sorry, to say good luck.
Follow local government reporter Hunter Woodall on Twitter @huntermw.