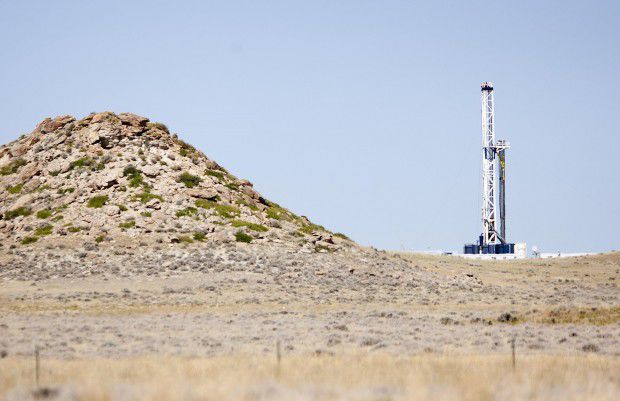 After months of public outcry, state regulators revised a permit for a major oil and gas firm operating at Moneta Divide in central Wyoming. Subject to public comment, the permit will maintain existing limits on discharged water at the facility and impose routine water sampling requirements to prevent pollutants from flowing into the nearby Boysen Reservoir Basin.
Energy operator Aethon Energy Operating, LLC applied for a state permit renewal last year. As part of an effort to expand its operations in Natrona and Fremont counties by 4,250 wells, Aethon Energy requested approval to discharge upwards of 8 million gallons of water per day, a 400 percent increase from the current limit.
But the company's request to expand the discharge facility was met with widespread protest from conservationists and nearby landowners during a public comment period that concluded in July. Many feared the contaminants in the briny water would pollute Alkali and Badwater creeks, or eventually flow into the Boysen Reservoir Basin.
Under the updated permit, Wyoming Department of Environmental Quality will maintain the cap of 2 million gallons of discharged water per day at the facility, as established under the previous permit.
The limit on salt content in the produced water will also remain the same, at 908 tons per month.
The state's environmental regulators also took several steps to limit the load of pollutants in discharged water by requiring additional, routine water tests to monitor constituent levels, like Benzene, Toluene, Ethylbenzene and Xylene.
Wyoming Department of Environmental Quality will retain the previous limits due to the lack of a functioning water treatment unit at the facility, a spokesman for the agency said.
When operators drill for oil, millions of gallons of salty water also come up with it. Finding ways to properly clean and dispose of the contaminated water isn't always easy. The debate over what to do with produced water has absorbed the attention of conservationists, public officials and energy companies for years.
Many Wyoming residents expressed concern over the consequences that expanded drilling at Moneta Divide could have on livestock, wildlife and fresh water supplies.
In a letter submitted to Wyoming's Department of Environmental Quality in August, the Wyoming Outdoor Council and Powder River Basin Resource Council alleged Aethon Energy was likely violating the Clean Water Act as well as the Wyoming Environmental Quality Act.
"We are glad to see that DEQ listened to the public concerns regarding the first proposed permit and it taking a much more careful approach," said Jill Morrison, executive director of the Powder River Basin Resource Council, in response to the revised draft permit. "We will be looking carefully at the proposed permit and making detailed comments to ensure protection of Wyoming's freshwater creeks, Boysen Reservoir and the Wind River."
Aethon Energy declined to comment Friday. But a spokeswoman told the Star-Tribune in August that the company complies with all state and federal regulations.
Some public comments urged state regulators to authorize increased volumes of discharged water. The additional drilling proposed by Aethon would have produced financial returns for the state to the tune of nearly $200 million in federal royalties, severance taxes and local production taxes annually, according to the Bureau of Land Management.
Oil and gas companies have long been embattled in permitting wars with regulators and the public due to disagreements over discharged water. The Moneta Divide project stretches back to 2012 when it was initially proposed by Encana Oil and Gas and Burlington Resources.
Wyoming Department of Environmental Quality will accept public comment on Aethon's revised draft permit for 30 days.
Follow the latest on Wyoming's energy industry at @camillereports