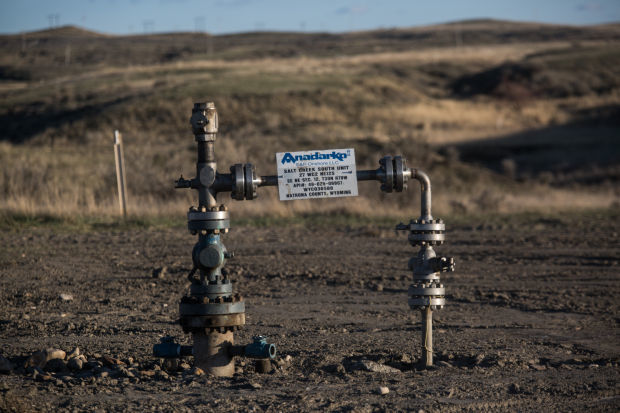 Anadarko Petroleum will approach 2019 in Wyoming as a year to test the limits of Wyoming's Powder River Basin, executives noted Wednesday in a call with investors.
The Woodlands, Texas-based Anadarko is one of the larger players inspiring competition in the Powder currently. It's one of a handful of companies that have led the rush to obtain drilling permits there.
But the role that Wyoming's Powder plays in the Texas firm's large portfolio will be in part determined by work done this year with about 300,000 gross acres of Converse County and about a dozen wells, executives said.
"I think it's a coming attraction, but a pretty attractive coming attraction," CEO Al Walker said of the Powder River Basin in the Wednesday call. "You've heard industry talk a lot about it. I think we're prepared to talk about it more once we understand better what the results of this year allow us to understand."
The Powder has been viewed as a coming attraction before, seen by some as having the potential for unconventional drilling opportunities for at least a decade. The most recent downturn in prices — the 2015 trough — slowed the trajectory of the Powder's development. Since prices have improved, the area's main players, like Anadarko, have been jockeying for control. Competition has led to more than 25,000 applications for permits being filed with the state.
In response to a request during the earnings call for details surrounding Anadarko's operations in the Powder, Walker was vague, saying that this year would be about determining that.
Anadarko is largely focused on the Turner — a deep, sandy zone that's attracted a number of companies' attention.
"We're not in a hurry," he said. "We think we can do this on a very good pace with the 10 to 15 wells that we've talked about for appraisal activity."
Pressed on whether other producers with greater drilling control could push Anadarko into activity, Walker affirmed that the company was not pressured and was maintaining good relationships with other drillers.
"I … don't think we are going to get forced into a situation where we're going to have unexpected activity," he said.
Follow energy reporter Heather Richards on Twitter @hroxaner
The business news you need
With a weekly newsletter looking back at local history.