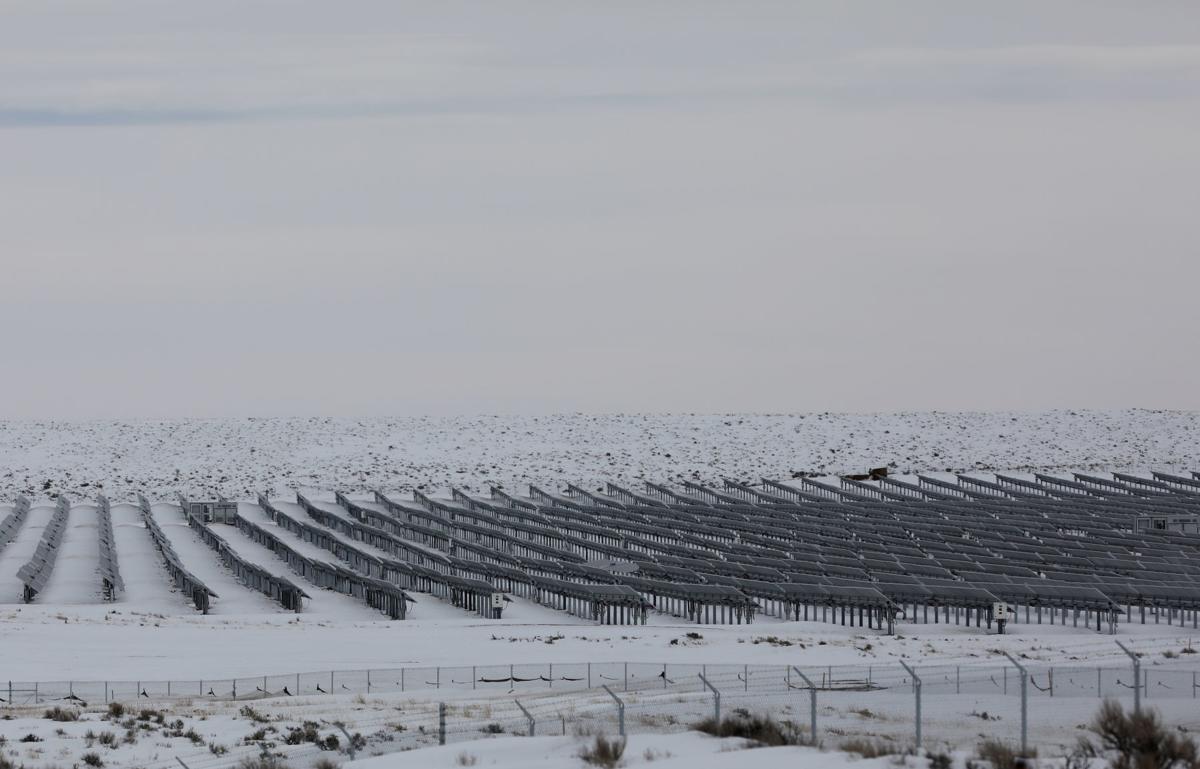 Wyoming's only utility-scale solar facility could have a new neighbor soon in Sweetwater County. Energy firm Raven Solar LLC submitted an application to construct and operate a new fleet of solar panels on 400 acres of public land near Rock Springs.
The proposed Raven Solar Energy Project is now in a 30-day scoping period, a time when the Bureau of Land Management reviews the potential land use impacts of the new venture. The solar farm, which will convert sunlight into electricity, would provide 66 megawatts of generating capacity. In comparison, the state's sole commercial solar farm, Sweetwater Solar Energy Project, carries a generating capacity of 80 megawatts.
In addition to installing 341 acres of solar panels, the site would be home to a battery energy storage system, according to the BLM. The company wants to connect the solar facility to the electrical grid through an existing substation just northwest of the site. A 3.9-mile power line would run underground from the facility to the substation just off Wyoming Highway 372.
Despite Wyoming's landscape is ideal for the production of electricity through solar — high altitude, minimal cloud coverage, cheap land and existing transmission lines — large-scale photovoltaic development hasn't taken off here, explained Bruce Parkinson, a University of Wyoming professor of chemistry and energy resources. Investments in renewable energy often faced public scrutiny given the state's loyalty to coal, oil and gas sectors.
The state only has 109 megawatts of solar generating capacity installed, ranking 36th nationwide in solar energy, according to the Solar Energy Industries Association.
Proponents of the renewable energy source point to solar technology's increasing efficiency and cost-effectiveness, not to mention its potential tax and job contributions for the state. Prices for solar have steadily dropped and technology has advanced, to the point where the commodity can compete with the likes of coal and oil. Demand for renewable energy nationwide has also been on the upswing. Several states reliant on the Western grid, like California and Colorado, set mandates to transition away from fossil fuels. Similar to coal, most of the energy captured at solar farms would likely be exported to other states consuming more electricity than Wyoming.
"Wyoming has an incredible wind and solar resource," Parkinson said. "There are a lot of jobs to be had from the installation and some permanent jobs in maintenance."
But enduring regulatory uncertainty swirling around proposed solar projects at the Wyoming Legislature has left several businesses wary of investing in solar here, he added.
Yet the state's largest utility company, PacifiCorp, plans to add 1,415 megawatts of solar generation to the grid in Wyoming starting in 2024. It will also provide 354 megawatts of battery storage and hundreds of miles in transmission line construction, according to the most recent integrated resource plan.
As for the Raven Solar Energy Project, the BLM plans to host an open house at 3 p.m. Feb. 13 at its Rocks Spring field office.
"(BLM) welcomes public comments regarding issues, concerns and potential alternatives for the project," the agency said in a news release.
Public comments will be accepted for the bureau's analysis until Feb. 27.
The business news you need
With a weekly newsletter looking back at local history.