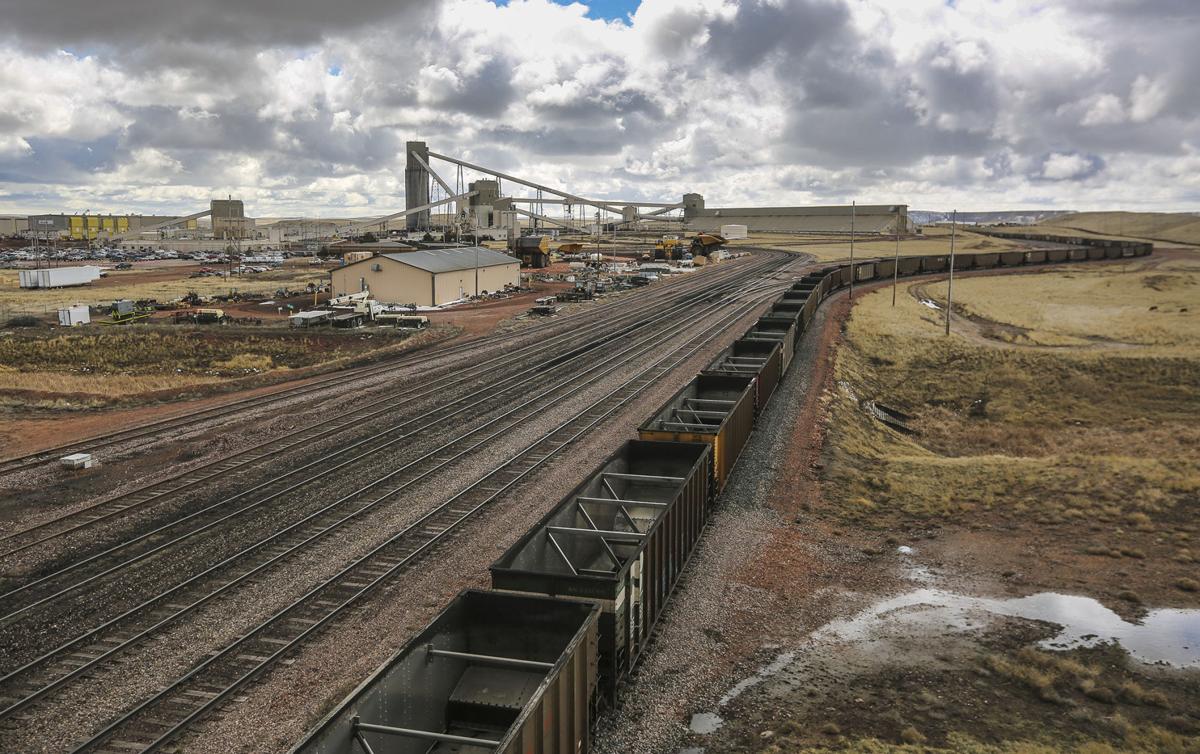 Wyoming's Coal Creek mine will begin closing soon, becoming the second Powder River Basin mine to start the process of shuttering this year.
Owner Arch Resources Inc. announced on Tuesday morning it planned to wind down operations at the mine south of Gillette over the next two years and begin cleaning up the site, as part of its plan to transition away from thermal coal.
During last year's final quarter, the Wyoming mine employed 78 workers. That's roughly half as many workers as the mine employed five years ago. During an earnings call on Tuesday morning, Arch's CEO and president Paul Lang, said the company intended to reduce the workforce in an "employee sensitive way," primarily through attrition.
Tuesday's announcement comes as Arch makes an aggressive pivot from thermal coal toward metallurgical coal, a grade of coal used to make steel. The coal mines in the Powder River Basin produce about 40% of the nation's thermal coal, but production volumes have been declining for years. Natural gas and renewable energy have gradually pushed thermal coal out of electricity markets.
The Coal Creek mine produced about 2.1 million tons of its lower heat value coal last year, 73% less than it did in 2018.
In October, Arch said it anticipated slashing thermal coal production in half over the next two to three years at its coal mines in the Powder River Basin. The firm went so far as to suggest it would be looking for "an appropriate" buyer for certain assets, and if no buyers are found, significantly scale down production.
The announcement came just weeks after a federal court upheld the Federal Trade Commission's decision to block a proposal by Arch and the country's largest coal company, Peabody Energy, to form a joint venture in the basin to save on operating costs.
Arch reported a net loss of $78.5 million in the fourth quarter of 2020.
"We are driving ahead with our strategic pivot with a strong sense of urgency," Lang said in a statement. "Our objective is to continue to harvest value and cash from our legacy thermal assets, even as we execute on reducing our long-term closure obligations in a measured, systematic and sustained way."
The coal giant will undertake an "accelerated closure and final reclamation" of the Coal Creek mine in the next two years. That means it anticipates shipping coal to customers under existing contracts throughout this year, producing just 2 million tons of coal. After that, it will begin the "final closure" of the mine's active pit in 2022, according to the company.
Arch also operates the Black Thunder mine in Wyoming — the country's second largest mine, producing roughly 10% of the nation's coal. In December, the company transferred about 40 workers and equipment from Black Thunder over to Coal Creek to start ramping up reclamation.
"We are tremendously proud of the accomplishments of our talented, dedicated and resilient thermal operating teams, who have shown their mettle again and again in a difficult and declining demand environment," Lang said. "We value and appreciate their staunch commitment to operating at the highest level while adjusting effectively and nimbly to the realities of the current market environment."
At the same time, Arch will begin "laying the groundwork for systematically reducing the operational footprint at its Black Thunder mine."
"While Coal Creek will be our near term focus, we're also in the process of developing an accelerated plan for the Black Thunder mine," Lang explained during an earnings call. "At this point, we've not finalized the details, but our plan will be to maintain strong cash flows in order to provide funding for the ultimate closure, even as we seek to reduce final reclamation requirements."
Production losses in Wyoming coal country have significant consequences for the state — heightening unemployment and exacerbating state revenue shortfalls. The pandemic has only sped up the demand decline for coal.
"We're going to continue to fight for every Wyoming job," Sen. John Barrasso told the Star-Tribune on Tuesday morning in response to Arch's announced closure of the Coal Creek mine. "The Biden administration has declared war on our way of life in Wyoming and American energy. They've declared war against oil, gas, coal, and we need all the energy. We need the oil and gas, we need the coal, we need the uranium for nuclear power, we need the wind and solar ... we need it all. We can't get by with less than all of it."
"We're in a fight to the finish here," he added.
The Powder River Basin Resource Council, an agriculture and conservation group representing landowners near the coal mines, has long been concerned over Coal Creek mine's plan for reclamation, or cleanup. A coal company must post bonds, a form of financial assurance, in case it is unable to complete reclamation.
"We remain concerned that the reclamation plan is not aligned with the closure date of the mine, and we call on our regulators to ensure timely and effective reclamation at the mine," Marcia Westkott, chair of the Powder River Basin Resource Council, said in a statement. "Just last year the Wyoming Department of Environmental Quality (DEQ) renewed Coal Creek's permit without requiring an updated, realistic reclamation plan in light of the mine's declining production, and now we are faced with its closure in the next 18 months."
"Coal Creek is just one more indication that coal mines throughout the Powder River Basin are facing significant losses, so it's high time that bonds and sureties are reviewed — and secured — so Wyoming taxpayers are not left paying the cost for inevitable reclamation," Westkott continued. "This closure also heightens the long-standing need to develop a plan to ensure mine workers receive the assistance needed to transition to new careers."
Wyoming Department of Environmental Quality said Arch holds a total of $33.8 million in surety bonds for the Coal Creek mine.
And according to the company, ongoing operations at its legacy thermal coal mines will produce enough cash to cover reclamation efforts.
"We expect our thermal mines to continue to generate sufficient levels of free cash to fund their own final reclamation and closure costs," Matthew Giljum, Arch's chief financial officer, said in a statement. "We will put some of that cash to work immediately — through the accelerated closure of Coal Creek and other efforts."
To Mayor Ralph Kingan of Wright, the news of Coal Creek mine's impending closure is not a surprise. The company had been transferring workers from the company's smallest thermal coal mine to Thunder Basin for several years and scaling back on production. Nonetheless, Arch's plan to dramatically scale back coal production will have a "tremendous impact" on Wyoming and the town.
"It's hard telling what's going to happen," he said.