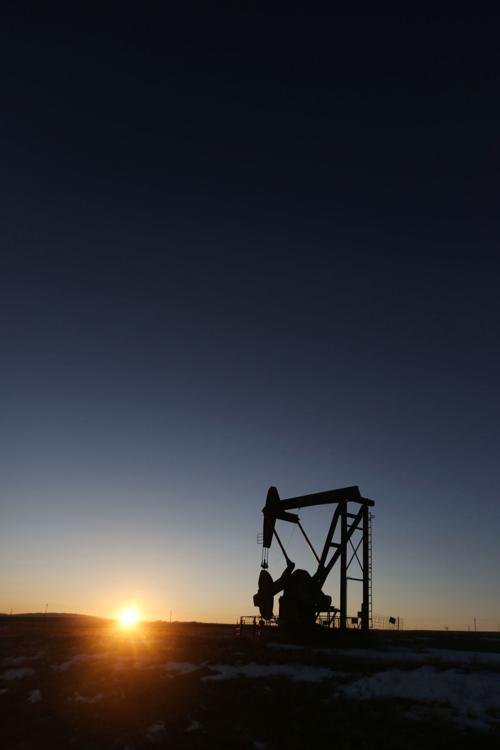 Oil prices plunged to levels not seen in decades Sunday night in response to an escalation in tensions between major international oil suppliers and the expanding outbreak of the coronavirus worldwide.
West Texas Intermediate, the U.S. benchmark, plummeted by over one-third to $27.34 a barrel — over 50 percent less than what it was at the opening of the year.
The sharp shock to energy markets could hit U.S. shale producers particularly hard, and many in Wyoming have already braced for the fallout.
Chaos mounted over the weekend when leading oil producer Saudi Arabia advised OPEC to slash oil production by 1.5 million barrels per day to stabilize global markets in light of the coronavirus, or COVID-19, outbreak. The epidemic was weighing heavily on oil markets, as global demand for fuel waned. Cutting the supply of oil can often help buoy prices.
But Russia opted out of Saudi Arabia's plan to curb production. Russia is the third largest producer of oil but not a member of OPEC. Saudi Arabia retaliated by slashing prices and upping production instead. The move created what some analysts called "the perfect storm" that sent oil prices spiraling.
"Everybody has their knickers in a knot," University of Wyoming professor Charles Mason said. "For a couple of days to maybe a week or so, I think there is little doubt prices will stay in the $30 range because there is all this panic swirling around."
Energy companies sustained a major gutting in terms of market shares too. The Dow Jones Industrial Average sank by nearly 8 percent Monday. International energy company Halliburton's shares fell over 37 percent. EOG Resources's shares dropped roughly 32 percent.
"Traders in greater crude oil markets are spooked," he added.
Despite the sharp turn in events Monday, Mason does see a tempered recovery within sight, with oil prices likely rising again within a matter of a few weeks.
But in the meantime, for Wyoming producers, low oil prices come with potential risk. At a certain price per barrel, drilling for oil can cost more than it's worth. Many operators may elect to scale back or shut in production until the price environment improves. If that's the case, firms may need to shed unneeded workers.
"According to third-party analysts, the average break-even point in the Powder River Basin is approximately $59 per barrel, with each company differing in per well break-even points," said Ryan McConnaughey, communications director for the Petroleum Association of Wyoming. "We are confident that if resolved in short order, companies can weather the storm and emerge more resilient. However, if oil prices remain at $30 a barrel price over the long term, the economic viability of Wyoming oil will suffer."
According to McConnaughey, for every dollar chipped off the price of oil, Wyoming sustains an annual loss of $12.5 million.
Adding insult to injury, energy firms witnessed a substantial market share loss, signaling the possibility of painful shock waves well into the future.
"If these prices stay depressed longer, I would argue that it could have a potential impact on future development, (including) the deployment of capital for keeping and adding drill rigs," said Steven Carpenter, director of the Enhanced Oil Recovery Institute in Casper.
The price drop comes at a time when Wyoming operators are already feeling the heat from domestic competitors operating in the lucrative Permian Basin or Bakken oil fields. Wyoming is the eighth-largest producer of oil and natural gas in the country.
To Steve Degenfelder, land manager for Casper-based Kirkwood Oil and Gas LLC, recent events only compound already tough conditions for operators, not to mention any energy companies weighed down by debt.
"Anyone with debt will be toast," he said.
"The price shock will particularly affect companies with refinancing needs over the next 6-12 months," said Steve Wood, managing director for oil and gas at Moody's Investors Service.
The sudden change in oil prices caught state lawmakers by surprise on Monday morning too, particularly as members of the House and Senate prepared to present a budget agreement to their respective chambers.
Currently, the state is already spending several hundred million dollars from its "rainy day fund," the Legislative Stabilization Reserve Account, to balance its budget. With deflated oil revenues as well as drops in natural gas and coal exceeding earlier projections by the state's Consensus Revenue Estimating Group, the state may need to consider cutting spending in the next two-year budget cycle to avoid dipping even further into those reserves.
"The sort of the sad thing about it is that we're still so dependent on minerals," Senate Appropriations Chair Eli Bebout, R-Riverton said. "And here we go — you can already see the impact of what a hiccup over the weekend does to our budget."
A spokesman for Gov. Mark Gordon told the Star-Tribune the governor did not plan on hold an emergency Consensus Revenue Estimating Group meeting. Instead, he will wait to see if the depression in crude prices persists.
On the other side of the coin sits consumers who often stand to benefit, at least at the gas pump, when oil prices collapse.
Roughly, for every dollar of change in oil comes around a 3 cent fluctuation in the price for gas, according to Mason, the economist specializing in oil and gas at University of Wyoming. But he also said any changes at the pump would likely not be dramatic.
"Prices go up like rockets and come down like feathers," he said.
Star-Tribune reporter Nick Reynolds contributed to this report.
Concerned about COVID-19?
Sign up now to get the most recent coronavirus headlines and other important local and national news sent to your email inbox daily.