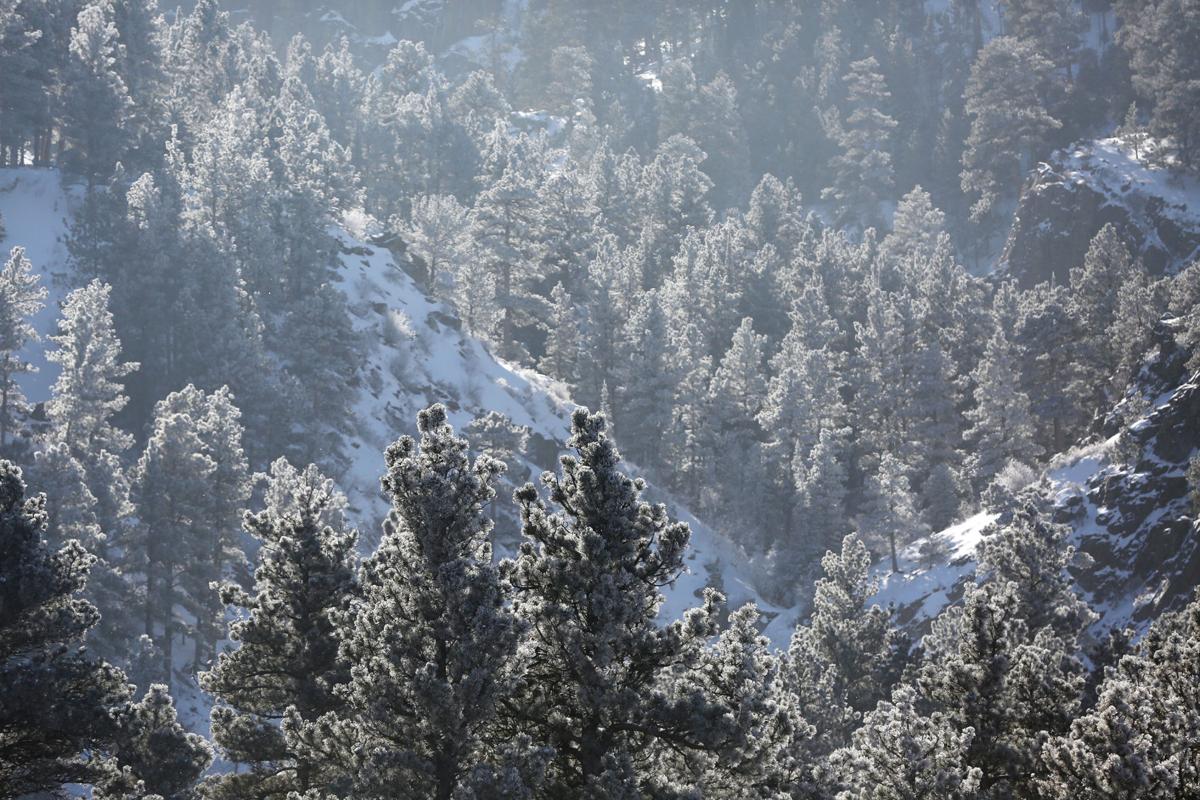 Sen. John Barrasso introduced a bipartisan bill on Friday that aims to prevent wildfires and boost the natural carbon storage capacity of forests and rangelands.
The America's Revegetation and Carbon Sequestration (ARCs) Act proposes increasing logging in forested areas most vulnerable to extreme fires and replanting resilient species in already damaged ecosystems. It also incorporates targeted assistance for related programs, including eradicating flammable invasive grasses, expanding markets for wood products and revegetating abandoned mine land.
In addition, the bill directs the U.S. Forest Service and the National Forest Foundation to develop a carbon credit program for non-federal buyers. Under the current plan, revenue from the carbon market would be used to fund additional carbon sequestration and emissions mitigation efforts on Forest Service land.
It's not yet clear how those carbon credits might work, concerning some who otherwise favor the plan, but the bill's overarching goals have broad public appeal.
"The forests and rangelands of Wyoming, and the rest of the west, face many serious challenges to their health and viability, including effects from catastrophic wildfires, and insect and disease outbreaks," Wyoming State Forester Bill Crapser said in a statement. "This bipartisan legislation will go a long way to help managers address these challenges."
The largely inoffensive ARCs Act is supported by a range of stakeholders, from fossil fuel advocates to environmental groups. Among the backers in Wyoming are the Stock Growers Association, the Rocky Mountain Elk Foundation and the state chapter of the Nature Conservancy.
In a Friday statement endorsing the act, Gov. Mark Gordon called it "a rational, reasonable and common-sense approach to managing CO2."
Regardless of political leaning, most advocates for forest and rangeland conservation agree that drought-related dangers pose a growing threat to Western ecosystems. Supporters of the ARCs Act hope that it will simultaneously enable wild landscapes to sequester more carbon and help them escape increasingly destructive fires, which themselves release tremendous quantities of stored carbon into the atmosphere.
"Climate change is, by far, the largest threat to our forest and rangeland ecosystems," said Carli Kierstead, northeast Wyoming program director for the Nature Conservancy. "Improving forest resilience and health at large scale is going to require new technologies, new types of innovation, new types of science — and also diverse forest products and forest product markets. And I truly believe that this act could play a large role in accelerating some of those factors."
And in Wyoming, where wildfire mitigation is an increasingly urgent concern, many believe a coordinated management approach can't come soon enough.
Slade Franklin, weed and pest coordinator for the Wyoming Department of Agriculture, pointed in a statement to the additional tools the ARCs Act would provide for suppression of invasive grasses, such as medusahead and cheatgrass, which can overtake burned landscapes and exacerbate future fires. Jim Magagna, executive vice president of the Wyoming Stock Growers Association, emphasized the benefits revegetation could have for ranchers across the West.
One of the act's key strengths is that it will enable the Forest Service to prioritize certain revegetation efforts over others, said Tiffany Turner, director of climate solutions for the Theodore Roosevelt Conservation Partnership.
"When everything's a priority, nothing's a priority," Turner said. "This legislative text enables the Forest Service to be able to think holistically and comprehensively and objectively about how they start to tackle revegetation."
As Wyoming searches for ways to keep its fossil fuel industry competitive, some see facilitating carbon storage in forests and ranchlands as a potential lifeline for carbon emitters.
"Ranking Member Barrasso supports free market innovation, such as carbon capture utilization and sequestration, as the best way to reduce emissions and address a changing climate. The ARCs Act is a bipartisan way to support Wyoming's loggers, ranchers, and economy, as well as reduce emissions at the same time," Mike Danylak, a Barrasso spokesman, said in an email to the Star-Tribune.
And according to Gordon, who described the ARCs Act as "a refreshing change to the continual feed of anti-fossil fuel bills currently being discussed in Congress," the bill will help to sustain the industries underpinning the state's economy.
"Using fossil fuels is not the issue, the issue is the amount of CO2 in the atmosphere," Gordon said Friday. "This bill provides recognition that our forests and open lands are important to the capture and sequestration of CO2."
Revegetating degraded areas in Wyoming would have a range of benefits, including fire prevention, additional wildlife habitat, water retention and recreation opportunities, Kierstead said. But the state doesn't have much natural sequestration potential.
"Everyone wants to be able to increase carbon sequestration, and I really appreciate the sort of big goal setting that a lot of our leaders are doing, including Barrasso and other senators on this bill," Kierstead said. "But in places like Wyoming and other arid Western states, we do need to be honest with ourselves about what these ecosystems are actually capable of doing. And meaningful carbon sequestration is just really not possible."