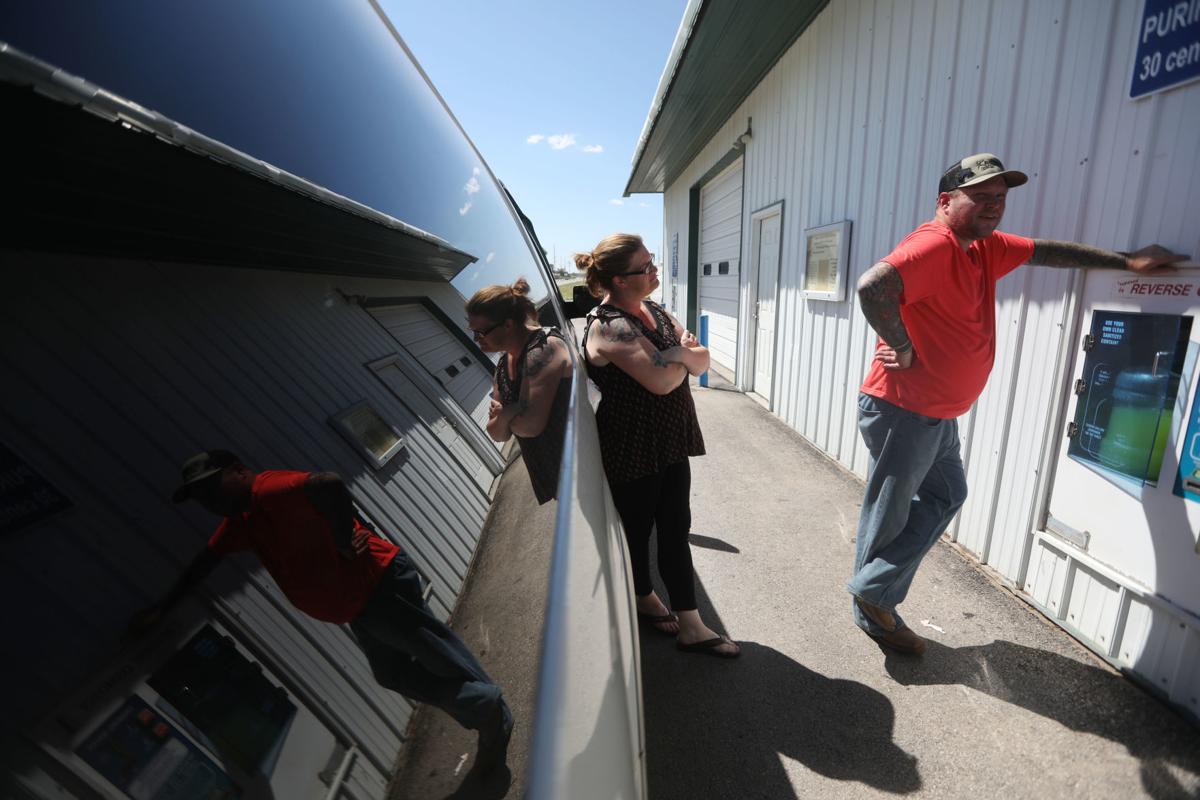 Out-of-work Blackjewel coal miners in Wyoming received a jolt of hope this week when their bankrupt employer sent letters out hinting at a possible reopening of two idling mines.
The Eagle Butte and Belle Ayr mines in Campbell County have not produced fresh coal since July 1, the day the owner filed for bankruptcy and failed to secure interim funding.
"The company is currently considering restarting production efforts at the facilities and, as a result, may be in the position to recall furloughed workers," the letter stated. "The company does not know specifically when it would restart production, but if it is in the position to do so, it could restart operations during the next several days or during the coming weeks."
A spokesman for Blackjewel confirmed the authenticity of the letter to the Star-Tribune.
Lynne Huskinson, 59, dedicated herself to working at Wyoming's coal mines for nearly 40 years before losing her job at the Eagle Butte Mine on July 1. Huskinson felt frustrated when she read the letter from Blackjewel. The company should take responsibility and not treat displaced workers so poorly, she added.
"I think a lot of people are hurting, but you don't hear about it because they are proud and think the job will come back," she continued.
Monday's letter broke weeks of near-radio silence from the company. It also marked the latest bout in Blackjewel's monthslong scramble to finalize the sale of the mines to a new owner.
Though a federal judge approved the sale of Blackjewel's two Wyoming mines to former owner Contura Energy, the final sale agreement has yet to materialize. Despite agreeing to fork over approximately $34 million for the sale on top of reclamation liabilities, Contura continues to negotiate with the federal government over leasing terms and outstanding royalty payments.
Throughout the summer, hundreds of Blackjewel's former coal miners have awaited additional information on their job prospects. Several have moved on to find alternate work. Meanwhile, the company terminated their employment-based health care plan and retirement benefits.
The latest letter provided out-of-work miners additional details on the condition of their employment.
"It's a statement that Blackjewel furloughed the employees — they weren't laid off and they weren't released," explained Rob Godby, an economist at the University of Wyoming. "... That could protect (the company's) liability, because there is an ongoing lawsuit that they illegally released workers in a mass layoff in contravention of labor laws."
Godby said the letter may have served multiple purposes for the struggling company. Not only could it protect the company from impending legal liabilities, but it also could collect information from workers needed for planning or sale negotiations.
"There's language there that suggests that it's possible that the mines could reopen, and if so, who's available? They need to know that," Godby said. "... Over two months have gone by (since the mine closures) and you need three things to open those mines — you need financing, you need permitting approval and you need people."
The letter from Blackjewel gave workers a deadline of Sept. 19 to respond.
If workers do not reply by that time, the company "will assume that you have voluntarily departed from the company, abandoned your position with the company, or have resigned," Blackjewel stated in the letter.
"At this point, if Blackjewel or Contura don't rehire people, it's another PR black eye for a company that has already poked itself in the eye a few times," said Clark Williams-Derry, director of energy finance at the Sightline Institute, an environmental think tank based in Seattle.
It is also unclear if Blackjewel intends to rehire for mining or reclamation work, he added. What's more, the letter lacks explicit commitment to full-time or long-term employment.
"There's a risk of it being yet another false hope," Williams-Derry said.
Contura still holds the permits to the mines and remains responsible for future reclamation obligations. The company has stated multiple times it remains committed to fulfilling the forthcoming reclamation liabilities.
Blackjewel did not return multiple requests for comment.
Volatile times
Without any workers or funding, the fourth- and sixth-largest producing coal mines in the country, which produced over 34 million tons of coal in 2018, stopped producing coal on July 1.
At the time of filing for bankruptcy, Blackjewel owed over $146 million in unpaid taxes. It also owed Wyoming workers over $700,000 in unpaid wages and $900,000 in retirement funds.
After several attempts to obtain debtor-in-possession, or interim, funding to keep the mines operational, the company pivoted and placed the mines on auction to the highest bidder.
Bankruptcy law often subordinates debt owed to workers over more senior creditors. Even if a sale fetches cash to repay the company's creditors, workers often see few of their debts recompensed.
Blackjewel is the sixth coal producer in Wyoming to file for bankruptcy since 2015. The majority are concentrated in the state's lucrative Powder River Basin, a region that generated about 40 percent of the country's coal for power generation last year.
But times have changed, as coal's once-stable customer base has branched out to cheaper natural gas and renewable energy. According to the Energy Information Administration, coal consumption projections for this year have been revised to account for declines in demand.
None of the Powder River Basin coal companies had shut down production or furloughed hundreds of workers during bankruptcy proceedings until Blackjewel.
"Some would argue employees are the most valuable asset that a company has and in this bankruptcy the employees have been left totally in the dark," Godby said. "It's in the eye of the beholder, but they have really not been well taken care of in this bankruptcy. In many cases they have sounded like an afterthought."
The business news you need
With a weekly newsletter looking back at local history.