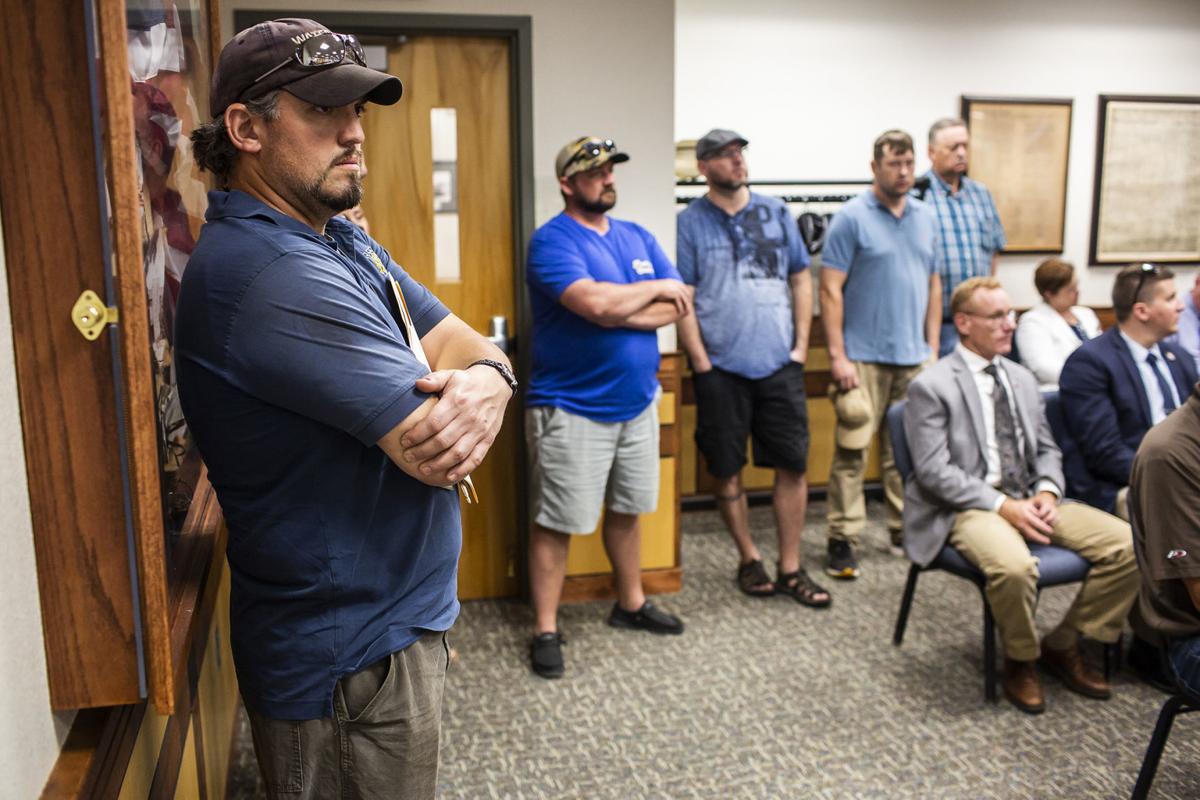 GILLETTE — The uncertain fate of two shuttered coal mines in Campbell County has left about 700 workers out of work and in a state of uncertainty, as bankruptcy proceedings for the coal company continued late into Tuesday night.
"We are basically in the dark," said Earl Elliott, a Blackjewel worker.
Standing arm-to-arm with his wife, Elizabeth, in the back of a public hearing in the county commissioners' chambers at the Campbell County Courthouse on Tuesday, Elliott described how the unexpected news had affected his family.
"We have two kids at home with a mortgage to come, our car payment and mouths to feed," he said.
Elliott worked for 23 years in the oil fields before transitioning to the coal mines because of layoffs. The last time he experienced unemployment, he withdrew funds from his 401(k). But this time, that safety net is gone. And the last cashiers check he received from Blackjewel was placed on hold at his bank.
"I got nothing," he said.
A bank denied Blackjewel CEO Jeffrey Hoops a line of credit to refinance his company on Monday, leading to the closure of Eagle Butte and Belle Ayr mines.
But during a second bankruptcy hearing Tuesday afternoon, attorneys for the out-of-state coal company said they had secured a third-party lender. If approved by a federal judge, the new funding source would likely allow the company to dodge Chapter 7 bankruptcy, or the liquidation of their assets and abandonment of the mines. The judge's decision is expected as soon as Wednesday morning, Blackjewel attorneys said.
In the meantime, uncertainty continues to weigh on the Campbell County residents and officials.
As the bankruptcy hearing proceeded in West Virginia federal court on Tuesday afternoon, Gov. Mark Gordon held a public hearing.
"We are going to stay very attuned to what those results are going to be and we will take action on the other side," Gordon said. "We believe we have the adequate bonding in place."
Regardless of the judge's decision, the Department of Environmental Quality assured county commissioners and attendees that the state was well-protected, even if Blackjewel's new funding source fell through.
"There is no question that we have adequate bonding in place," said Kyle Wendtland, the land quality administrator at the department. "We are assured."
"If (the Blackjewel case) would move to a Chapter 7 we would write a notice of violation and we would do a forfeiture proceeding that moves through the Environmental Quality Council," he added after the public meeting. "Then we make a call on the bonds."
Blackjewel is the sixth coal producer in Wyoming to file for bankruptcy in recent years, but DEQ Director Todd Parfitt said the lack of communication from Blackjewel made this company different than ones before.
"If there is one thing that stands out (with Blackjewel) it's that we didn't hear," Parfitt said. "There was no reaching out from Blackjewel early on. It just happened. (During) the other bankruptcies, we were hearing along the way."
Blackjewel workers can call 685-3900 for updates on the status of the mines.