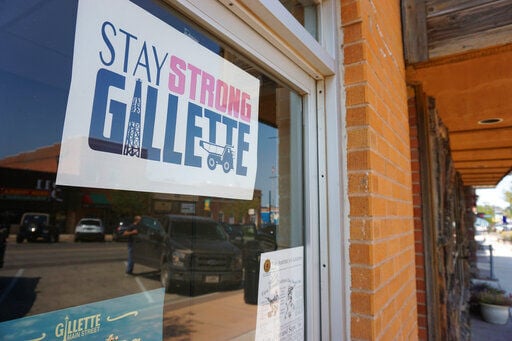 The owner of Buckskin Coal Mine will furlough its workers in response to the weakening demand for coal nationwide, the company confirmed Tuesday. The furloughs come on the heels of the owner laying off 60 miners in March.
"Due to market conditions, the Buckskin Mining Company has communicated to our employees a planned two-week furlough beginning in August," Jessica Jensen, a spokeswoman for the mine's parent company, Kiewit Corp., said in a statement. "Each crew will be furloughed for one week in August and one week in September."
"No employees are losing their jobs or their benefits," she added.
The mine employed 187 workers and produced 2.3 million tons of coal in the second quarter of 2020, according to the U.S. Mining Safety and Health Administration. Output last quarter was slashed by 48%, compared to the same period last year.
Nationwide, demand for coal has been on a downward trajectory for several years. Utilities have been transitioning away from coal toward less expensive natural gas and renewable energy sources.
Despite dimming coal output in the Powder River Basin, Buckskin mine's performance had been somewhat of an exception. Coal production at the mine increased by over 30% between 2018 and 2019. Over the same period, the number of workers employed climbed by 24%.
This year's wave of layoffs has led some Wyoming residents to recall workforce reductions in the hundreds in 2016. That year, Buckskin laid off 36 workers in March and 45 workers in June.
The owner of another coal mine in the Powder River Basin recently called back laid off workers to its Spring Creek mine, citing rosier forecasts for coal markets this summer.
Rob Godby, economist at the University of Wyoming and associate dean of the Haub School of Environment and Natural Resources, said this slight uptick in coal markets could be due to the time of year or weather conditions, but it would likely not last long.
"You have a seasonal bump and this is the quarter, the third quarter, when the most production typically happens," Godby told the Star-Tribune. "We've had a warm summer and we know the worst is usually ahead of us. The hottest month is typically August, and this is when coal plants get turned on to supply added electricity."
But even this boost in coal demand could be brief, he said. Short of a political or technological miracle, the long-term structural decline of the industry will continue.
The mounting financial distress faced by many coal companies nationwide has left landowners and conservation groups in the state worried about the steep reclamation, or cleanup, liabilities associated with coal mining.
The majority of bonding, a kind of financial assurance, in place to cover future reclamation costs at the Buckskin Mine comes in the form of a self-bond (a type of bond not backed by money or assets).
Kiewit Corp. has a self-bond for the Buckskin Mine in the amount of $94.9 million. In addition, the operator, Buckskin Mining Company, has a $23.9 million surety bond to cover the mine too, according to data provided by Wyoming Department of Environmental Quality.
To protect taxpayers, Wyoming regulators revised bonding rules last year. Signed into law by Gov. Mark Gordon in May 2019, the new bonding rules bar companies from solely relying on self-bonding. The new rules also set new credit standards for companies electing to partially self-bond, among other amendments.
The new financial assurance rule included an 18-month transition period, ending in November, a spokesman for Wyoming Department of Environmental Quality told the Star-Tribune. That means the owner of the Buckskin mine will need to demonstrate it has sufficient credit to maintain its proportion of self-bonds.
Concerned about COVID-19?
Sign up now to get the most recent coronavirus headlines and other important local and national news sent to your email inbox daily.