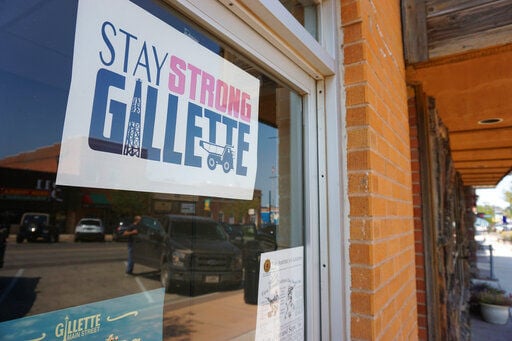 Buckskin Coal Mine located just outside Gillette will reduce its workforce in response to tough market conditions for coal, the owner of the mine confirmed Thursday.
The mine employed 206 workers and produced 4.3 million tons of coal in the final quarter of 2019, according to the U.S. Mining Safety and Health Administration.
Nationwide demand for coal has plummeted in the past year, as utilities transition away from coal toward dirt-cheap natural gas and renewable energy sources.
"The Buckskin Mining Company is communicating with our employees about a workforce reduction," Jessica Jensen, a spokeswoman for Omaha-based Kiewit Corp., said in a statement to the Star-Tribune. "This is not driven by the performance of our employees, but rather the realities of the market.
"We remain focused on safely managing the mine to meet our commitments to our clients and to ensure the mine's long-term viability," she added.
According to Jensen, the company has yet to determine how many workers it will lay off. The company plans to finalize the details over the course of the next month. But a Buckskin worker reported Wednesday that the company said about 50 employees could be impacted, according to County 17 news in Campbell County.
Despite the slump in coal production basin-wide, Buckskin's performance has been an outlier. Coal production at the mine increased by over 30 percent between 2018 and 2019. Over the same period, the number of workers employed climbed by 24 percent.
"Buckskin is actually running a relatively tight ship in terms of managing a productivity decline for the quarters and production we know about," University of Wyoming economist Rob Godby said in an email. "The question is has production declined in a way this quarter that we don't know about and constitutes a reason for a layoff."
For most of the basin, employment reductions have not kept pace with the deteriorating demand for coal. Amid waning hunger for coal, productivity at most Powder River Basin mines has been falling too, Godby's analysis found. In other words, the average output of coal per employee has been declining overall.
The announcement from Buckskin comes less than one week after the basin's largest coal company, Peabody Energy, said it would lay off 50 temporary workers at its North Antelope Rochelle Mine.
This year's wave of layoffs has led some residents to recall workforce reductions in the hundreds in 2016. That year, Buckskin laid off 36 workers in March and 45 workers in June.
The basin's 16 mines produced 72.3 million tons of coal in the final months of 2019, 14 percent less than the year prior.
Since 2015, six coal companies have applied for bankruptcy in Wyoming.
The mounting financial distress faced by many coal companies nationwide has left some residents and conservation groups in the area worried about the steep reclamation, or cleanup, liabilities associated with coal mining.
The majority of bonding, a form of financial assurance, in place to cover future reclamation costs at the Buckskin Mine comes in the form of a self-bond (a type of bond not backed by money or assets).
Kiewit Corp. has a self-bond for the Buckskin Mine in the amount of $94.9 million. In addition, the operator, Buckskin Mining Company, has a $23.9 million surety bond to cover the mine too, according to data provided by Wyoming Department of Environmental Quality.
To protect taxpayers, Wyoming regulators revised bonding rules last year. Signed into law by Gov. Mark Gordon in May, the new bonding rules bar companies from solely relying on self-bonding. The new rules also set new credit standards for companies electing to partially self-bond, among other amendments.
The new financial assurance rule included an 18-month transition period, ending in November 2020, a spokesman for Wyoming Department of Environmental Quality explained. That means the owner of the Buckskin mine will need to demonstrate it has sufficient credit to maintain its proportion of self-bonds.



Photos: Gillette reacts to news of coal mine closures
The business news you need
With a weekly newsletter looking back at local history.