Wyoming has been working on sage grouse management since the 1990s, when people first started to raise alarms that the bird and its habitat were in serious trouble. But in a state with some 40 percent of its land managed by federal agencies, the story of the sage grouse was never just a Wyoming tale.
Recently, the Bureau of Land Management released final revisions to a 3-year-old set of plans to manage the bird, bending strategies on the federal level to align with Wyoming's state plans. The changes remove some lands from protection and change how some protections will be carried out on the ground.
Proponents say the revisions, which were born out of backlash from the Trump administration to the Obama-era strategies, gives states greater authority over managing the bird in their backyards and more flexibility for the oil and gas industry.
Others say the revisions could be catastrophic and now depend on everyone playing by rules of engagement that can't always be enforced. With energy development a stated priority for the Trump administration, not everyone is certain the feds will keep their end of the deal when it's a choice between industry and the bird in Wyoming.
"We never stopped gas and oil, that's the most frustrating thing for me," said Brian Rutledge policy adviser for the Audubon Society and a member of Wyoming's governor-appointed sage grouse management team for many years. "We made sure there was room for them to succeed. (Do) we have to cut every other value loose?"
***
Some of the trouble with sage grouse management in places like Wyoming comes down to the question of who has authority over what.
Wildlife species, until they become candidates for a listing, belong to states, and it is states that are responsible for their keep and care. Since the sage grouse was precluded from a listing in 2015 due to Wyoming and federal management plans, Wyoming now manages that bird.
The trouble is that sage grouse live in abundance on federally managed land.
Balancing that authority, given how important the bird is to Wyoming's economic stability, has been a sticking point for decades. Wyoming wanted to be recognized as having more say over endangered or threatened wildlife than stakeholders with other interests like oil and gas companies or conservation groups. For those who see the amended sage grouse plans as a net gain for Wyoming, part of the reasoning is that the new BLM plans are more closely aligned with what Wyoming had put in place to protect the bird.
"The Final EIS for Wyoming recognizes that Greater sage-grouse are a State-managed species and that the State's authority over wildlife management guides how the BLM cooperates with the State in sage-grouse conservation," said Heather Feeney, BLM spokeswoman, in an email Tuesday.
The federal agency's work was meant to align what federal managers were doing on the ground with what states had put in place, she said, "while also accounting for the needs of local communities – including the economic need for regulatory certainty."
***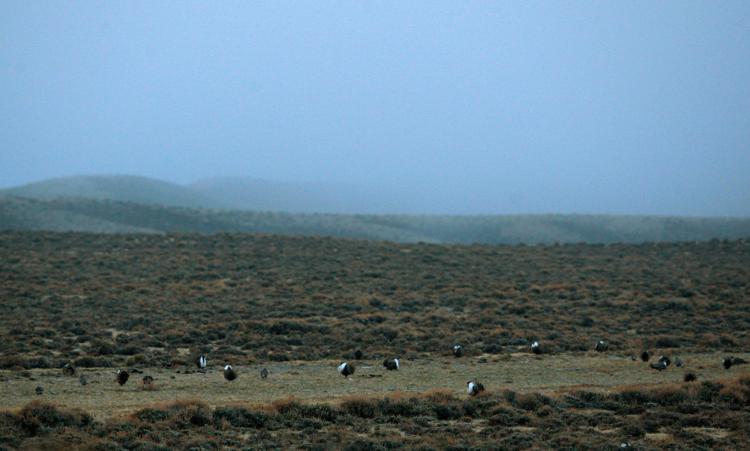 But this new balance of power has triggered some concerns for conservation and environmental groups. Take compensatory mitigation.
The federal agency will no longer force oil and gas firms to compensate for damage done to habitat on federally managed land in Wyoming. Wyoming still includes that obligation in its state plans, but on federal land the enforcement will partly depend on the BLM.
It's one thing to consider what current oil and gas firms in Wyoming will do and another to think about what newcomers will comply with, said Rutledge of Audubon.
"We are hoping against hope we keep the good set of operators that we have right now," he said.
But in the future, what's stopping a company from refusing to compensate according to a state rule when they hold leasing rights on federal land, he asked.
"What are we going to do, point to a (state) executive order?" he asked. "I hate even saying this stuff. I'm afraid I'm going to give the bad guys ideas."
Paul Ulrich, spokesman for Jonah Energy and an industry representative on the state's sage grouse management team, said the onus is on Wyoming, industry groups and sage grouse management leaders to ensure that an understanding of the importance of the bird's conservation continues. The people in Wyoming that have worked on these plans, from the BLM to oil and gas companies, know the stakes, he said.
A listing decision could wreak havoc on Wyoming's oil and gas industry by putting hard limits on what development can occur – not just on current sage grouse habitat, but on its historic habitat, which covers much of Wyoming.
"That's our responsibility," Ulrich said. "We've said from day one we want to be in the driver's seat as a state … We need to continue to prove we are worthy of that driver's seat."
***
It's true that the Interior Department has decided it can't force a company to compensate, but Wyoming is a dual-permitting state ,with both the federal agency and the state regulators overseeing permits to drill a well on federal land, said Mike McGrady, senior policy adviser for Mead.
McGrady said the governor's office is still going through the changes. His initial read of amendments, like the changes on compensatory mitigation, is that the BLM is committing to work with the state's rules.
"We can't tell the federal government what to do or how to decide," he said, noting that that was always the case. "However we've created a process here where the state will be given the opportunity to look at the issue and make recommendations on how we would deal with the situation."
Wyoming has been working on this for two decades now, he said. The new guidance on compensatory mitigation makes more sense for industry, McGrady said.
"It creates a system for everyone to get together and agree," he said.
***
Those with reservations about changes to sage grouse strategies on federal land, both range-wide and in Wyoming, say the revisions undermine the approach that was successful enough to keep the sage grouse off the endangered species list: a bird's-eye view of conservation.
It's not enough for Wyoming plans to be strong. Weakened sage grouse populations in other states could spur consideration of a listing that would apply range-wide.
With the federal agency — the only one that has authority across state boundaries — walking back on some provisions, the plans depend too much on a case-by-case approach to what happens in the bird's habitat, some argue.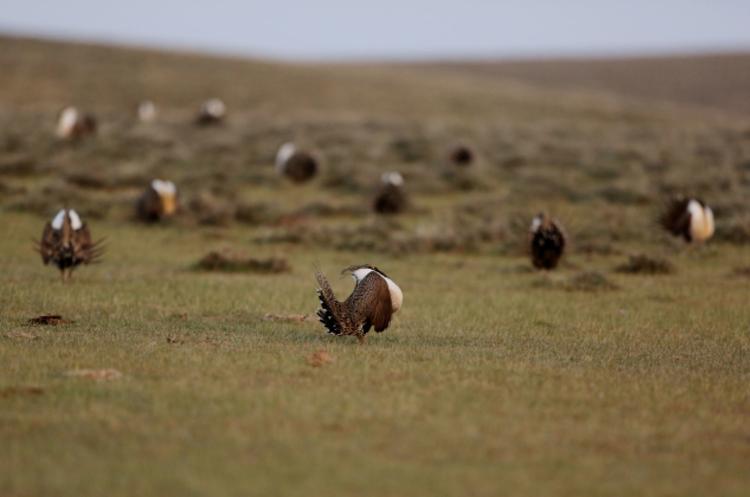 The feds have a lot of leeway, and not everyone is convinced the BLM will take a strong stance on protecting the bird.
"We were working on a range-wide scale. We were able to look at the whole," said Rutledge of the 2015 plans. "Now we are back to case-by-case, waivers, exemptions and modifications."
In the last two years, the agency has been more vocal about its desire to support energy in accordance with the Trump Administration's aims and that too has frightened the conservation community.
That support, along with the higher price of crude, has spurred new industry activity in Wyoming. Leasing for oil and gas took off in 2017. In Wyoming, the combined income from lease sales on state and federal land rose by 800 percent. Some of those leases were offered in sage grouse habitat, stoking complaints from groups like the Audubon Society and the Wyoming Outdoor Council that the BLM appeared to be breaking its own sage grouse rules before they'd even finished the revisions that came out this month.
The agency made other changes. It shortened the amount of time for the public to weigh in on proposed lease parcels, a decision that was shot down by the courts as breaking federal standards for public input when it came to sage grouse habitat.
BLM's practice on the ground of favoring industry's needs has spilled over into other Wyoming wildlife issues, like an ongoing disagreement in the state over federal leases for sale that overlap with the only designated mule deer migration corridor in Wyoming.
An agreement between the state and the BLM places a notice on those leases obligating operators to work with the state's wildlife agency on drilling. The purpose is to keep drilling outside of the corridor, but a number of groups say that a lease notice is not enforceable.
All in all, there are legitimate concerns about the agency's willingness to comply with its own rules or promises of collaboration when industry is at stake, said Rutledge.
From industry's perspective, there is room to streamline federal plans, increase state leadership and cut out the overlap of continual environmental reviews at every level from leasing to drilling, said Ulrich of Jonah Energy.
Ulrich said he understand the concerns raised by conservation groups, but that there needs to be a balance in Wyoming, and the revisions appear to do what Wyoming wanted from the get-go — balancing state and federal rules around this bird.
"That's a tricky balance but I think we can do it," he said. "We can't afford to mess this up."