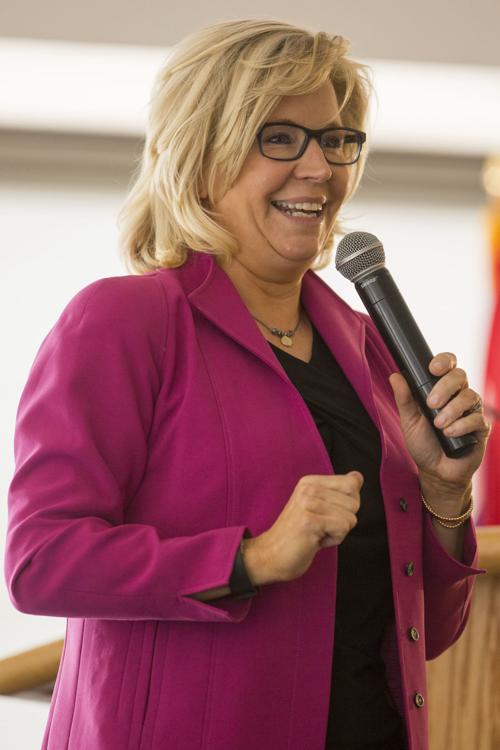 A bill sponsored by Congresswoman Liz Cheney would slap hefty fees on protests to oil and gas on federal land, from leasing land to drilling wells and obtaining right of ways.
Cheney, who introduced the bill in the U.S. House of Representatives Wednesday, said the measure would deter intentional burdens to Wyoming's core resource — energy development.
"Currently no fee is required and some groups have taken advantage of the ability to file protests for free by flooding the permitting agencies with frivolous protests that have severely delayed the federal permitting process and hurt our economy in Wyoming," she said in a statement Thursday.
The Removing Barriers to Energy Independence Act states that its purpose is to recoup the administrative costs of processing protests.
Under the measure, individuals or groups would be charged $150 to file a protest under 10 pages, with additional pages charged at $5 each. If a single filed protest concerns multiple parcels of land, each is assessed at an additional $10.
Bruce Hinchey, president of the Petroleum Association of Wyoming, said he wasn't familiar with Cheney's bill, but that it wasn't a bad idea. Sometimes protests are filed with a goal of slowing down the process, he said.
"It (would be) far cheaper to file a protest than an (application for permit to drill)," he said. "I think that's pretty minimal cost to delay an action on a lease parcel that could be worth thousands, hundreds of thousands to the state, or even millions."
The fees could be hefty for some groups in Wyoming, particularly hunters or conservationists groups that may weigh in on multiple parcels.
The Muley Fanatatic Foundation recently submitted public comment opposing a number of parcels suggested in a migration corridor in western Wyoming. Organizations like the Audubon Society have been increasingly vocal about their opposition to an uptick of leasing in sage grouse habitat in Wyoming.
The Department of the Interior is considering changes to sage grouse management plans – to the ire of conservationists – that would remove the requirement to prioritize leasing and drilling outside of the bird's key habitats.
Brian Rutledge, policy advisor for the Audubon Society, said Cheney's bill was "obscene."
"They are already trying to cut public input out and now she want to add a fee structure to it?" he said.
Upcoming lease sales for oil and gas on federal land would cover nearly 1 million acres. About half of it is in sage grouse core habitat, he said.
The Bureau of Land Management is required to review all parcels nominated by potential oil and gas producers as well as analyze any comments on those proposed parcels. Part of the analysis leads to stipulations for wildlife in some areas, like drilling restrictions during mating seasons. Parties can also protest BLM's decisions once they are made.
In a recent interview with the Star-Tribune, BLM Wyoming State Director Mary Jo Rugwell said public input on issues like the mule deer corridor serve an important role for the BLM as it assesses how to prioritize different activities on federal land.
"I think people often get the wrong impression," she said. "We absolutely do want to hear what they think. We take comments that we get into account before we ever make any decisions. It's critically important to hear what shareholders have to say and we never ignore anything."
Wyoming's BLM has recently tightened the timeline for lease proposals, public comments and sales. It previously would release the list of proposed land for public comment as much as a year before the quarterly sale. It now announced parcels within about a six-month time frame, with a shortened comment period.
With the price of crude improving and a switch to online bidding, Wyoming has had a significant boost in income from lease sales since last year. The combined federal and state revenue from lease sales increased by 800 percent 2017.
A note from Cheney's office mentions the Bureau of Land Management has faced an increase in costly and time-consuming protests in recent years.
"The energy industry, the lifeblood of our economy in Wyoming, has been severely burdened by lengthy and often frivolous protests on energy projects," she said in a statement. "The Removing Barriers to Energy Independence Act brings much needed and long overdue relief to Wyoming oil and gas operators."
Follow energy reporter Heather Richards on Twitter @hroxaner