The federal push to open energy development on public lands resonates in Wyoming, where low prices and production have wreaked havoc on the economy. But when it comes to saving a chicken-sized bird once considered for an endangered species listing, the overlap of conservation and drilling for oil and gas can drum up conflict.
With the Department of the Interior reviewing sage grouse conservation plans and President Donald Trump's directive to make energy development a priority on public lands, a renewed sage grouse debate in Wyoming is flaring up — and an upcoming lease sale in the southwestern part of the state may be the first battlefield.
For their part, operators say fear of an endangered species listing, which first instigated the development of exhaustive state and federal management plans years ago, will keep industry from going too far if limits are rolled back. But conservationists are gearing up for a fight, frightened that an unraveling of the work to save the greater sage grouse from extinction has already reached ground level.
"We are going to take this right to the wire," said Brian Rutledge, executive director of the Rocky Mountain Region Audubon Society. "We are not letting this go easily. It's doing the right thing. Industry knows it. We know it."
A catalyst
The Bureau of Land Management, the largest federal agency operating in Wyoming, is offering up a number of leases for oil and gas development in the state's high desert district in December. Some of those land parcels are in either general sage grouse habitat or areas designated as crucial for the bird's range, say a number of environmental groups, including The Wilderness Society, the Audubon Society and the Wyoming Outdoor Council.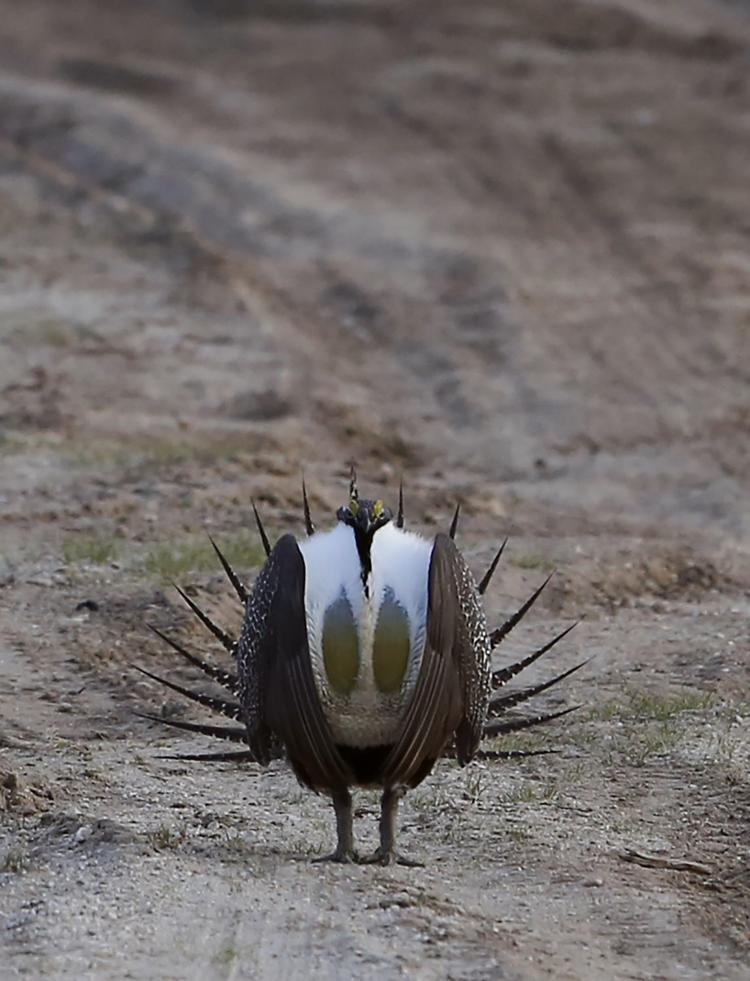 However, it's the agency's justification for leasing in sage grouse areas that has sparked the greatest concern, the groups say. In the environmental assessment for the lease sale, BLM cites Trump's executive order from March, which calls for promoting "clean and safe development of our nation's vast energy production, while at the same time avoiding regulatory burdens that unnecessarily encumber energy production."
The BLM can't rely on presidential orders that are at odds with the regulations on the books, said Rutledge, of the Audubon Society.
The agency's regulations state that the BLM must prioritize oil and gas drilling outside key habitats and prioritize the bird inside habitat. Rutledge says they aren't doing that.
A spokesman for the agency in Wyoming said the BLM will offer an official response to the groups' complaints as part of the public comment process and that a final decision will be released closer to the lease sale date.
ESA at bay
Sage grouse conservation dates back to 2008 in Wyoming, when Gov. Dave Freudenthal called the first sage grouse task force. Western governors jumped in by 2011, when the U.S. Fish and Wildlife Service was given four years to decide whether to list the imperiled bird as an endangered species.
A flurry of activity followed with oil and gas operators working to avoid a listing that would imperil their businesses. Conservationists, believing that management plans at the state level would be more effective than a listing, made common cause with diverse interests in Wyoming.
The plans, both state and federal, worked. The decision not to list sage grouse came through in late 2015, and though few heralded the new plans as perfect, they did strike a balance between energy development and ranching by attempting to restore the fragmented sage brush habitat that was failing to support a robust population of the bird.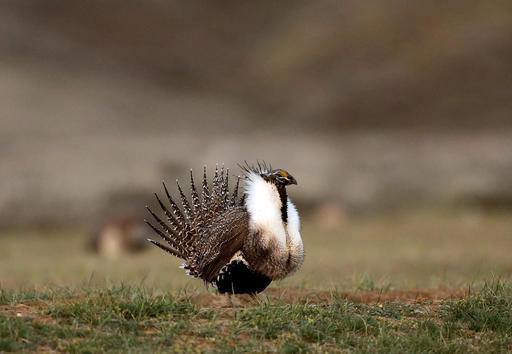 Though Wyoming's state plan provided a road map for other states, the federal plans went further. With the majority of Wyoming oil and gas development occurring on public lands, BLM decisions matter more in the Cowboy State than anywhere else.
Saying that the federal plans are crucial to the bird's survival, conservationists are worried by the lease sale, by the Interior Department review and by presidential statements.
Industry's take
Operators and industry groups say conservationists are worried about nothing.
"The Interior Department could take those federal plans away tomorrow and the state plan would still hold," said Kathleen Sgamma, president of the Western Energy Alliance. "We would still have robust protections for sage grouse in Wyoming and across the West."
Right now, the price of oil and gas has tempered development in Wyoming, but if a price spike happens, operators are already laying plans to get back to work.
Will the need to drill overpower the desire to avoid another endangered species listing? Paul Ulrich, director of government affairs for Jonah Energy and a member of the state's sage grouse management team, says no.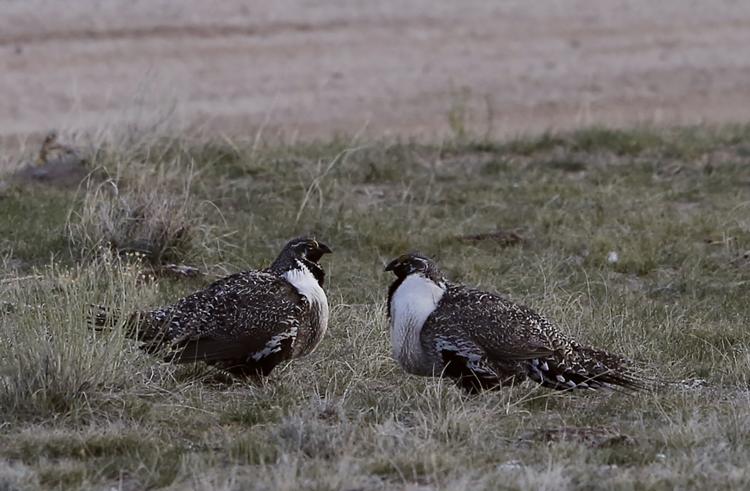 "We know that we need to continue to be very disciplined on reducing surface disturbance, reducing human activity, being very, very selective and working with the BLM on placement," he said. "I expect that to continue."
Ulrich said he can speak only for Jonah but expects that industry in general is going to proceed with caution if limitations are rolled back.
"The worst thing that could happen to Wyoming oil and gas and sage grouse protection is a listing, and operators are most certainly conscious of that," he said.
About 25 percent of Wyoming acreage follows strict state rules on development. If an ESA listing returns, that would extend to 65 percent of the Wyoming habitat, regardless of existing leases, ongoing operations or prospective development, he said.
That's not something industry wants to see, nor do companies involved in sage grouse management want the conservation work to be undone.
"We are well aware of our responsibility and social license to operate," Ulrich said. "That includes ensuring that we are doing everything we can to preclude the listing of the sage grouse."
'Pretty straightforward'
Though oil and gas companies have the most to lose with an Endangered Species listing, deciding how to drill around sage grouse shouldn't be companies' responsibility, others say.
"It's hard for an operator, if it's not regulated, to say we are going to create extra costs and have to explain that to our board of directors," said Rutledge, of the Audubon Society. "What's needed is BLM to do its job. Pretty straightforward. Right now I have more faith in the operators."
Rutledge has been a key figure in sage grouse conservation and in the collaboration that went on in Wyoming between individuals from various backgrounds — federal management, state agencies, ranchers and oil and gas operators.
The idea that oil and gas development is being hindered by federal sage grouse plans is a myth, he said.
Conventional drilling in sage grouse areas dropped by 64 percent in the first two years of the plans, Rutledge said. Meanwhile, practices like horizontal drilling and placing multiple wells on a single pad has led to a spike in unconventional drilling in sage grouse habitat, which increased by 1,600 percent in that time, he said.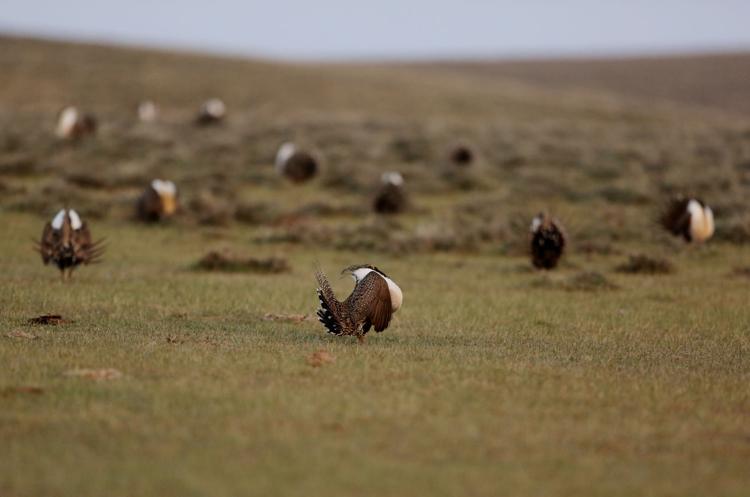 He said he's worried by the lease sale in December and by what it portends for BLM's approach to sage grouse and drilling.
Rutledge is not alone in his fears.
"There is a great degree of uncertainty now, and anxiety, I think, over what changes could come and what those consequences are," said Dan Heilig, senior conservation advocate for the Wyoming Outdoor Council. "If the gas prices go up … then we are back to where we were five, 10 years ago, with discussions of whether the bird needs ESA protection."
Like oil and gas companies, most conservation groups do not want to face another endangered species listing. It's simply not the best approach for this bird, Heilig said.
It would also unleash a bigger fight. Sage grouse habitat covers such a large area of the West that an ESA listing would present the largest challenge the federal designation has experienced, he said.
"There would be ferocious fights nationwide, in Congress and across the landscape over whether the ESA needs to be reformed or done away with completely," Heilig said. "The plans managed to assuage those concerns and get to a point where conservation of the bird was somewhat likely."
Some hope that operators will do as they've said and keep an ESA listing at bay by self-regulating.
"We would like to think that maybe they will of their own volition," said Bruce Pendery, energy policy specialist for the Wilderness Society. "They know the sage grouse biology as well as anyone does ... if we really want to maintain this bird and avoid listing, we need to find other places to develop."
But hoping for industry discipline isn't enough, he said. The plans need to be followed if they are going to work.
Conservationists are drawing a line in the sand, and they won't back down, said Rutledge, from Audubon.
"I want to be sure BLM is going to enforce what is written as the rules," said Rutledge. "That's the primary issue I'm seeing crop up now and that I'm most worried about: that they are not abiding by their own [plans]."