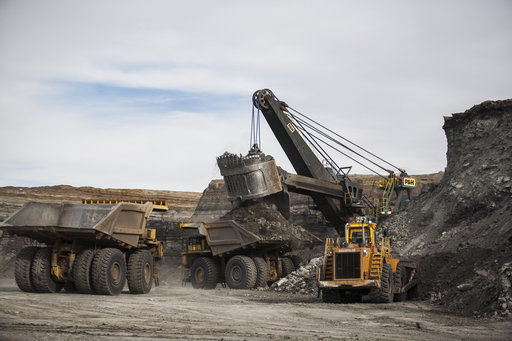 Retired coal miners from the Antelope and Cordero Rojo mines in Campbell County will lose their medical benefits as Gillette-based Cloud Peak Energy continues to find areas to narrow liabilities in a strained coal market.
Current retirees will continue to obtain benefits until the end of the year and then receive a lump sum, according to the company. Cloud Peak will maintain an unfunded medical plan that covers limited medical needs for some retirees.
The change, which was announced to employees in August and made public this week, slashes $24.7 million from Cloud Peak's benefits obligation.
The company did not immediately respond to a request for comment from the Star-Tribune.
Cloud Peak is the only pure Powder River Basin coal firm, but is one of the state's largest producers alongside mammoth firms like St. Louis-based Peabody Energy and Arch Coal. All of Wyoming's coal firms have faced an uphill battle as natural gas whittled down coal's dominance in the electricity sector.
Cutting the benefits boosted Cloud Peak's quarterly numbers with a no-cash gain of $19.5 million, which helped offset poor shipments from the Antelope mine south of Wright. Antelope is still recovering from heavy rain earlier in the year.
Cloud Peak reported a net income of $12.7 million for the third quarter of 2018, up from $2.6 million for the same period last year.
The company continues to look to Asian markets for its Powder River Basin coal, but that avenue to revenue remains limited. Of the 52 million tons contracted this year, 4.9 million tons are for exports. Those tons have largely come out of the company's Montana Spring Creek mine.
Given the closures of power plants this year, and uncertainty on that front next year, demand for Powder River Basin coal from the U.S. power sector in 2019 could be "flat to maybe up a little bit," though the winter months may be telling, said Colin Marshall, CEO and president of Cloud Peak.
Cloud Peak announced in June that it would shutter administrative offices and locate those employees at the mine site as a way to cut costs. The Gillette firm did not fall into bankruptcy during the dramatic coal downturn of 2015 and 2016 nor did it lay off employees during that slide in the coal sector. Peabody, Arch and Alpha Natural Resources did buckle at that time.
Wyoming was jerked into action to try to absorb some of the fallout when nearly 500 miners from Arch and Peabody were laid off on the same day in March 2015, largely by helping miners deal with unemployment claims and by offering retraining.
Unlike Cloud Peak, those firms were able to slim debts as a result of their restructuring and come out much leaner in an uncertain coal market.
Earlier this year, lawmakers approved tightening the eligibility requirements for a state fund for coal miners with health issues. The Wyoming Miner's Hospital Board Account had been overleveraged since the passing of the Affordable Care Act, some argued. Now miners will have to have worked in the mines for 10 years to be eligible for that fund. About 75 percent of miners receiving benefits at the time would have met the new eligibility requirements. Of the 8,000 on the books, that would leave 2,000 ineligible under the new rules.
Arch announced its earnings earlier this week. Peabody is set to release its third quarter results and answer questions from investors on Tuesday.
Follow energy reporter Heather Richards on Twitter @hroxaner
The business news you need
With a weekly newsletter looking back at local history.