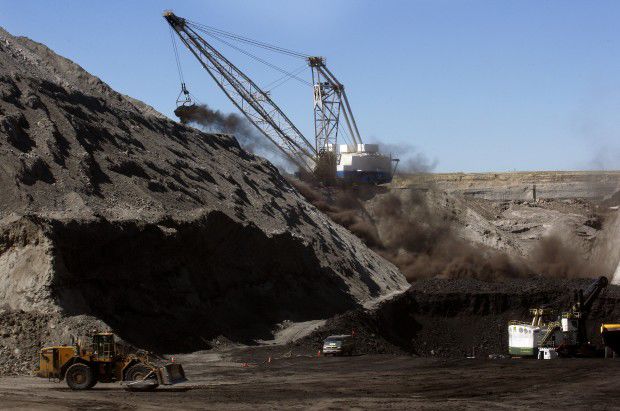 In another sign of coal country's hazy future, bankrupt coal operator Cloud Peak Energy requested Wednesday to delay the scheduled auction and sales hearing of two Wyoming coal mines.
Bankrupt coal companies unable to repay outstanding debt can auction off their assets to bidders, often anointing mines with new ownership to keep the facilities pumping out coal. The auction of Cloud Peak's assets will occur a week later than anticipated on Aug. 8, causing some industry experts to speculate it has yet to receive suitable bids or appease the competing interests of creditors. It is not uncommon for courts or companies to reschedule bankruptcy cases.
A spokesman for Cloud Peak declined to comment on the delay.
Speculation over the future of Cloud Peak's Cordero Rojo and Antelope coal mines took off when the publicly traded company filed for bankruptcy in May. On top of months of financial turmoil, the company slashed retirement and health care benefits for its workers last year. In March, the New York Stock Exchange blocked the company from trading due to Cloud Peak's poor financial performance.
The company has a rocky relationship with Campbell County too, owing about $8.3 million in ad valorem property taxes.
Located in the heart of Powder River Basin, the company's two Wyoming mines are the third- and fifth-highest producing coal mines in the United States, employing over 800 workers. The facilities produced nearly 36 million tons of coal in 2018 and have continued operating at full capacity during bankruptcy proceedings. Cloud Peak also owns Spring Creek mine in Montana.
Risk-adverse bidders
Wednesday's delay could mean the company has struggled to successfully secure a stalking horse bidder, or a buyer that could relieve the company of ownership of the mines at a fair price, said Rob Godby, an economist and professor at the University of Wyoming. A stalking horse bidder sets a "floor" or minimum price for auction, guaranteeing that there is at least one buyer during the sales process.
Cloud Peak Energy also has a group of creditors that can place bids up to the amount the bankrupt company owes them. If no third-party bidders come forward, the ad hoc group could place a credit bid and assume ownership of the company's assets. The group of creditors could decide to take over the mines and reorganize the company, Godby said.
A judge approved the sale of bankrupt coal company Westmoreland, which owned the Kemmerer coal mine in southern Wyoming, to a group of secured creditors in June.
"The ad hoc group, they actually could exercise a bid of a certain value, up to the value of what they are owed and basically ensure that they get the value of their debt back," Gobdy said. "... This credit bid gives them a lot more control over the outcome of the auction, assuming they chose to exercise it."
Potential buyers could be adverse to placing major bids on the assets held by bankrupt coal companies given the tightening profit margins in the coal sector, not to mention the threat posed by the recent merger of Peabody Energy and Arch Coal, owners of the country's two largest coal mines.
"You have to compete against this super competitor," Godby said. "… It just tells you that, boy, it's pretty hard to make money in the Powder River Basin. (The merger) was a pretty big blow for Cloud Peak."
On top of that, the Cloud Peak bankruptcy case is proceeding along as neighboring coal company Blackjewel barrels through the courts after shutting down its two Wyoming mines. Blackjewel heads back to court Saturday to potentially settle its sale. It received a $20.6 million bid from the former owner of the mines, Contura Energy.
"Maybe (Cloud Peak Energy) just ... wants to delay to allow time for the dust to settle and to take advantage of information that might be gleaned from the Blackjewel sale," Godby said.
But much remains unknown until the court unseals the bids, which in addition to funding for the mines, would likely need to include funds for reclamation or cleanup liabilities.
Cloud Peak Energy's auction will be held at 9 a.m. Mountain Time on Aug. 8 in New York City. A final sales hearing is scheduled for Aug. 19.