Coal, oil and gas were a boon and challenge for Gov. Matt Mead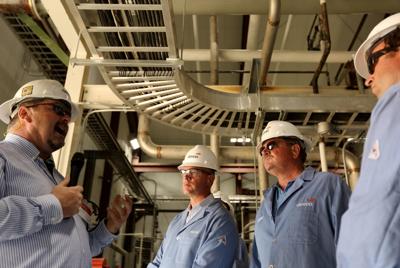 Energy markets that make and break Wyoming have been in flux for much of outgoing Gov. Matt Mead's second term.
Wyoming's fossil fuel reliance is one the governor — like many before him — has said is untenable. The trouble with having an economy tied to the price of a barrel of crude drove Mead's late-game initiative to refashion the state economy through a series of goals like growing the advanced manufacturing sector and retaining Wyoming students after graduation.
But the economy eight years after Mead came to office remains stubbornly based on fossil fuels.
None of the three fossil fuels that Wyoming depends on are at the top of the commodity cycle as the governor leaves office. Oil had experienced modest stability driving new revenue and jobs, but its rise has slowed since a price drop this winter. Gas is facing a short-term burst in favorable prices due to shortages without long-term prospects of better prices. And coal has somewhat healed from an unprecedented decline in 2015 and 2016 but lacks promise of a future as robust as its past.
In short, Mead oversaw tumultuous times in Wyoming energy. Reacting to the uncertainty of mineral dependence marked his final years, and despite energy's offering of tremendous wealth in the small-population state, Wyoming's mineral industries remain both a resource and a challenge for the incoming administration.
Shifting tides
The story of the coal bust that hit midway through Mead's second term is familiar in Wyoming. Most also know why coal struggled — from company debt to competition with natural gas and regulations like those requiring mercury-capturing scrubbers that closed older coal plants — but few have a confident answer for what comes next.
Coal plant closures have continued nationwide over the last few years. Despite Thursday's rollback of regulations that impeded new coal construction, utilities have largely turned away from coal in favor of cheap wind and natural gas. Just last week, Wyoming's largest utility revealed that closing some of its coal units in Wyoming and replacing them with other energy sources would save millions.
But Mead doesn't see coal going away, not completely. The governor said he believes he has helped shift Wyoming to face coal's future, where emissions from burning coal are captured and the rock is used for more than combustion to create electricity.
"I think I've prepared Wyoming for the challenges of coal and the decline of coal, not the elimination of coal," he said.
Mead said he was never convinced of the idea that coal would just go away, but in the lead-up to the downturn it was clear his state faced a long-term challenge.
There's been tremendous political pressure regarding coal of late, with those fearful about climate change calling for a rapid transition to green energy and those in the coal camp downplaying the need for change. On both sides, people have pressed political leaders to take a side. The governor has been obstinate in refusing to cater wholly to either side, or in some respects, catering to both.
Mead, who is still skeptical about some aspects of human-caused climate change, has said Wyoming still needs to focus on expanding technology to address those greenhouse gasses.
"I can understand people saying I need to just get fully on board," he said. "But … my personal beliefs are largely irrelevant when we want to have a world market for our mineral products."
The state's greatest hope is to somehow get its coal to Asia, where proponents of the industry see demand even as U.S. consumption declines and offer solutions to emissions concerns for those buyers. Mead noted his conversations with Taiwan, Japan and South Korea to this end and the state's decision to fight for a controversial coal port proposed in Washington.
"I will not suggest that's going to necessarily prevent a bankruptcy or prevent some of the challenges that I've seen," he said. "But if you take a long-term view of 100-plus years of coal, I think long term those things will be effective."
Please, Lord, give me one more boom...
The oil and gas industry has saved Wyoming over the last year, after helping drive it to an economic bust prior to that.
Improvements in the price of crude have brought back jobs, driven down unemployment and introduced revenue to Wyoming's coffers. But the state is still at 56 percent shy of the all-time high in revenue, Mead noted Wednesday.
"Things are better, much better than they were two years ago." he said. "It's good, but it's not great."
Gov.-elect Mark Gordon will come into power at a time when oil and gas businesses are focused on Wyoming and planning to invest here, Mead said.
But the news of oil prices going up and down seems to change by the day, and that roller coaster in revenue will be a continuing challenge for Wyoming and the new governor. The state bases its two-year budget not on actual revenue but on projected income, creating a consistent uncertainty in the budgeting process, the governor said.
Mead cut some $250 million from his government, while legislative cuts made additional reductions as Wyoming's mineral income retreated during the bust.
Mead's Endow initiative largely focuses on steps to diversification, but the larger aim of fostering a diverse economy is dependent on changing a tax structure that right now relies largely on minerals year by year.
Wyoming needs to have that conversation about new taxes now rather than be forced into it because there's no other solution, he added.
"I can't necessarily tell you that I have a good gauge on the legislators' appetite to discuss taxes," he said. "But I hope they do."
Follow energy reporter Heather Richards on Twitter @hroxaner