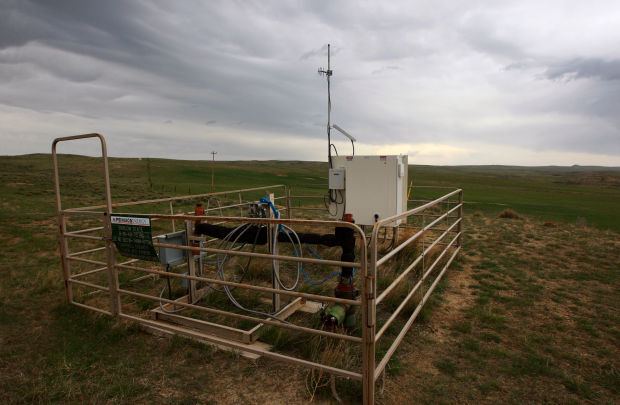 Wyoming lawmakers are weighing the possibility of dedicating extra funding to oil and gas reclamation efforts to catalyze job growth and spur economic development in response to the COVID-19 pandemic and collapse of oil markets.
Rep. Mike Greear, R-Worland, moved to draft a bill that would authorize the Wyoming Oil and Gas Conservation Commission to expend an additional $7.5 million in the 2021 fiscal year, specifically to accelerate the plugging of orphan wells, which are wells with no responsible owner, and reclaiming of well sites. The additional funding would effectively double the commission's biennium budget for reclamation of orphaned wells.
The state takes on the responsibility of orphan well remediation, which includes plugging the well and rehabilitating the disturbed surface.
Wyoming still needs to clean up 2,793 wells identified as orphaned, according to the Oil and Gas Conservation Commission. The commission has removed 99 wells from its list of orphan wells so far this year, according to supervisor reports provided by the agency. These wells can have environmental and public health consequences if left unplugged. If a wellbore deteriorates, it can potentially leach oil, gas or fluids into nearby water supplies.
These cleanup tasks are expensive and require a labor force. By accelerating the reclamation of orphan wells this year, the state could generate additional jobs for oil and gas workers, lawmakers said.
Oil and gas activity abruptly slowed in response to a global price war and the novel coronavirus this spring. The price for oil plummeted, making production unprofitable for operators. Companies shed workers. Though prices have rebounded in part, thousands of oil and gas workers remain without work.
"This would make sure employees in the energy service industry continue to take home a paycheck and are ready to restart drilling as demand returns, while also taking advantage of time and cost benefits of reducing the orphan well backlog — a liability the industry takes seriously," the Petroleum Association of Wyoming stated in a news release in support of the effort to speed up cleanup.
Mark Watson, supervisor of the commission, said the state has moved ahead on certain cleanup projects since the economic slowdown struck Wyoming. However, limitations in staff, existing contracts and supply chains could make a significant acceleration of plugging wells difficult, he said.
"It takes time to plug some of those deeper wells," Watson said.
But lawmakers pressed the supervisor to outline what the commission would need to fire up orphan well cleanup.
"What we're really trying to do here is a 'put-people-to-work program' during the downturn to then do something positive from a cleanup and environmental standpoint," said Sen. Chris Rothfuss, D-Laramie.
Idle well bond relief?
Bonds paid by the oil and gas operators help avoid the liability of orphan wells from falling onto taxpayers' shoulders. Blanket and idle well bonds exist as forms of financial assurances for the state in case a company goes bankrupt or walks away from a project. Additionally, if a well is considered idle — shut-in and not producing, injecting or disposing — an operator is eventually required to pay into an idle well bond ($10 per foot of well bore). The bond fund protects the state from footing cleanup costs of wells down the road.
The Oil and Gas Conservation Commission holds $159 million in idle well bonds.
Yet the Enhanced Oil Recovery Institute and other industry groups have lobbied the state in recent months to temporarily relax idle well bonding requirements, in addition to other relief extended to the sector. The Petroleum Association of Wyoming also asked the governor to "defer, not forgive, idle-well bonding requirements."
The Oil and Gas Conservation Commission can grant bond amount reductions already if operators submit a plan. The agency has done so many times, according to Tom Kropatsch, deputy supervisor of the Oil and Gas Conservation Commission.
"We're more than willing to listen to any operator and reduce bond or not require additional bonds," Kropatsch said Monday.
But opponents of such relief have urged the state to maintain existing bond requirements for idle oil and gas producers, stressing the threats an orphan well can present to surrounding landowners' land, water and air.
"Today's record-low fossil energy prices and the current financial turmoil in the industry almost surely presage an avalanche of unbonded idle wells becoming orphans," Bob LeResche warned in a May 31 op-ed published in the Star-Tribune. LeResche is a former commissioner of natural resources in Alaska and current board member of the Powder River Basin Resource Council and the Western Organization of Resource Councils.
According to data analyzed by LeResche, a majority of the $13.9 million dedicated to plugging over 1,700 orphan wells between 1997 to 2016 came not from forfeited bonds, but a conservation tax fund. But the commission temporarily waived this tax this spring to support struggling oil and gas producers in the state. The commission collected over $4 million last year from the tax.
"These idle and orphan wells are primarily on private surface, owned mostly by Wyoming citizens, taxpayers and voters," LeResche continued. "These landowners are burdened with the damages caused by idle or orphaned wells. They degrade and devalue property, provide a breeding ground for noxious weeds and threaten groundwater."
The business news you need
With a weekly newsletter looking back at local history.