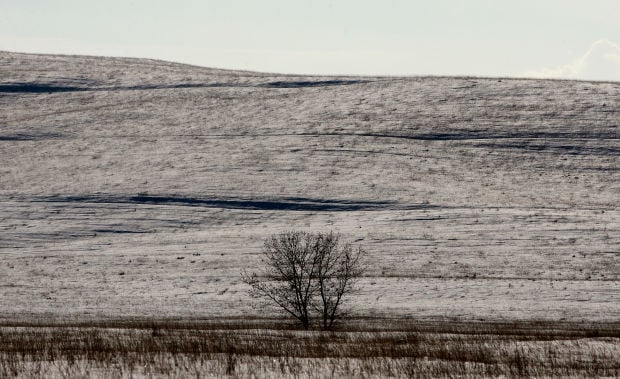 A coal technology firm's fight to revive coal mining at a site near Sheridan has been embroiled in controversy for nearly a decade.
But two months ago, the Wyoming Department of Environmental Quality deemed the company's revised application for a necessary permit technically complete. Since then, the agency has been accepting public comments on the proposed mine.
Over 100 comments flooded the agency by the Thursday deadline — ranging from emphatic support for the project's economic promise, to heated opposition over concern the surrounding land would sustain permanent damage.
The company plans to build a vertically integrated "coal campus" in northern Wyoming— replete with a research complex and a manufacturing hub. On top of that lofty proposal, Brook Mining Company, a subsidiary of Ramaco, bought land near Sheridan to resurrect coal mining operations to feed the research facilities.
The company aims to transition away from thermal coal generation and find other uses for coal beyond electricity production.
"We seek a new higher tech, higher value future not only for our coal mining, coal research and advanced carbon manufacturing, but also for the communities where they will grow," Ramaco Carbon CEO Randall Atkins said in a statement. "We want to start at a time when Wyoming now needs it most."
The company asked for a permit to mine 250,000 tons of coal per year for five years, according to Department of Environmental Quality. Atkins says he hopes to eventually ramp up coal production to several million tons annually at the mine, located eight miles northwest of Sheridan.
The permit application underwent roughly a dozen technical reviews by state environmental regulators since the company submitted its original proposal in 2014. Now, the environmental quality department director will make an ultimate decision on the surface coal mining permit.
The project's proponents cite the positive economic growth the project could spur for Sheridan County and the state, especially at a time when demand for thermal coal has dramatically declined. Engineer Brady Lewis said in a comment the coal mine would "provide high quality jobs that keep our Wyoming families together."
The Sheridan County Chamber of Commerce also wrote in support for Ramaco's vision: "Ramaco has taken the utmost care to complete the very thorough permit application and is investing in our community," the members wrote.
According to a comment from the Wyoming Mining Association, the "mine is needed."
"Ramaco Carbon's mine and investment into coal technology research, development and manufacturing will be a key venture for our mining sector in Wyoming moving forward," Executive Director of the association Travis Deti wrote in a comment.
But many Wyoming residents, especially those living in the Tongue River Valley near the proposed mine site, have expressed sustained concern over the potential environmental impacts and future financial liabilities associated with the Brook Mine.
The Powder River Basin Resource Council, a grassroots landowner group, said the permit application was still "incomplete and deficient." It outlined numerous concerns related to the project's impacts on surrounding land, water and air. The group also said the coal company's application fails to address issues pertaining to public safety, including what it saw as heightened risk of subsidence, or the potential for the land's surface to cave if underground mining were to occur.
Several comments considered the area's historic and extensive recreational opportunities at risk if active mining were to return.
"As an outdoor recreationist, I use the Tongue River corridor for boating, birding, and hiking or skiing year-round, and the proposed mine would virtually put an end to these forms of recreation," said Gillian Malone, a member of the Powder River Basin Resource Council. "The proposed mine not only represents a completely incompatible use for this pristine area from the human standpoint, but it threatens a large number of nesting and migrating birds, including raptors and water fowl, and many other species of wildlife that occupy the Tongue River corridor."
Other comments from groups like the Tongue River Water Users Association, said they feared the project would compromise critical water resources, like wells and groundwater.
The Wyoming Game and Fish Department offered recommendations to protect sage grouse and other wildlife within sensitive habitat by limiting development during certain periods of the year. The agency also hopes to work with the company to ensure nearby hunting and fishing opportunities are protected if mining occurs.
Meanwhile, the project's owner has defended its revised application, asserting it had undergone several stringent reviews by technical experts.
"These career experts at the DEQ are people who live and work here in our community. They have a stake in getting it right, and they have reviewed coal mining permits for a living, for decades," said Atkins, Ramaco Carbon's CEO. "After eight years of planning, study, review and comment they have said this permit is more than ready."
The Wyoming Department of Environmental Quality will also host an informal conference on the permit on May 13 before rendering a decision. Those wishing to participate at 9 a.m. on May 13 in the online conference need to register online first. Questions about the conference can be directed to Craig Hults at 307-777-7066 or craig.hults@wyo.gov.