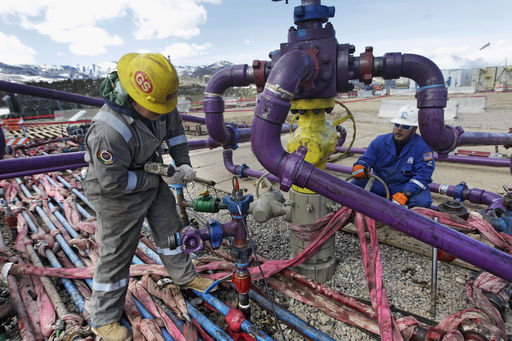 Oil markets have been teetering on the brink of collapse this year, with a glut in oil supplies worldwide and weak demand for fuel weighing down the price of crude. Oil's volatility has pounded U.S. shale operators particularly hard, leading to mass layoffs, bankruptcies and shut-in wells.
The precarious state of one of the world's most powerful industries has led some lawmakers, energy analysts and members of the public to worry about the fate of the nation's oil and gas wells. Many have called on oil producing states to bulk up bonding requirements to ensure these sites don't become financial and environmental liabilities.
For instance, a new report published by the Carbon Tracker Initiative, an independent financial think tank focused on energy and climate change, warned that the pandemic and the way the nation uses power could potentially leave Wyoming taxpayers on the hook for cleaning up wells left unplugged, especially as more and more companies see revenue, savings and investment dry up.
"For the first time, regulators, taxpayers and investors can see the scale of environmental debt burdening the U.S. oil industry as it heads into the energy transition," said Robert Schuwerk, executive director of Carbon Tracker North America and a co-author of the report.
According to the report, Wyoming could face billions of dollars in orphan well liability risk down the road if it does not reform what the group called outdated bonding rates. If the state had to take responsibility for covering all of Wyoming's unplugged wells, its current bonding policies would only cover 3% of this cost, according to the group's analysis. Though that's three times higher than most other oil-producing states, the researchers said it could still cause the state to come up short on funds for plugging orphan wells in the future. But that is assuming a majority of existing wells are left unplugged when abandoned.
The Wyoming Oil and Gas Conservation Commission challenged the conclusions of the report, contending the group made "unrealistic assumptions" and based its results on "fundamental inaccuracies."
Nonetheless, the report does shed light on an ongoing debate over the potential risks of oil and gas production in an era of weak oil and gas markets. It begs the question: Have Wyoming regulators taken sufficient steps to mitigate this risk and shield the public from shouldering the expensive burden of cleanup down the road?
To be clear, the Carbon Tracker Initiative's researched the level of "orphan well liability risk" faced by the state. Orphan wells are idle oil and gas wells left unplugged with no responsible owner. To calculate that risk, it assumed oil and gas operators would fail to properly plug and abandon all wells in Wyoming. If that scenario occurred, it would leave the state and federal government with an estimated $10 billion in cleanup costs, even after accessing available bonds.
The Oil and Gas Conservation Commission called the analysis unrealistic.
"It is important to understand that in most cases, the oil and gas operator will plug the wells that are at the end of their economic life," a spokeswoman for the commission said in a written statement to the Star-Tribune. "This report assumes that all the wells in the state will need to be plugged either by the state or federal government, which is simply not true."
But to researchers at the Carbon Tracker Initiative, the state should have sufficient bonding in place to protect the state in case any one of these unplugged wells are abandoned, especially given the vulnerabilities of the oil and gas industry.
"One of the main reasons we wrote this report was to show that state bonding requirements are so low when compared to expected plugging costs (that) states were creating a moral hazard and encouraging operators not to close wells," the authors added in a written statement responding to the oil and gas commission's criticisms. "(This) strains programs like the Wyoming conservation fund."
The state of orphan wells
Wyoming's oil and gas commission takes responsibility for plugging orphan wells on state and private lands using funds collected through bonds and a conservation tax, both paid by oil and gas operators. According to the commission, the costs of the orphan well program do not fall on taxpayers because they draw from these bonds and taxes.
The state is working to clean up nearly 2,324 orphan wells it has identified, according to the commission's database.
As it stands, operators drilling in Wyoming must pay an individual well bond of $10 per foot of wellbore or an operator blanket bond of $100,000. Companies must furnish a surety bond or other guaranty to the commission. Bonds are financial assurances companies provide to the state for use in case they fail to plug and abandon a well. It's somewhat similar to a mortgage lender asking a buyer to have private mortgage insurance. If a well sits idle and doesn't produce oil or gas for one year, operators may also be on the hook for additional bonds.
As of August, the Wyoming Oil and Gas Conservation Commission held nearly $225 million in total bonds, a majority collected from idle well bonds. Both the commission and industry groups here in Wyoming firmly maintained the state was prepared to take care of the state's orphan wells.
"Following industry's call to accelerate reclamation work, the agency is working to plug approximately 1,500 of those in the coming months," the Petroleum Association of Wyoming said in a statement. "Wyoming has the best in the nation orphan well program — 100% funded by the oil and natural gas industry — that accounts for depth by setting bond rates on a per-foot basis. Wyoming's taxpayers can rest assured that the industry is committed to operating responsibly and the State has a robust system in place to manage existing orphan wells."
The commission finished remediating 91 wells in August, bringing the total number of wells removed from the orphan well list this year to 523, according to supervisor reports provided by the agency.
Calculating risk
Researchers at the Carbon Tracker Initiative calculated Wyoming's orphan well liability risk by analyzing both wells identified as officially "orphaned" and all other unplugged wells potentially at risk of being orphaned.
The report stated Wyoming now has 63,730 total unplugged wells. This well count included hydrocarbon producing wells in addition to wells used for related oilfield activities, like injection, waste, disposal, water and monitoring wells. The authors estimated the closure costs of each unplugged well in Wyoming using data culled from Enverus, a subscription-based service primarily used by oil and gas industries. It then applied an exponential cost function based on depth of each well.
In response to the report, Wyoming's oil and gas commission maintained it had only recorded 54,000 total wells on federal, state and private land, including 13,000 coal-bed methane wells in Wyoming. State regulators also challenged the report's estimated cost for plugging a well as unrealistically high.
"To assume a rather high plugging cost for every well, as done in this study, is not representative of real world conditions," the commission concluded. "These considerations were not built into their calculations."
But authors of the report told the Star-Tribune their process of calculating the cost of plugging the state's wells was done on a "well-by-well basis," using a depth-based exponential cost function. In other words, the cost per well was determined based on the recorded depth of each well.
That said, some wells did not have a recorded depth. For these wells, researchers applied the state's average well depth — 7,700 feet — and estimated the cost of plugging to be about $179,000. Wells below 2,000 feet were assumed to cost less than $50,000 in the reports analysis.
The Carbon Tracker Initiative said its analysis also differentiated between coal-bed methane wells and other types of wells, by predicting each coal-bed methane well would cost $5,000. This estimate aligns with Wyoming's oil and gas commission's estimates: Plugging a coal-bed methane well costs between $5,000 and $7,000, depending on depth and well completion, among other factors, the commission stated.
"Under our cost estimation formula, it is clear that Wyoming's bonds are currently insufficient even if there are only 54,000 wells in the State," authors of the report stated.
Meanwhile, the Petroleum Association of Wyoming and the Oil and Gas Conservation Commission have adamantly maintained the state is prepared to remediate both current and future orphan wells. More often than not, oil and gas operators in Wyoming follow through on cleanup, they said. Ultimately, state regulators and groups representing the oil and gas industry in Wyoming called the Carbon Tracker Initiative's report fundamentally misleading.
Why worry about orphan wells?
Wyoming groups like the Powder River Basin Resource Council have called on the state for decades to beef up its bonding requirements for wells. For one, the cost of plugging wells has only gone up, the group asserts. Advancements in unconventional shale drilling techniques in recent decades have hiked up cleanup costs as operators drill deeper into rock formations and wells carry shorter lifespans. But several states throughout the country have yet to update their bond rates accordingly.
To its credit, Wyoming holds higher bonding standards than several other states. But reform is still needed, conservation groups said.
For example, the federal government currently gives companies drilling on public land the option of a $125,000 blanket bond rate. The rate has not been updated in decades. The Government Accountability Office found a vast majority of bonds (84%) covering wells on federal and tribal land were insufficient to cover the full cost of cleanup. Across the country, hundreds of thousands of wells remain unplugged and without a responsible owner.
At the end of the day, if companies are unable to afford their cleanup costs, the Bureau of Land Management would turn to the bond fund, only to find they are insufficient to cover the full costs, advocates of bond reform contend.
Lawmakers and conservation groups have continued to point to the environmental and public health consequences of leaving a well unplugged too. If an abandoned well is not attended to, a wellbore could deteriorate and potentially leach oil, gas or fluids into nearby water supplies. Wells left unplugged can spew out methane too.
"Wyoming Oil and Gas Commission and the Bureau of Land Management continue to coddle the oil and gas industry at the expense of the taxpayer, local communities, landowners and our public lands," Jill Morrison, executive director of the Powder River Basin Resource Council, wrote in an email.
The Powder River Basin Resource Council has called on the state to require full bonding for the cost of plugging and reclaiming each well before the state issues a permit to drill.
"The time to raise oil and gas bonding is long, long overdue," Morrison concluded.
The business news you need
With a weekly newsletter looking back at local history.