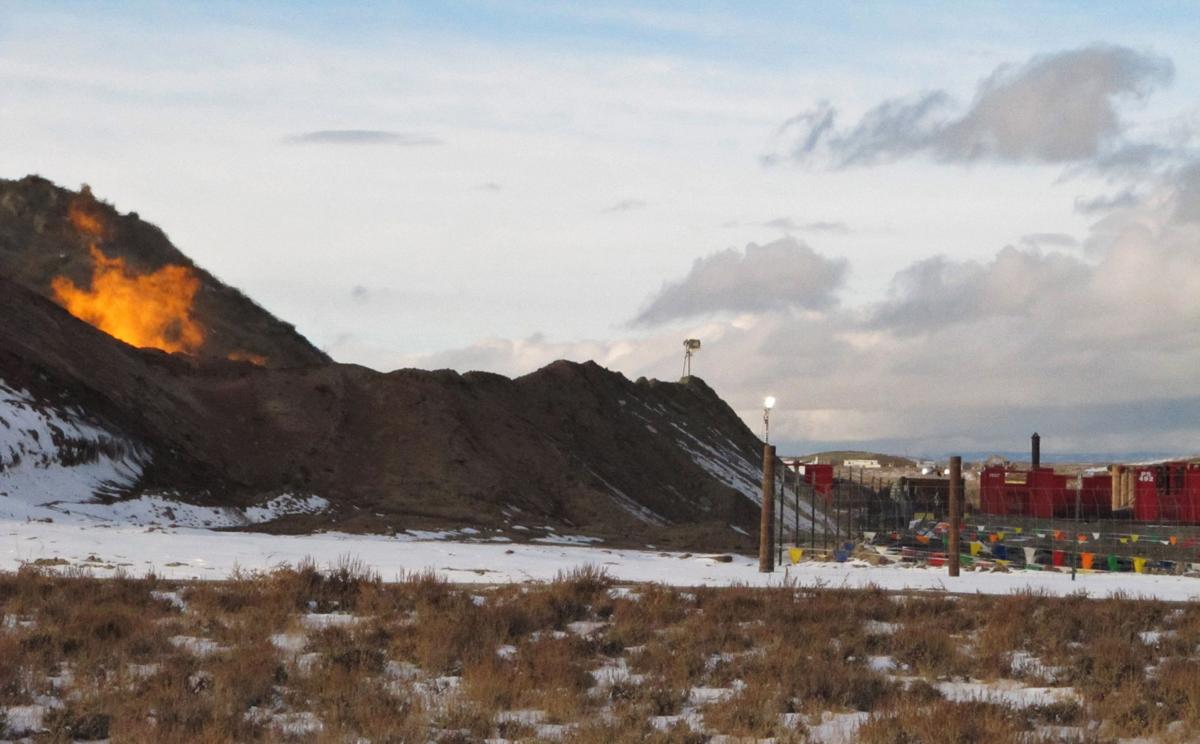 The Wyoming Department of Environmental Quality issued ozone action days in the Upper Green River Basin for Friday and Saturday, requiring energy companies to reduce emissions. It's been about six years since ozone levels in the area have necessitated the safety protocol.
The action day was first announced Thursday, when ozone levels hit 81 parts per billion in the town of Boulder. The federal standard for ozone is no greater than 70 ppb over an eight-hour period.
Since 2009, state regulators have advised companies in the basin to keep action day contingency plans for ozone level spikes that can be put in place within 24 hours.
On action days, oil and gas producers implement steps like the reduction of truck idling and limited refueling.
QEP Resources, which operates in Sublette County, reduces the speed limit on its field and lease roads by 5 miles per hour, according to its contingency plan. It also limits refueling to after sunset, when emissions are less likely to form ozone.
Ground-level ozone is the primary ingredient for smog, the potentially dangerous air combination common in cities like New York and Los Angeles. Wyoming issues action days when the weather forecast is favorable to producing ozone.
Winter ground ozone needs a layer of snow, no wind and temperature inversion to ramp up. Air contaminants from oil and gas activities, car exhaust and other sources react with sunlight to create ozone, with highest levels usually occurring between noon and early evening, according to the EPA.
Children and the elderly are more susceptible to air pollution, but elevated ozone levels pose particular hazards for people with heart and respiratory problems, according to the EPA. State regulators advise people with health issues to limit strenuous activities outside on action days, particularly in the afternoon and evening.
The air pollution in the Upper Green was once comparable to urban centers due to a combination of geographic characteristics of the basin and high oil and gas activity in the region. The state partnered with environmental groups and local companies to develop new rules to address emissions.
Friday's Action Day highlights the need for full implementation of those rules, said Jon Goldstein, a senior policy adviser at the Environmental Defense Fund and a partner in reducing Upper Green River air pollution for years.
The lag since the last ozone spike is a credit to what's been done in the Upper Green so far, he said. However, it's also the result of other factors, weather and reduced production during the low prices of natural gas, he said.
"I think that the people who are paying attention to the problem don't feel like it's been solved," said Chris Merrill, associate director of the Wyoming Outdoor Council. "We know we've been lucky in previous winters where we didn't get the full snow-covered ground and all of those conditions that come together to create wintertime ozone formation."
The action day is a reminder that ozone levels can still be a threat in Wyoming, and more work needs to be done, he said.
Follow energy reporter Heather Richards on Twitter @hroxaner