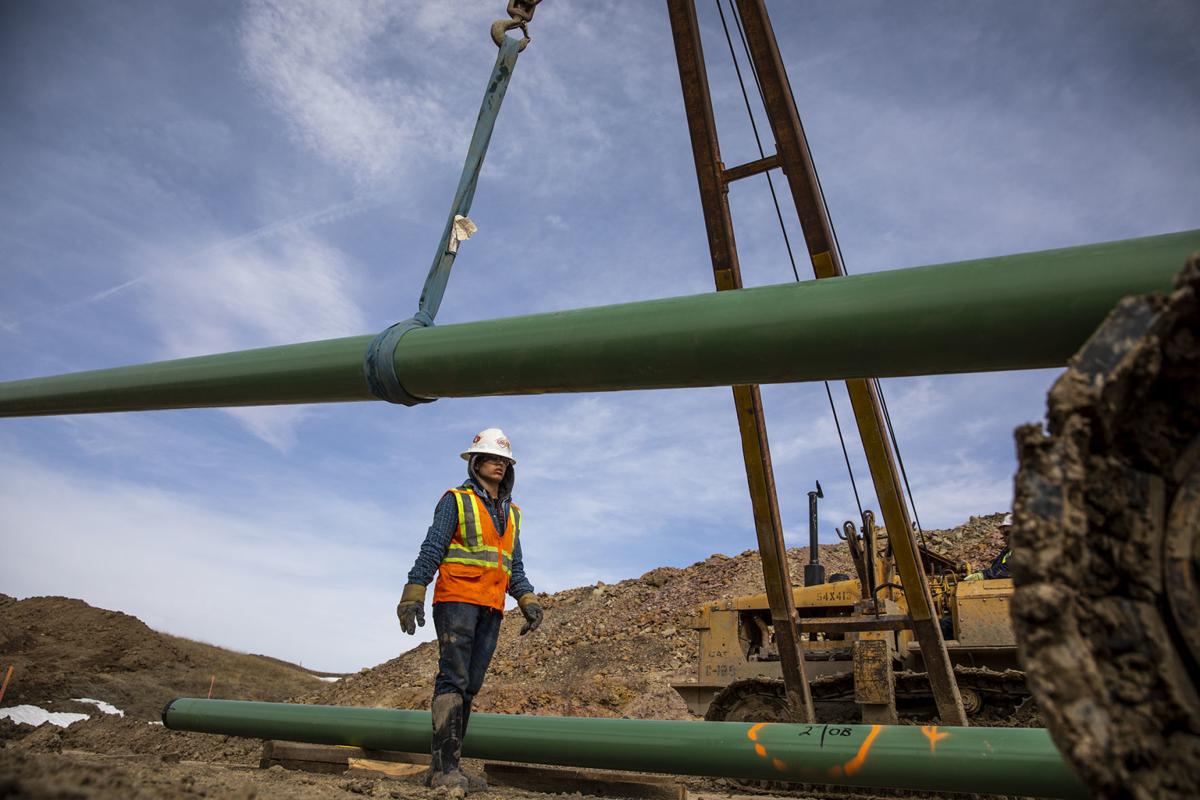 Economic conditions across Wyoming started declining even before the COVID-19 pandemic began sweeping through the state, according to a new report from Wyoming's Economic Analysis Division on Monday.
Taxable sales in the first quarter of the year significantly contracted as activity associated with oil and natural gas development diminished.
"Wyoming's labor market and overall economic performance already slowed down even before the first COVID-19 landed on the state," said Wenlin Liu, the state's chief economist.
The state brought in $4.2 billion in taxable sales during the first three months of this year — a 5.7% dip compared to the same period last year and the first decline in three years.
Sublette County experienced the largest tumble in taxable sales, falling 40% year over year. Neighboring Sweetwater County witnessed a similar dip in taxable sales, which declined by more than 32% in the first quarter, compared to the same quarter in 2019.
Liu attributed the downturn in Wyoming's overall economic performance chiefly to the slowdown in global energy markets. Energy markets have been slowing, a trend exacerbated in March when a global price war ravaged U.S. shale producers and caused a glut in supply. The virus kept residents at home worldwide and decimated fuel demand.
West Texas Intermediate crude oil spot prices fell to as low as $14.10 a barrel on March 30.
Between January and March, the rig count in Wyoming — a prime indicator of oil and gas activity levels — fell from 25 rigs at the beginning of the year to 19 by the end of March. The rig count in Wyoming has since been slashed to zero.
"The history of the oil and natural gas industry is one of highs and lows," Ryan McConnaughey, communications director of the Petroleum Association of Wyoming, wrote in response to the recent market conditions facing in Wyoming oil and gas operators. "Industry will use these challenges as an opportunity to lean on the ingenuity and grit of its talented workforce to innovate. Companies will emerge stronger and more competitive in the global energy market. We have been here before, and I have no doubt the industry will survive."
Wyoming relies heavily on revenue from oil, gas and other natural resources. The collapse of energy prices, coupled with the onslaught of the pandemic, led state analysts to revise initial revenue forecasts this spring.
Mineral severance tax revenue collected during this year's first quarter also slid to levels not seen since the second quarter of 2016, according to Liu's analysis.
A report presented to Wyoming lawmakers in May revealed the state could face a $1.5 billion revenue decline between March 2020 and June 2022.
But the worst may be yet to come.
"Second quarter, the next quarter, should be the worst," Liu said during an interview by phone.
Much of the declines sustained by the country's labor market during COVID-19 were not reflected in the first quarter report, he added. Second quarter data is still being analyzed.
But not all economic outcomes turned negative during Wyoming's first quarter.
Wind energy development and pipeline construction continued to help boost local economies in parts of the state, like Carbon and Niobrara counties. Both regions recorded year-over-year growth in taxable sales. Carbon County taxable sales increased by nearly 19%.
Independent energy producer Power Company of Wyoming has continued to move forward with developing its massive wind farm in Carbon County, called the Chokecherry and Sierra Madre Wind Energy Project. Once completed, the wind project is expected to double the state's wind energy production.
Renewable energy equipment, like the Chokecherry and Sierra Madre's dozens of wind turbines, is considered taxable. Over the course of the wind farm's construction, the company estimates it will contribute over $232 million in non-mineral taxes to the state, its counties and incorporated municipalities in Carbon County based on population size, according to Kara Choquette, communications director for Power Company of Wyoming. Carbon County's current sales tax rate is 6%.
Niobrara County taxable sales jumped by over 162% year over year in the first quarter of 2020, thanks largely to pipeline construction.
Meanwhile, contrary to many economists initial predictions, prices for Wyoming's single-family home leaped nearly 10% in the quarter, with the state's prices ranking third nationwide.
"The tight supply of affordable homes, historically low mortgage rate, and concerns of the pandemic in large metro areas of the country were reasons behind the surge," Liu said.
The chief economist said there has been anecdotal evidence to suggest some Americans have started purchasing homes in less populated regions, far outside the cities bearing the brunt of the coronavirus pandemic. Single-family housing prices also ballooned in Idaho and Montana.
Concerned about COVID-19?
Sign up now to get the most recent coronavirus headlines and other important local and national news sent to your email inbox daily.