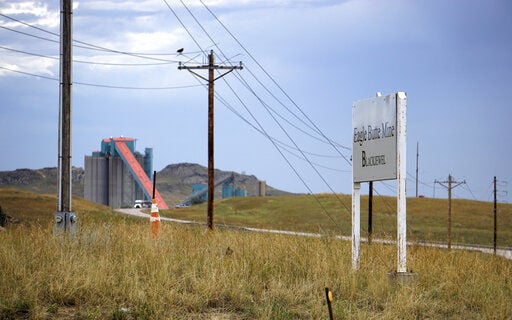 Welcome to the Star-Tribune's Energy Journal, a play-by-play of the past week in Wyoming's world of energy. I'm your energy and natural resources reporter, Camille Erickson. Sign up for the newsletter here.
Writing on the wall
Adele Morris is worried about Campbell County's future.
As the policy director for Climate and Energy Economics at the Brookings Institution, Morris has meticulously researched the economic outlook of coal-reliant jurisdictions throughout the country this year, including in Wyoming. Previously, the economist worked for the U.S. Treasury Department.
The results are uncomfortable, she admitted.
That's because the coal industry is declining, and it's declining fast. Absent some major economic or political upheaval, that trend will likely not reverse course. 
Approximately 81 percent of property and production taxes, which make up over half of Campbell County's total revenue, stem from mineral production taxes, according to a 2018 audit of the county. Continuing to rely on revenue from coal would be risky, Morris said. In 2018, the county collected $266 million in property and production taxes (a majority coming from coal). That's 16 percent less than the county collected in 2016.
"All this (decline) has happened without any climate policy," Morris said. "...So if you add on a carbon tax or you're going to just accelerate everything that is happening already."
Powder River Basin still supplies about 40 percent of the nation's coal. And Campbell County has one of the highest labor shares to coal in the country, with about 20 percent of the workforce employed in the mining sector. 
It's not as if lawmakers are doing nothing. In fact, Wyoming's Legislature has rolled out several bills to buoy the coal industry this year. But ultimately, their actions don't acknowledge reality, Morris said.
"This (decline) is going to happen to you; it's not something you can control," she said. "You cannot repeal supply and demand. It's outside your control and if you think you can you're kidding yourself."
Over 90 percent of coal mined in Wyoming goes to customers outside of the state.
It's about preparing for and mitigating harm caused by the impending fiscal crisis as much as possible.
Campbell County has built reserve and maintenance funds. But to Morris, lawmakers should accept the inevitable and demand a slice of federal dollars generated from future carbon taxes or policy funneling back to coal-dependent communities. 
"You can manipulate Wyoming state policy and do anything for market conditions for the product and (lawmakers) are trying to, but it's going to fail," Morris said. "When it fails the question is: Did you wait too long to prepare for that failure? That is the part I'm worried about."
Campbell County is not the only jurisdiction that could suffer from coal's descent. Boone County in southern West Virginia, another epicenter of coal mining, also depended heavily on property and severance taxes for revenue — with one-third coming straight from coal. Between 2012 and 2017, coal production in the county suddenly dropped 70 percent.   
"I think Campbell County could take a page from what's happening in Boone County," Morris said. "They ought to go to Boone County and have some conversations about what happens when the coal dries up."
You have free articles remaining.
The Wyoming Legislature will not be pursuing legislation to study the storage of spent nuclear fuel it was announced Tuesday, after the bill's sponsor noted that the governor's office has full authority to pursue the topic on its own without the consent of the Legislature, Nick Reynolds reports.
The Legislature's Joint Minerals, Business and Economic Development Committee sponsored new legislation that could revise the options mineral owners have when negotiating with oil and gas developers. The bill tweaks the process of "forced pooling," a statute that helps propel drilling activity even if multiple operators or mineral owners on a shared drilling spacing unit — an area of development — don't see eye-to-eye.

In response to a 383,000-gallon oil leak in North Dakota, the U.S. Pipeline and Hazardous Materials Safety Administration ordered an energy company to shut down the Keystone pipeline until corrective action is taken.
West Texas Intermediate (WTI) $57.15, Brent (ICE) $60.29
Henry Hub $2.69, Wyoming Pool $2.84, Opal $2.58
U.S 817 (-5), Wyoming 32 (-0)
"You can't avoid the march of technology and markets, which as disruptive as it is, keeps the economy competitive. Effectively what the (Public Service Commission) would be required to do is stand in the way of progress if it threatens local jobs. The trade-off there is that it could potentially have an impact on the wider economy that they're trying to protect because energy prices are suddenly higher."
—Rob Godby, University of Wyoming economist