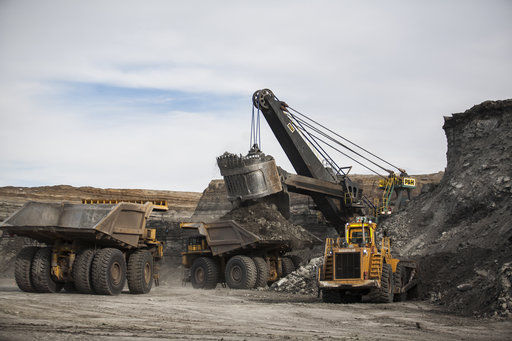 Diné communities respond to coal mine sale closures
Bankrupt coal company Cloud Peak Energy sold off some of the top-producing coal mines in the country to out-of-state coal firm Navajo Transitional Energy Company. The three Powder River Basin mines sold for just $15.7 million cash and a $40 million secondary lien promissory note.
But hundreds of millions in reclamation, or cleanup, obligations also came with the deal. It's these potential future costs that have members of the Navajo Nation worried.
Nicole Horseherder, executive director of the Navajo environmental group To Nizhoni Ani, expressed alarm over the sale last month. Though she acknowledged that opinions swirling throughout the Navajo Nation over the sale vary, she identified three relatively widespread opinions.
"The opposition is really coming from coal-impacted communities," she explained. "My community members on Black Mesa are just appalled at this sale. ... We are buying bankrupt coal (mines) that are dying. (NTEC) needs to wake up. That's what needs to happen.
"The rest of the Nation I think is concerned about the (Navajo Nation) being used for its credit," she added. "They are worried about the tribe being on the hook for reclamation and liabilities."
Though the sale of the three coal mines technically closed last month, permit and bond negotiations continue between the company and Wyoming and Montana's environmental agencies.
The catch right now is largely the issue of the tribal entity's sovereign immunity.
NTEC could potentially protect itself from future state or federal penalties by employing its sovereign immunity, according to the Montana Department of Environmental Quality. In other words, the company could potentially protect itself from future liabilities. If NTEC violated mining laws, the company's sovereign immunity could shield it from state or federal jurisdiction, the state agency reasoned.
The company's sovereign immunity doesn't just apply to U.S. mining laws. It also could possibly shield the company from federal and state labor, tax and other environmental laws, state regulators said.
But sovereign immunity isn't necessarily unique to tribal nations.
"Sovereign immunity as a concept is not an indigenous concept," said Andrew Curley, University of North Carolina geography professor and member of the Navajo Nation. "It is a Western political concept. This is something that all governments enjoy to prevent them from going bankrupt."
To waive its sovereign immunity opens up the Navajo Nation to potential lawsuits. And the tribal government prefers not to be on the hook for a crippling lawsuit down the road. A waiver of sovereign immunity could have serious consequences for the Navajo Nation. It's a decision that many delegates seem to not be taking lightly, according to reporting by the Navajo Times.
But Horseherder also pointed to a third contingent in favor of the sale.
"NTEC and the pro-coal community think it's good for the Navajo Nation," she noted.
"With this purchase, NTEC becomes the third-largest coal producer in the United States," Clark Moseley, chief operating officer of NTEC, said in a statement this summer. "This growth will allow NTEC to support the Navajo Nation and its members as well as other local economies throughout the West. NTEC will continue its efforts to lead conscientious energy development while striving to balance job growth and protecting the environment for future generations."
You have free articles remaining.
The Federal Trade Commission will finish a review of the proposed joint venture between coal companies Peabody Energy Corp. and Arch Coal Inc. during the first half of 2020.
The Spring Creek Mine resumed operations after a brief but sudden shutdown over a permit dispute. Montana's Department of Environmental Quality entered into a 75-day short-term agreement granting Navajo Transitional Energy Company a temporary permit to mine, after the out-of-state coal firm agreed to partially waive its sovereign immunity.
In a win for coal technology company Ramaco Carbon, the Laramie County District Court ruled that state environmental regulators erred when rejecting the company's permit application to mine. The final approval or denial of the mine permit now rests with the director of the Wyoming Department of Environmental Quality.
The public comment period for phase two of development at the Chokecherry and Sierra Madre wind farm closes Monday, according to the Bureau of Land Management.
A Wyoming power supply company has stepped up to help California businesses without electricity through the supply of backup natural gas generators.
A new study published by Columbia University and Resources for the Future considers how oil-dependent communities can better prepare for the "large, rapid and unpredictable changes in local economic conditions" caused by the oil and gas market.
Natural gas prices fell in October. "The price of natural gas at the Opal Hub declined in October along with the price of crude oil compared to September values," Jim Robinson, principal economist for the state's Economic Analysis Division, said in a statement.
A report released by the Consensus Revenue Estimating Group Tuesday forecast state revenues could decline by over $185 million in three years, Nick Reynolds reports.
A pair of documentaries on ungulate migration corridors created by University of Wyoming researchers will be screened in Laramie on Thursday (via Laramie Boomerang).
West Texas Intermediate (WTI) $54.18, Brent (ICE) $60.23
Henry Hub $2.69, Wyoming Pool $2.83, Opal $2.87
U.S 822 (-8), Wyoming 32 (-0)
"There was definitely a sense of relief that people were able to go back to work (at the Spring Creek Mine). Obviously, it's not a done deal yet, but it gives both sides the breathing room to negotiate. ... I'm glad there's at least a temporary solution in place."
—Rep. Cyrus Western, R-Big Horn