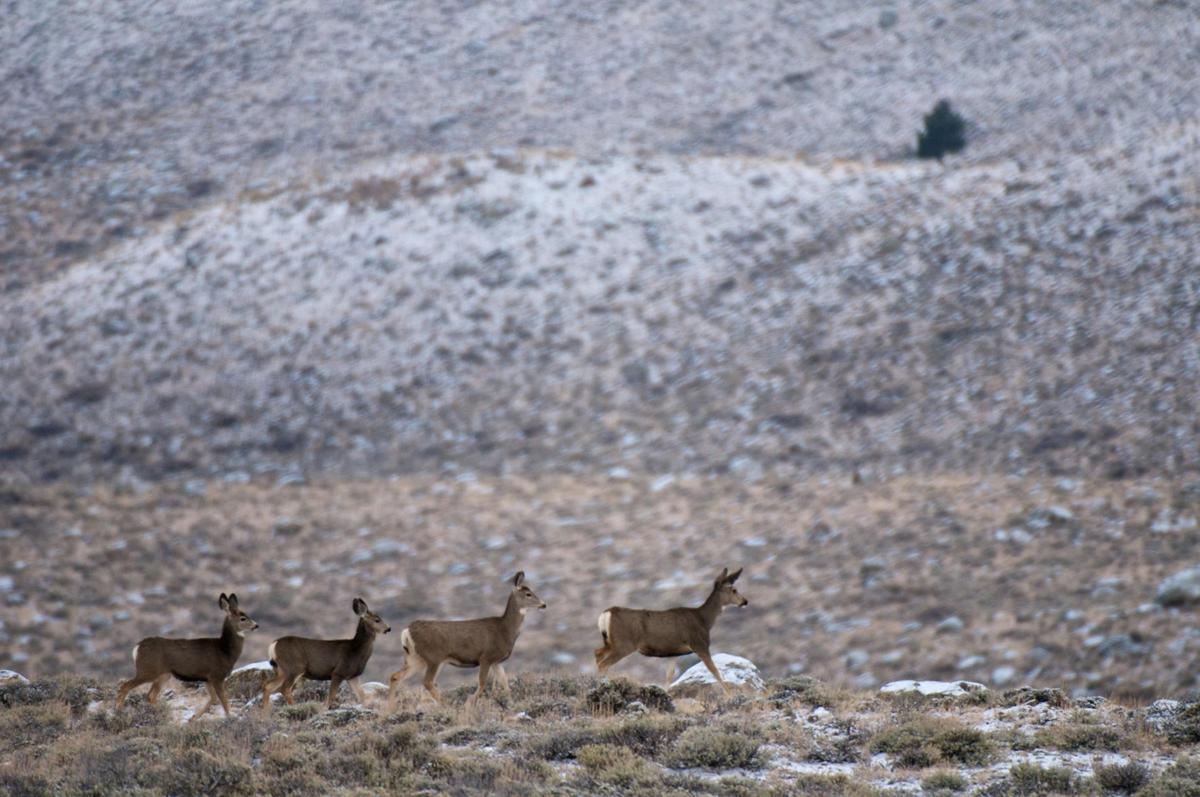 Welcome to the Star-Tribune's Energy Journal, a play-by-play of the past week in Wyoming's wild world of energy. I'm your energy and natural resources reporter, Camille Erickson. Sign up to receive the newsletter in your inbox each week here.
A new geological assessment of the Big Sandy Foothills and Northern Red Desert did not find significant oil and gas deposits in the region, making potential returns from unconventional and conventional oil and gas resource plays minimal. 
The longtime Wyoming geologist Ronald Surdam undertook the rigorous study of the oil and gas potential lying beneath the acclaimed south central Wyoming land. 
"In summary, based on a detailed analysis of the publicly available well logs and seismic surveys, the vast majority of the observations suggest that in the future there will be no discoveries of significant oil and gas deposits in the Big Sandy Foothills and Northern Red Desert area and that the known deposits are relatively insignificant," the report stated.
Surdam has extensive experience in the state's oil and gas industry. In addition to teaching geology at the University of Wyoming, he also directed the Institute of Energy Research, the Enhanced Oil Recovery Institute, and the Carbon Management Institute. Former Gov. Dave Freudenthal appointed him to lead the Wyoming State Geological Survey in 2004. Surdam served on the Wyoming Oil and Gas Conservation Commission until 2010 too. 
The Wilderness Society, a nonprofit conservation group, approached the esteemed geologist to conduct the study. The organization was eager to learn why oil and gas operators were interested in leasing public land in the treasured high desert region of the state, which is teeming with sand dunes, buttes, mountain meadows and wildlife.
The group is also anticipating the imminent release of a revised Rock Springs resource management plan, set to come out this summer. The Bureau of Land Management in Rock Springs has long been working to revise its resource management plan, a powerful document used to guide activity (including energy development) for years to come. As required by the Federal Land Policy and Management Act, the bureau has been tasked with updating the existing plan to account for new data, policies and research.
But it's a tenuous balancing act: weighing the need to protect sensitive wildlife habitat, with the drive to support the state's main economic engine, energy development.
The region in question undoubtedly holds significant cultural significance for Wyoming residents, the groups noted. 
The revised plan could influence the use of 3.6 million acres of surface land and 3.5 million acres of mineral estates located in parts of Lincoln, Sweetwater, Uinta, Sublette and Fremont counties. The public also has not been able to offer comments on the plan since it was initiated nearly a decade ago.
"It doesn't make sense to lease public land to private companies when the data shows there is not enough oil and gas to develop," Julia Stuble, the public lands and energy associate for Wyoming at the Wilderness Society, said in a statement. "Now, more than ever, Wyoming needs to be smart about our economic recovery and how we use public lands. Lands with low oil and gas potential should not be leased for rock-bottom prices. Our future depends on prioritizing the best wildlife habitats and recreational hot-spots, not selling them off to the lowest bidder."
A copy of the study will be provided to the Bureau of Land Management for consideration. More than anything, Surdam, the geologist, said the assessment will provide federal regulators with accurate data and a detailed analysis of the region, to help inform their forthcoming management decisions. He expects oil and gas operators could also find the new assessment and data useful.
"I would like to see the land used in the best way possible," he told the Star-Tribune. 
Though fully supportive of a robust and productive oil and gas industry in the state, he wants to ensure the federal government protects sensitive habitats. He hopes the bureau gives the state's renowned wildlife just as much weight as other factors it weighs before leasing land. 
"What we want to do is make sure that the land is maintained in a way that maximizes the attributes for the public," Surdam said. "I love Wyoming. I've been here since 1966 to teach at the university. I raised my family here. I think it's one of the greatest state in the nation largely because of the open spaces the views and wildlife. I would like to see those attributes given equal importance as we do the energy resources. And I would hate to see us lease this land off for essentially nothing."
After the Bureau of Land Management releases the resource management plan revisions, a 90-day public comment period will follow. Public meetings will also take place during that time, as required by law.
Peabody Energy announced it will write down the value of the nation's largest coal mine by $1.42 billion, as conditions for thermal coal production continue to weaken, according to a second quarter report.
Powder River Basin Resource Council filed an appeal challenging a decision by Wyoming environmental regulators to grant a mining permit to Ramaco Carbon. The permit allows Ramaco Carbon to mine for coal at a former mine site eight miles outside Sheridan.
Komatsu Mining Corporation, an equipment company with multiple locations in Wyoming, reached an agreement with Eagle Specialty to sell several coal shovels in a private sale. For months, the equipment company has demanded the Wyoming coal mines' new owner, Eagle Specialty Materials, provide compensation for use of Komatsu's gargantuan coal mining shovels built especially for the mining facilities.
Workers laid down Wyoming's last operating gas rig on Tuesday in Sweetwater County, bringing the state's total rig count temporarily to zero, a jolting reminder of the economic devastation caused by the COVID-19 pandemic. This marks only the second time the state's rig count has reached zero since 1884. At the time, Wyoming was still a territory.

Independent energy firm Denbury Resources, Inc. petitioned for Chapter 11 bankruptcy on Thursday, with the aim of shedding about $2.1 billion of its bond debt. The Texas-based company has claimed a unique niche in the oil and gas market with its focus on recovering stranded oil reserves from mature fields using enhanced oil recovery, including in Wyoming.
WIND & SOLAR
The Carbon County Planning and Zoning Commission voted unanimously Monday to recommend approval of a permit to construct a 416-mile long transmission line. The state's largest utility company, PacifiCorp, has proposed building a segment of its high-voltage Gateway South transmission line to deliver power between a substation near Medicine Bow in southeastern Wyoming to a substation in Mona, Utah. The company needs to secure a conditional use permit from Carbon County, in addition to other regulatory bodies, before it can proceed.
Wyoming Game and Fish Department launched a study into mule deer migration patterns in Northern Big Horn Mountains to help scientists understand habitat use and seasonal range.
West Texas Intermediate (WTI) $41.43, Brent (ICE) $44.45
Wyoming General Sour $33.25, Wyoming General Sweet $34.50
U.S 247 (-4), Wyoming 1 (-0)
Quote of the week
"It is historic, but not in a great way. There are so many jobs attached to these rigs, and now, people are painfully learning so much revenue is attached too. It's mind boggling and hard to capture the impact."
Concerned about COVID-19?
Sign up now to get the most recent coronavirus headlines and other important local and national news sent to your email inbox daily.