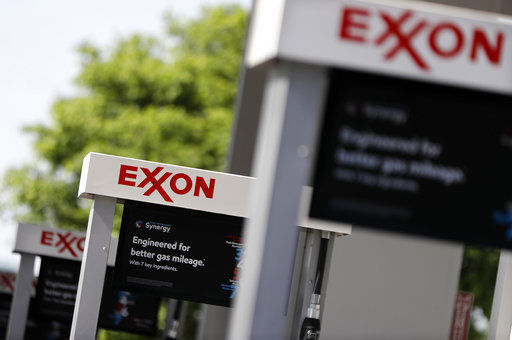 Welcome to the Star-Tribune's Energy Journal, a play-by-play of the past week in Wyoming's wild world of energy. I'm your energy and natural resources reporter, Camille Erickson. Sign up for the newsletter here.
In March, I will be publishing the 2020 Energy Journal, a special section all about technology and innovations in Wyoming's energy industry. Have ideas on who or what should be featured? Please reach out at camille.erickson@trib.com or 307-266-0592. Thank you for your support!
Some relief for Sweetwater and Lincoln counties
Coal-dependent communities in southwest Wyoming are bracing for the anticipated retirement of several coal-fired power plants. The state's largest utility, Rocky Mountain Power, announced last year it will accelerate the closure of several units in its coal fleet to save ratepayers money. For places like Lincoln and Sweetwater counties, heavily dependent on energy activity for jobs and revenue, the newest plan felt like a death sentence. 
But ExxonMobil's proposed expansion to its natural gas and carbon capture facilities in both counties could help temper the forthcoming blow from coal, local officials said.
ExxonMobil filed an application with Wyoming Industrial Siting Council last month to pump $86 million into an expansion of its carbon capture facility in LaBarge, just northeast of Kemmerer. The company says it will be the largest carbon capture plant in the world. 
According to its permit application, the firm will build on both the Shute Creek Gas Plant in Lincoln County and the CO2 Sales Facility in Sweetwater County. In addition, ExxonMobil will construct a pipeline and carbon dioxide disposal well on public land overseen by the Bureau of Land Management.
The company plans to add compressors to catch about 50 percent more carbon dioxide from natural gas streams than existing infrastructure allows. The carbon dioxide will then likely be used for enhanced oil recovery, a process in which carbon dioxide is injected into reservoirs to remove residual oil that traditional drilling processes failed to extract.
"This expansion will result in lower greenhouse gas emissions and help maximize the recovery of Wyoming's oil resources," Randy Broiles, vice president at ExxonMobil Production Company, stated in a December news release. 
The company said it hopes to launch construction later this year and complete the project by 2022. The initiative would require up to 388 workers, especially during the months of August and September next year.
Kent Connelly, a commissioner for Lincoln County, lauded the project, noting he hoped the increased revenue and job creation could offset some of the damage caused by coal's decline.
"Exxon is a critical business for Wyoming's infrastructure. Their plant is very well thought out, well orchestrated and a good-looking plan. It has a lot of components to it that are forward thinking in how we handle carbon dioxide," Connelly told the Star-Tribune. "Hopefully, it will offset some of the coal (that's) decreasing."
Wyoming's governor has championed investment in carbon capture research and infrastructure throughout his first term in office, though his efforts have mainly focused on extending the lives of coal-fired power plants. 
Dennis Wamsted, editor and analyst at the Institute of Energy Economics and Financial Analysis, an energy transition think tank, explained the difference between capturing carbon dioxide from coal versus oil or gas streams.
It's easier to separate carbon dioxide from gas or oil due to the high concentration of carbon dioxide in the streams, he said.
"What that (concentration difference) does is it makes it much, much less expensive to pull the carbon dioxide out of the natural gas," Wamsted said. "One of the key reasons that getting carbon dioxide out of coal emissions is so hard and so expensive is because the concentration is very, very low."
According to the company, the new compressors will be able to save upward of 365 million cubic feet of carbon dioxide per day from being emitted into the atmosphere — that's like capturing the amount of carbon dioxide emitted from 1.5 million cars.
The Industrial Siting Council will hold a hearing on April 9 in Kemmerer on the application.
You have free articles remaining.
Several Wyoming lawmakers on the Joint Appropriations Committee met at the University of Wyoming on Jan. 11 for an "informal" discussion on coal and petroleum projects. The meeting was not widely publicized in advance, leading some state advocates of government transparency to sound an alarm (via WyoFile).
The spread of the coronavirus has already started to hurt energy companies as oil prices tumbled below $50 a barrel last week (via Houston Chronicle).
A mining company is seeking to amend one of its licenses so they can make changes to personnel that would allow them to decommission a mine that hasn't been used in nearly 40 years.
President Donald Trump's upcoming budget will likely dedicate $150 million to purchasing domestic uranium, Gov. Mark Gordon announced during a meeting in Lander (via Cowboy State Daily).
Will Wyoming's elk populations survive the spread of chronic wasting disease? (via Outdoor Life).
West Texas Intermediate (WTI) $50.95, Brent (ICE) $54.93
Henry Hub $1.87, Wyoming Pool $1.65, Opal $1.72
U.S 790 (-0), Wyoming 23 (-0)
"It certainly sets a new low bar for this century."
—University of Wyoming economist Rob Godby, in response to declining coal production rates in the Powder River Basin
Welcome to the Star-Tribune's Energy Journal, a play-by-play of the past week in Wyoming's wild world of energy. I'm your energy and natural resources reporter, Camille Erickson. Sign up for the newsletter here.