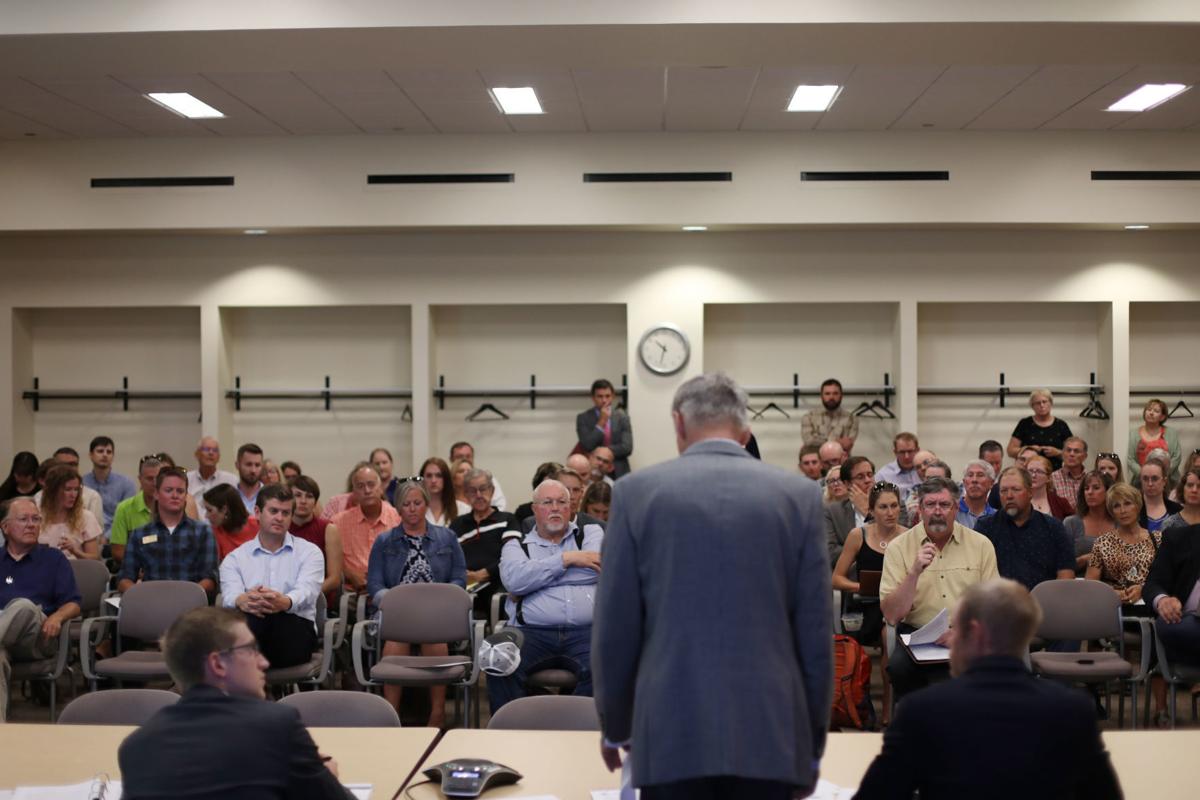 A new rule designed to curb the record volume of oil and gas drilling applications swamping state regulators went into effect last week, after it received the final stamp of approval from Wyoming's Secretary of State.
Before extracting minerals from leased land in Wyoming, an oil and gas developer must file a permit application, or APD, with state regulators. A developer that successfully submits a permit application to the Wyoming Oil and Gas Conservation Commission first becomes the "operator" of what's called a drilling spacing unit for two years, subject to renewal.
But the new rule now allows other working interest groups an opportunity to challenge a reigning operator. They can now do so within 30 days after receiving a horizontal well application notice, according to the new rule.
An inactive operator suddenly risks losing its right to drill after the expiration of its permit. Other owners eager to work the land have more opportunity to compete.
The Oil and Gas Conservation Commission proposed the new rule at a commission hearing in July. Supervisor Mark Watson said it would "level the playing field" by encouraging healthy competition.
"The APD rule finalization was not a surprise," Pete Obermueller, president of the Petroleum Association of Wyoming, said in a statement. "However, if 2019 was about creating the rule to encourage drilling in Wyoming, 2020 is about ensuring it works as advertised. This rule grants a great deal of discretion to the five members of the Oil and Gas Conservation Commission. It will be successful only to the extent they provide clear and consistent rulings so that operators can invest in Wyoming with certainty."
Under the old rule, several operators with no immediate plans to drill rapidly applied for multiple permits to secure as much control as possible over a drilling spacing unit. In just three years, the commission received almost 67,800 drilling permit applications from oil and gas operators. But drilling has not kept pace with the influx of applications.
Neighboring operators or mineral owners itching to drill had few avenues to challenge the authority of operators who filed for a permit first.
Meanwhile, the Oil and Gas Conservation Commission struggled to keep its head above water, weighed down by thousands of backlogged permit applications and protests from competing operators.
The final rule came to fruition shortly after a 45-day public comment period. Oil and gas stakeholders overwhelmingly heralded the change as acceptable, albeit with some minor adjustments. In response to over 200 pages of feedback, the commission incorporated some of the suggested changes into the new rule. In one revision, the commission extended the period of time other working interest groups can submit an application to drill from 15 to 30 days.
In another significant update to the draft rule following public comments, the commission updated the criteria used to determine which operator to give a permit to, in the event of a contested case involving multiple operators "deemed equal." After considering all submitted evidence, the applicant with the "largest percentage of working interest ownership" will receive the permit.
"To me, this is one of the biggest changes based on a lot of comments," Watson said during November's oil and gas commission hearing. "We could use (this) tie-breaker."
The finalization of the rule follows an extended 33-step rule-making process, launched earlier this year.
The new rule went into effect on Dec. 20.
You have free articles remaining.
President Donald Trump signed a $1.4 trillion appropriations package on Dec. 20, averting a government shutdown and saving health care for hundreds of retired coal miners in Kemmerer.
But pension and health care obligations for coal miners and other workers supported by multi-employer plans could be in jeopardy as more and more companies slide into bankruptcy (via New York Times).
Wyoming lawmakers and energy experts have been on the hunt for solutions to save the ailing coal industry. Many consider advancements in carbon capture, or trapping and utilizing carbon dioxide to prevent releasing it into the atmosphere, as one part of the solution. But is carbon capture the answer?
A state investigation released Monday found no evidence linking fracking to contaminated groundwater east of Pavillion, confirming conclusions published in a previous water quality study. The report, conducted by the Wyoming Department of Environmental Quality, concluded pollution in drinking water likely occurred naturally due to the permeable and shallow geology of the area.
State regulators officially enacted a new rule to stem the deluge of permit applications flooding Wyoming's Oil and Gas Conservation Commission and level the playing field for energy operators big and small.
Environmentalists and Native Americans can proceed with lawsuits challenging Trump's approval of the Keystone XL oil pipelinefrom Canada, a federal judge in Montana ruled on Dec. 20.
An oilfield accident near Douglas on Dec. 19 injured one worker, according to Converse County Emergency Management. The worker was transferred by Life Flight to Wyoming Medical Center in Casper. The accident came just weeks after three workers suffered severe burns when multiple explosions occurred at an oilfield compressor station west of Carpenter.
Natural gas prices inched upward this month, according to the Wyoming Insight, a monthly report. "The price of natural gas at the Opal Hub increased in December along with the price of crude oil compared to November values," Jim Robinson, principal economist for the state's Economic Analysis Division, said in a statement.
Landowners in Laramie County are worried a proposed drilling project coming down the pike could endanger the health and safety of residents living within the drilling spacing units. Samson Energy hopes to drill the 10 to 15 wells just northeast of Cheyenne.
Taxable sales increased by 39 percent in Converse County during the third quarter when compared to 2018, according to the most recent Economic Summary Report. In case you missed it, read about how a flood of construction projects — largely due to the expansion in wind energy and oil drilling — has impacted county residents this year, here.
A draft executive order issued last week by Gov. Mark Gordon would establish protections for three existing migration corridors and develop guidelines for identifying additional routes, all while attempting to protect vital energy development for the state.
An appeals court revived a lawsuit filed by an environmental law firm that challenged the U.S. government's management of bison from Yellowstone National Park. The decision by the 9th U.S. Circuit Court of Appeals reverses a lower court ruling from February that dismissed the lawsuit from the Cottonwood Environmental Law Center.
Don't miss the most memorable stories in energy of 2019 here.
West Texas Intermediate (WTI) $61.68, Brent (ICE) $67.92
Henry Hub $2.09, Wyoming Pool $2.99, Opal $3.09
U.S 805 (-8), Wyoming 26 (+1)
"When you talk about groundwater (in Pavillion), it's not simple. There's a lot of technical work that needs to go into it. I understand that it gets frustrating when answers are not always found right away, but it does take time. Science is not overnight."
— Keith Guille, Department of Environmental Quality
Welcome to the Star-Tribune's Energy Journal, a play-by-play of the past week in Wyoming's wild world of energy. I'm your energy and natural resources reporter, Camille Erickson. Sign up for the newsletter here.