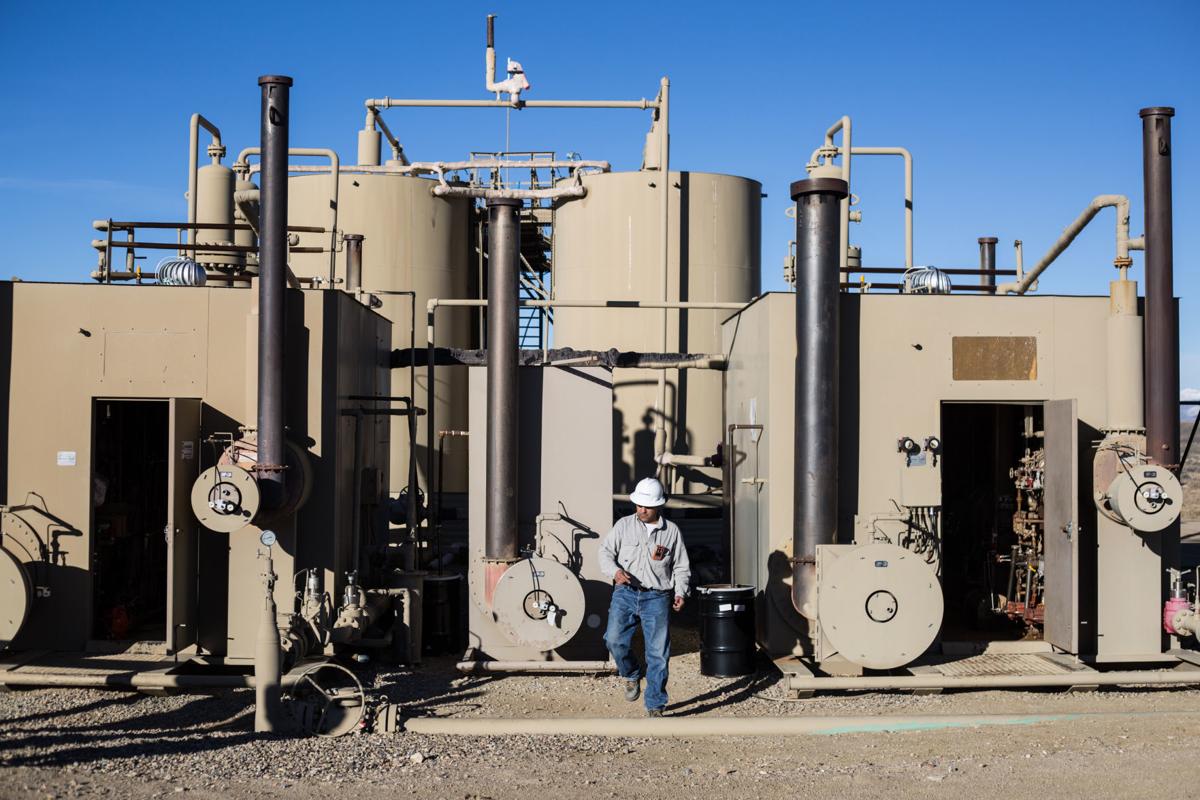 Welcome to the Star-Tribune's Energy Journal, a play-by-play of the past week in Wyoming's world of energy. I'm your energy and natural resources reporter, Camille Erickson. Sign up for the newsletter here.
A freeze in growth for natural gas?
This winter is on track to be warmer than the last.
Tepid temperatures usually translate into less household demand for energy, including natural gas.
Natural gas output may be starting to taper, too. According to the agency's predictions, natural gas-directed drilling next year will likely plateau or slow — averaging 93.5 billion cubic feet per day — as the market responds to the extended period of overproduction. 
There's still a small glimmer of hope for operators. Natural gas monthly spot prices rose last month for the first time since March (Henry Hub spot price was $2.56 per million British thermal units, up 34 cents).
Electricity generation from natural gas will also keep pace with the historic uptick in natural gas production in 2020, the Energy Information Administration reports. By the end of this year and into next, U.S. power generation from natural gas-fired power plants will make up a whopping 37 percent of total electricity production in the country.
But the question remains: Is that enough to keep natural gas-dependent operators afloat? The devilishly low prices of gas are largely thanks to the surge in production since the hydraulic fracturing revolution. And predictions aside, the consequences of cratering natural gas prices have already started to emerge in Wyoming.
The traditional natural gas industry, heavily concentrated in Sublette County, has been hit hard.
Ultra Resources announced last month it plans to suspend natural gas drilling in the Pinedale Anticline in response to formidable market challenges. On top of that, international energy company Halliburton declared last week it will slash 650 jobs in the Rocky Mountain region, including at its Rock Springs location.
Outside of natural gas, the Energy Information Administration's winter energy outlook could spell trouble for Wyoming's dominant energy industry.
The agency's forecast for coal should come as no surprise. Coal will continue a sharp decline, with an 11 percent dip in production expected next year, according to the short term energy outlook. 
Wind energy development will continue to clip along nationwide, expanding from 414 billion kilowatt-hours this year to 471 billion kilowatt-hours in 2020, according to the Environmental Information Agency.
International oil supplies, which were destabilized after drone attacks hit Saudi Arabian oil infrastructure last month, have rapidly recovered moving forward and will likely stay strong. Brent crude spot prices have ebbed to $59 a barrel, as of last week. For the longer term, the Energy Information Administration estimates oil production worldwide next year will likely continue unabated, causing prices to tumble even more than previously predicted. A potential $5 loss per barrel could be a boon for consumers, but a dark omen for Wyoming oil operators. 
In other news...
COAL
You have free articles remaining.
WIND & SOLAR
In a draft of its Integrated Resource Plan, the state's largest utility, PacifiCorp, revealed significant renewable energy and transmission line projects are in store, many of them bound for Wyoming.
If PacifiCorp's preferred portfolio is carried out, Wyoming's wind capacity could increase 1,300 percent (via pv magazine).
OIL & GAS
URANIUM
A federal working group launched mid-July was expected to submit recommendations on uranium trade quotas to President Donald Trump last week. Proponents of the quotas consider restricting foreign sourcing of uranium vital to the country's own ailing uranium industry and national security.
A University of New Mexico study reported over a quarter of Navajo women and babies have elevated levels of radioactive metals in their bodies due to exposure to uranium mining on the reservation (via The Salt Lake Tribune).
WILDLIFE
The Wyoming Game and Fish Department will soon phase out the controversial Alkali Creek elk feedground at Bridger-Teton National Forest (via Jackson Hole News & Guide).
CLIMATE
Last week in numbers
Friday oil prices: West Texas Intermediate (WTI) $53.55, Brent (ICE) $59.10
Friday natural gas: Henry Hub $2.20, Wyoming Pool $2.24, Opal $2.28
Baker Hughes rig count: U.S 855 (-5), Wyoming 33 (-1)
Quote of the week
"We understand the nature of their business. It's cyclical and up and down. We prepare ourselves for the good and the bad, and this would be the bad. I think we'll be able to get through."
— Rick Lee, CEO of the Rock Springs Chamber of Commerce, in response to the hundreds of layoffs by energy company Halliburton