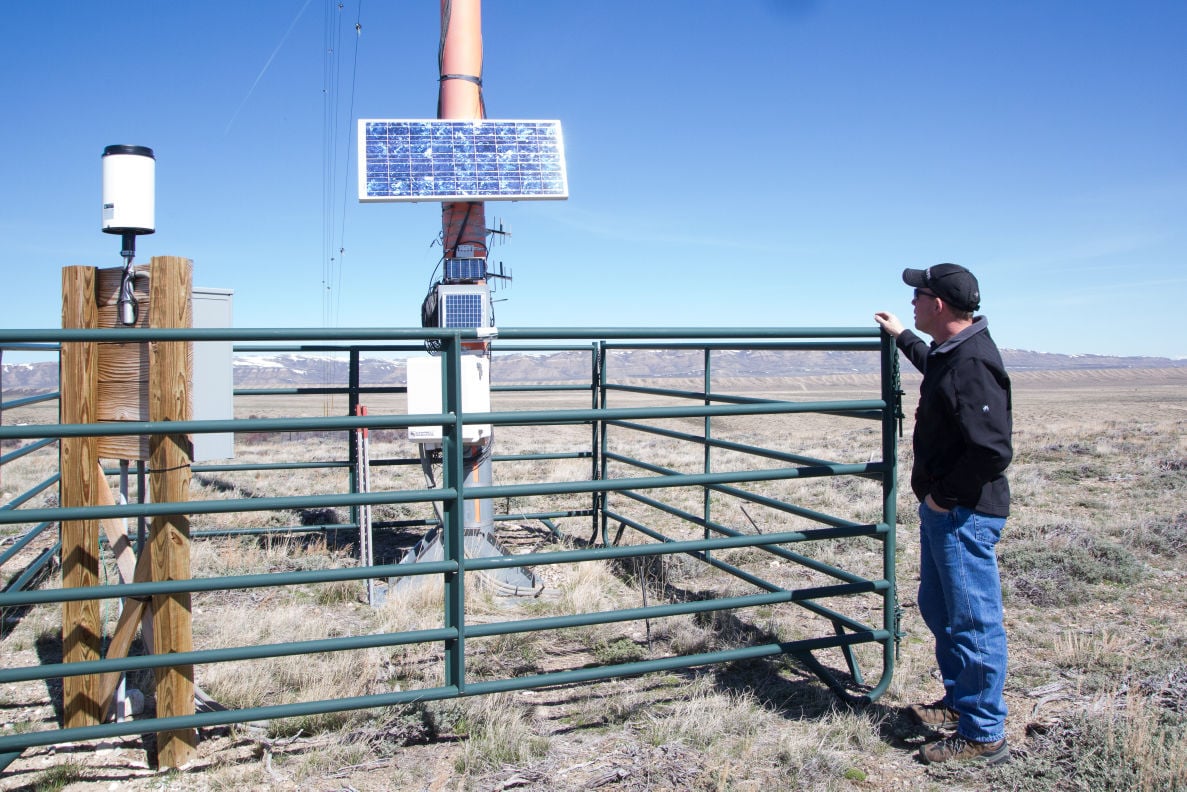 Energy producers are mulling uncertainty and hope after Donald Trump's election win.
The coal sector, hurting from a competitive market with natural gas, welcomed the reduced regulations promised by the president-elect. Some in the oil industry think the same approach will hold true for their industry, spurring development and growth to rival the Middle East. Others doubt the world market has room for more production given the current overstock of crude.
Yet there is one other energy source that may be affected by a new administration: renewables.
In Wyoming that means wind power, and though it holds but a small margin of the electricity market, wind proponents will be watching closely as Trump moves into in the Oval Office on Jan. 20.
***
Many who support renewables are also champions of environmental issues. They have cautioned against the president-elect's early decisions, like the appointing of a climate change skeptic to lead the Environmental Protection Agency's transition to a new administration. Others are looking at regulations on federal lands that may be pulled back and incentives for wind that may disappear.
But while the Obama administration is often said to have waged a war on fossil fuels, some in renewables fail to see the boon of the current administration. Regulations that have challenged the oil, gas and coal sectors have also affected renewables, said Bill Miller, senior vice president of energy and land resources for the Anschutz Corporation.
A recent rule change to wind development on public land was published by the Bureau of Land Management just last week, and those in the industry are still reviewing its implications. On first glance, the regulations may mean additional costs.
"I think it will, in some respects, probably provide greater clarity and hopefully greater certainty for the renewable business going forward," Miller said. "I also think that it will materially increase our costs as it relates to the renewable projects that are sited on federal lands."
The American Wind Energy Association has since come out against the new rules, saying the regulations will discourage production on public lands. Almost 99 percent of wind generation is currently on private land because of the difficulties of developing on federal land, said Kara Choquette, spokeswoman for the Power Company of Wyoming, a subsidiary of Anschutz.
As a result, Miller said he was cautiously optimistic that the new administration would benefit businesses that operate in commodities, as Anschutz has dealings in ranching, oil and gas and renewables.
***
Still, like most sectors of energy, wind producers are uncertain what the election's impact will be.
"It depends a lot on what an administration proposes in terms of its executive authority, what kind of legislation can make it through Congress," said David Eskelsen, spokesman for Rocky Mountain Power. "Until we see some proposals, we don't really know."
Aside from potential regulatory relief, utilities that build and buy wind power are looking at markets, demand and cost. In short, despite the change in federal leadership, business is proceeding as usual in Wyoming wind.
Technological advances continue to draw down the price of wind production, according to an annual report on the economics of renewables.
But though it is cheap to produce, wind is incredibly difficult and costly to permit and develop.
The Chokecherry and Sierra Madre Wind project, led by the Anschutz Company, will eventually bring 1,000 turbines to a site south of Rawlins. The wind farm will be able to produce up to 3,000 megawatts of power from the gusts that blow over Carbon County.
But the project is the most difficult the developers have ever seen in term of permitting. Anschutz has a long history in oil and gas. Its leaders are familiar with the task of development but expected the project to take five to six years, not 10.
Some of the regulatory hurdles for Chokecherry are voluntary, like developing a plan to mitigate the wind farm's impact on bald eagles. Others are run-of-the-mill for industry development projects that cross public land, such as avoiding impacts to sage grouse. With the checkerboard pattern of federal and private land in the area, the permitting can be complex. It takes a company with income and longevity, like Anschutz, to live out the start of a large project.
***
Rocky Mountain Power has also faced the challenge of wind development. It currently has a number of wind farms across Wyoming and the transmission lines to transport the power, most of which serves its customers. The company uses wind energy in conjunction with other fuels like natural gas to provide customers with service. It also purchases some energy from other utility companies.
The Chokecherry project differs from Rocky Mountain, as it will likely find buyers for its wind energy on the wholesale market. Thanks to a multi-state grid that manages the demand ebbs and flows for electricity, there is a large market for buying and selling energy once it's produced.
Wind, because of its intermittent production capacity, is buoyed up by other resources. Currently Rocky Mountain Power, the wind leader in Wyoming, sends only about 10 percent of its energy to customers from wind.
Transmission lines are by far one of the greatest hurdles for enhanced wind generation, said Eskelsen, of Rocky Mountain Power. But it has little to do with politics and is not likely to change because of high cost and low growth.
"Currently our long-range planning doesn't show a need for new power generation of any type for about the next 10 years," Eskelsen said.
Companies, particularly utilities, look at power generation and pricing over long periods of time, he said.
So as Trump prepares his cabinet and considers what industries to support, utilities are going about the business of building and providing electricity on their long term plans.
"We tend to be a lagging industry," Eskelsen said. "When the economy changes, it takes a little while for the economy to really ramp up our processes."
Follow energy reporter Heather Richards on Twitter @hroxaner