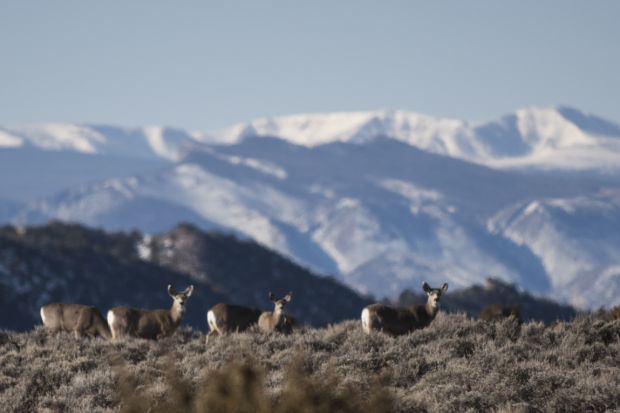 Wyoming's oil and gas industry has faced a mountain of challenges in recent months — from a global oil price war to the collapse of energy markets fueled by the COVID-19 pandemic. The one-two punch hit U.S. shale producers particularly hard, forcing operators to shut in wells and lay off workers en masse. What's more, this time of uncertainty appears far from over.
The Bureau of Land Management announced last week it will postpone its second quarterly oil and gas lease sale, originally scheduled for June 22. The bureau had originally planned to open 135 parcels totaling approximately 170,000 acres to energy developers.
The federal government offers a selection of nominated parcels to oil and gas firms in an online bidding process, typically four times a year. The bureau usually hosts the competitive sales in March, June, September and December.
"All of our actions, including comment periods and lease sales, are being evaluated on a case-by-case basis and adjustments are being made to ensure we are allowing for proper public input, while protecting the health and safety of the public and our employees," an agency spokesman told the Star-Tribune in a statement following the first postponement of an oil and gas lease sale in New Mexico.
"Using an all-of-the-above approach to energy development, we are helping to meet our nation's growing energy needs by facilitating development and letting free market forces work after the resource is extracted by companies who sell these commodities," he continued.
This month's announcement follows a similar postponement of public land auctions in New Mexico, Utah, Nevada and Colorado.
Of the 62 million surface acres in Wyoming, nearly half is considered federal public land. The BLM in Wyoming manages about 10 million acres of land for potential mineral extraction, and leads the nation in natural gas production on federal land. Last year, federal oil and gas lease sales in Wyoming netted over $140 million. Half of the money collected by the federal government during the quarterly auctions, as well as eventual mineral royalties associated with leases, flows back to the state.
Legal tussle over sales
The delay of Wyoming's lease sale is far from the only unexpected hurdle oil and gas operators have contended with this spring. In addition to the bureau's decision to postpone several lease sales in neighboring states, federal courts in Idaho and Montana recently sided with conservation groups and voided past oil and gas lease sales in Wyoming.
For several oil and gas operators, the order throws into question their plans to continue or start production of oil on parcels sold during these sales.
Earlier this month, U.S. Chief Magistrate Judge Ronald Bush of Idaho did issue a stay of his order, meaning the leases voided during the February court ruling will be suspended while the case is appealed in the 9th Circuit.
"While the leases are suspended, no operations or production may take place and no rentals will be due, so the United States and the State of Wyoming will not receive any royalties while the appeal is underway," said Courtney Whiteman, public affairs specialist for BLM Wyoming. "If the cancellation decision is upheld, bonus bids and rentals would have to be refunded, and the BLM has been in contact with the State of Wyoming about how leasing revenue shared under current laws and regulations would be recouped."
Even still, uncertainty has clouded the plans of several oil and gas companies working in Wyoming.
For instance, the recent court rulings, if upheld, will vacate 37 leases rented by Casper-based Kirkwood Oil and Gas. The affected leases encompass 37,158 acres.
"(T)he decision puts all those leases in purgatory," Steve Degenfelder, land manager at Kirkwood Oil and Gas told the Star-Tribune in an interview shortly after the latest court ruling out of Montana.
"You don't know where they are going to go," Degenfelder continued. "So it stalls everything. The only thing industry wants is a predictable business environment."