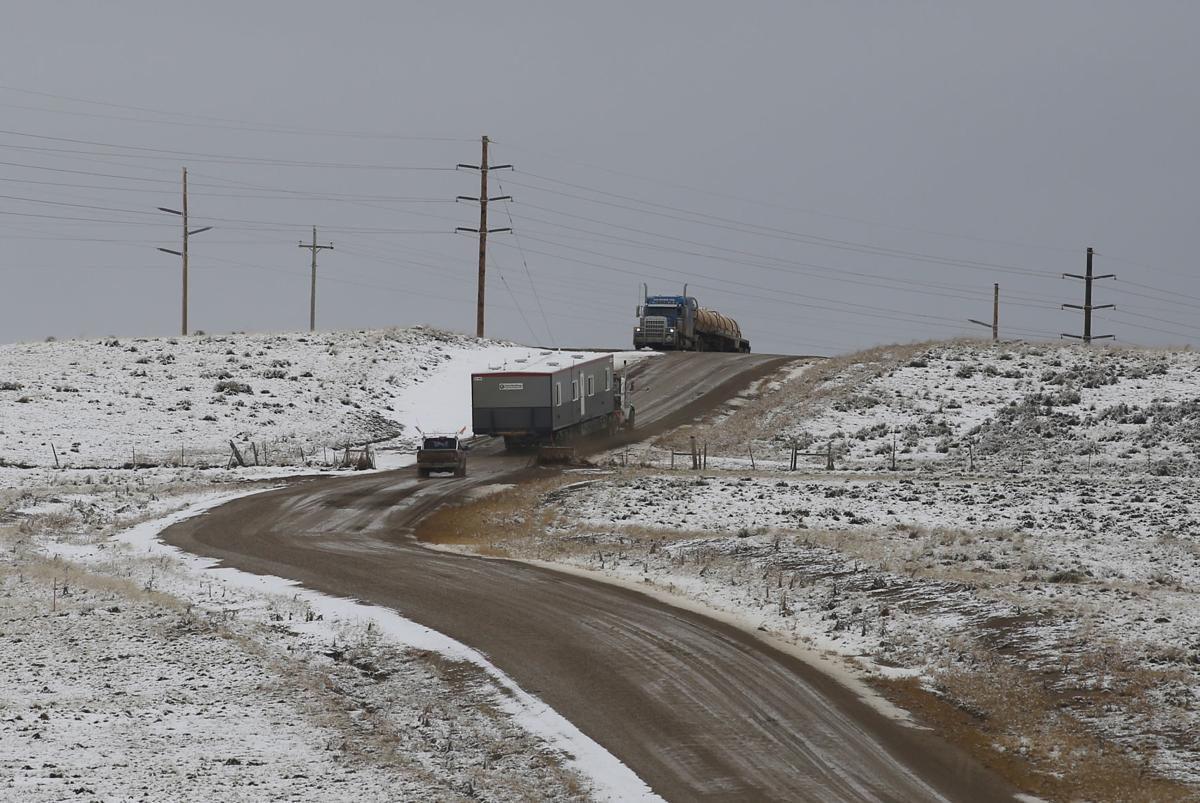 Two weeks into a partial shutdown of the federal government, the impact on Wyoming's oil and gas industry remains uncertain as the agency tasked with overseeing the industry is no longer answering the phone.
News of what's happening behind the shuttered doors of the Bureau of Land Management has already become the stuff of rumor and conjecture in the state.
Are there engineers on call for emergencies in the Wyoming field offices? Is the Carlsbad field office down in New Mexico actually processing applications for permits to drill — something that is not happening in Wyoming? What happens to environmental reviews related to industry development that are supposed to be open for public comment?
Answers to these questions are not available from officials in the federal government. All non-essential personnel are barred from working, from responding to emails or answering phone calls — be they from oil and gas operators, conservation groups or landowners.
"Anytime you've got a shutdown — and people that we work with are regarded as non-essential and therefore they are gone — work just comes to a halt," said Steve Degenfelder of Kirkwood Oil and Gas, an exploration and production company based in Casper.
***
The partial shutdown began after Congress funded about three quarters of the federal government but left a number of appropriations bills on the table, caused by disagreement over whether to include the president's $5 billion ask for a wall along the southern U.S. border in the remaining spending package.
The president signaled Friday that the shutdown could go on for "months or even years" during a news conference from the White House. He also claimed that he may declare a state of emergency in order to get the wall he promised throughout his campaign for the presidency.
The shutdown has created an approximately 800,000-strong unpaid workforce nationally, with about 380,000 furloughed, according to the Washington Post.
It's not clear how many of about 7,500 federally employed workers in Wyoming are without pay until further notice, how many are working and how many have been instructed to stop working.
What is clear is that the daily operations at the BLM — which oversees the state's oil and gas industry on federal land — appear to be on hold.
***
There's no question that the federal shutdown has an impact on Wyoming's most important economic driver today: oil and gas. About 75 percent of Wyoming's natural gas production and 56 percent of its oil production interacts with federal resources. Oil and gas firms drilling on federal land or into federal minerals need a permit to drill from both the state and the BLM.
The lack of a federal agency will likely delay much of the everyday bureaucracy for the industry, such as processing applications for permits to drill, said Mark Watson, head of the Wyoming Oil and Gas Conservation Commission — the state agency that regulates the oil and gas industry. Watson said he had a meeting with the BLM to discuss flaring regulations cancelled this week.
The commission staff will continue to do their part in overseeing the industry in Wyoming, including ensuring compliance for rules that apply on federal land, such as fracking regulations and flaring limitations.
Wyoming regulators are sitting on a record 25,000 applications for permits to drill in the state, a reflection of operator interest in drilling, both now and into the future. The rise was partly a result of the rising price of crude oil throughout much of 2018 as well as a race among producers staking claims in Wyoming's Powder River Basin.
For wells on federal land or intersecting with federal minerals, operators need a permit from both the state and the BLM.
Operators who are currently drilling, or looking to drill, will likely feel the pinch from the stay in processing these applications, but the size of the impact to Wyoming's oil and gas industry will depend on how long this shutdown lasts, Watson said.
"If it went for a month, that would affect industry," he said.
***
Communication between operators and federal regulators is consistent through the drilling process, from notification that a well has been spudded to federal approval of how a production facility is going to be laid out after a well has been completed and is ready to produce.
Much of that communication is shut down, producers say.
Degenfelder of Kirkwood said his office sent a right of way fee to the BLM office in Rock Springs in late December only to have it returned to his office. There was no one there to receive it.
For operators out in the field right now drilling wells, the lack of a BLM presence could hold up production, he said. Any time drillers on federal land encounter a change in their drilling plans, and there are always changes that arise in the field, they have to submit a notice to the bureau.
"I know I've heard from several peer companies that they can't get sundry approvals here in Wyoming for rudimentary things like construction of tank battery," he said. "That's where there is going to be some delays."
Some of those notifications are just administrative, with BLM signing off on an adjustment, he said. He hopes the Wyoming delegation or an industry representative like the Petroleum Association of Wyoming can impress on officials in Washington that these processes are holding up industry.
"These are wells that could start producing right away and provide the state with severance taxes and federal mineral royalties," he said.
***
Some environmental groups immediately criticized the shutdown, as it blocked their ability to follow industry developments, comment on planned drilling projects or environmental issues.
Online systems tracking applications for permits to drill have gone on and off through the end of the December, as did ePlanning, the online database with information on environmental analysis and upcoming oil and gas lease sales, groups report.
"We were trying to file documents to BLM that were due … and there was nobody there," said Jill Morrison of the Powder River Basin Resource Council, a landowners group in Sheridan.
Morrison questioned whether deadlines would be extended for the numerous public comment periods that are supposed to be open now.
"How do you look at the details? How do you comment intelligently (on a project)? You can't," she said.
Western Watersheds, an environmental group, put out a statement in late December questioning the availability of online documents regarding sage grouse management plans. These are broad and significant strategies to conserve a Western bird that are currently proposed for revision by the Interior Department.
A notice on the Interior Department website posted Dec. 26 notes that the website may not be up to date, comments submitted may not be processed until later and inquiries may not be responded to.
The Center for Biological Diversity has sent a letter to Deputy Secretary Bernhardt — currently the acting secretary given the recent resignation of Ryan Zinke — asking for all environmental reviews that overlap with the shutdown period to be extended.
***
Not all companies are on the ropes with the current shutdown.
Peter Wold, of Casper-based Wold Energy Partners, said his company just released a rig this week and has other drilling locations on hold until August when stipulations that limit operations for wildlife or environmental concerns are lifted. The company does have thousands of applications for permits to drill filed with the state, but none are on the fast track for immediate drilling.
The federal permit side of things is always a bit of an unknown anyway, Wold said.
"One never knows when you are going to get the approval anyway," he said. "It's hard for us to determine if we are being impacted (by the shutdown)."
For Wold, and likely a number of producers in Wyoming, the greatest challenge to their drilling plans isn't the bureaucratic mess from Washington but the price of crude.
"It's pretty crappy right now," Wold said. "I don't think anybody is making money today."
Follow energy reporter Heather Richards on Twitter @hroxaner