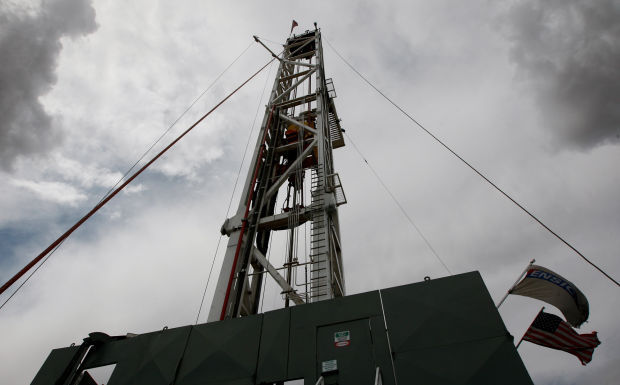 With a nod from federal regulators Tuesday, Jonah Energy's 3,500-well natural gas project in Sublette County took a leap forward.
The ambitious scope of the Normally Pressured Lance natural gas project is expected to serve as an long-term economic boon while creating new conservation challenges in western Wyoming.
The project is one of the largest to be approved on public land in Wyoming and could contribute up to $17 billion in revenue over its 40-year lifespan, according to Bureau of Land Management estimates. In federal royalties alone, NPL is projected to bring in $2.2 billion, half of which would go to the state. Development could spur the creation of nearly 1,000 jobs, while up to 7 trillion cubic feet of gas could be tapped over the next four decades.
***
That analysis will serve as the framework of rules and guidelines that determines how Jonah develops the area, from the number of well pads allowed in each section to the timing of drilling. It will also expedite the process of permitting individual wells.
The project is a significant advancement for Jonah; the company formed in 2014 and inherited the NPL project from Encana Corp. Encana first proposed the Normally Pressured Lance project in 2011.
"After seven plus years, we are very pleased to see the record of decision," said Paul Ulrich, of Jonah. "That's going to give us the authorization to start permitting wells and ultimately start drilling and developing this acreage."
***
Jonah has fostered a reputation for environmental stewardship over its lifetime in Wyoming. Ulrich is a member of the governor's Sage Grouse Implementation Team and Jonah voluntarily stalled the environmental analysis of NPL in 2015 in order to review impacts to sage grouse and mule deer. The company was one of the first to implement methane leak controls, given the high pollution and prevalence of ground level ozone in the Upper Green River basin.
"We are aware of it and we embrace it," said Ulrich of Jonah's prominence in both wildlife and environmental debates in the state. "The voluntary work we put into reducing emissions, bringing in new technology ... is something we are very proud of, to an individual."
NPL does encompass a number of sensitive habitats for wildlife, including breeding areas and a winter-range for sage grouse and migration paths for big game like antelope. As a result, the project was analyzed in three sections that carry different rules for development according to what lies on those acres.
Heaviest activity is permissible in the center of NPL, or about 40 percent of the total project area. Most of the existing infrastructure within NPL lies in that central section. There are about 55 producing natural gas wells within the full project boundary.
The two other sections will be developed with stricter guidelines, including a one well pad per section limit. The well pads in NPL will span, on average, between 5 acres and 19 acres, according to the Bureau of Land Management. Though the pads are much larger than traditional pads, multiple wells are drilled from a single pad and the practice significantly reduces the amount of landscape disturbed over time.
The NPL project area includes 141,000 acres of mostly federal land. Development will disturb nearly 6,000 acres in the short term, falling to 1,700 acres long term, or about 1 percent of the total project area.
In the western section of NPL, sage grouse wintering grounds have been identified by state and federal officials. The winter grounds have stirred up significant push back on the NPL project from some groups in conservation given how little science exists to guide development in those types of habitats.
Jonah is funding research on a portion of grouse's winter habitat to chart how development affects the bird. The results will determine how the company develops the rest of those wintering grounds, said Ulrich.
"We have an opportunity to develop some very serious science and ensure that we get it right," Ulrich said.
***
Given the number of wildlife concerns, groups like the Wyoming Outdoor Council — which was consulted by Jonah during NPL's planning on conservation measures — say they remained cautious concerning key issues for the project.
"We want this done right and there are still a lot of unanswered questions regarding wildlife," said Dustin Bleizeffer, a spokesman for Wyoming Outdoor Council.
Bleizeffer said Jonah deserves credit for the work it's done, particularly to reduce emissions in the Upper Green River Basin. The group hopes for the same commitment when it comes to wildlife, he said.
Other groups hold less moderate views on the NPL's impact to wildlife.
"This decision moves greater sage-grouse closer to extinction and threatens pronghorn that summer in Grand Teton National Park," said Kelly Fuller of Western Watersheds Project in a statement Tuesday.
The group said it would look into options to reverse the Bureau of Land Management's record of decision.
Follow energy reporter Heather Richards on Twitter @hroxaner
The business news you need
With a weekly newsletter looking back at local history.