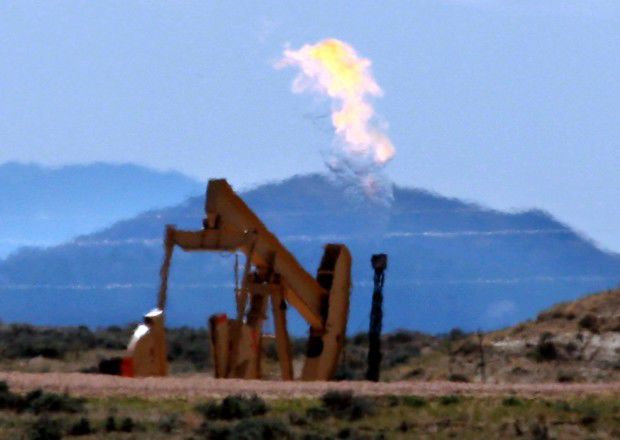 LJ and Karen Turner's family have lived on a ranch southwest of Wright in the Powder River Basin for over a century. But in recent years, the bucolic landscape and clear skies have been punctuated with volcanic-like flames as energy companies flare, or burn off, excess natural gas.
Last winter, one nearby operator flared throughout the day and night just half a mile down the creek from the Turner's home, Karen said.
"There are times that I think there's a whole fire going on up there," she said. "It's so bright and it shines into our bedroom window. I hate it. You can hear it roar."
"It's a definite aggravation," LJ added.
Karen hoped the operator would construct a pipeline to transport the gas to market. That way, flaring wouldn't be necessary. Christmas came and went. The pipeline was eventually completed. But the flaring continued unabated, Karen said.
"The problem is, you get sort of used to it," she said. "It becomes background noise and you just don't notice it."
On top of the daily disruption, she now worries that the flaring from this well, and others near her ranch, are draining the state of a vital resource and polluting the air, she said.
In the U.S., flaring increased 48 percent between 2017 and 2018, according to the World Bank. The practice has ignited debate in nearly every corner of the nation, especially as drilling operators in Texas, New Mexico and North Dakota enjoy a herculean boom in oil production.
Though Wyoming ranks third nationally in the amount of natural gas flared and vented, the practice remains tightly regulated by the state, even as federal agencies relax emission requirements and open the gates to more oil and gas leasing. Wyoming's rates also pale in comparison to states like Texas and North Dakota.
To energy producers and public officials, flaring is simply a necessary step in oil exploration and production. The state's environmental quality agency and oil commission both keep a close eye on flaring, according to several interviews with industry experts.
But flaring continues to draw the ire of environmental groups and some Wyoming landowners as the effulgent flames obstruct horizons, contaminate the air and burn up state revenue.
"If I had any message to a landowner, it would be that flaring is tightly regulated, highly scrutinized, but is an option that operators have the right to request," said Mark Doleger, a seasoned geologist and commissioner at the state's Oil and Gas Conservation Commission. "Most companies don't like flaring anymore than I do. The reason is obvious: They are burning up their money."
A voluminous issue
Fracking has unlocked astronomical amounts of natural gas, along with oil. But the increase in natural gas production has outstripped demand, causing prices to crater. Funneling gas all the way to a customer often earns pennies on the dollar for an operator. So, they turn to flaring.
"Natural gas has value but is not the economic driver," Mark Doelger explained.
An oil and gas operator in Wyoming can flare up to 60,000 cubic feet of natural gas per day from an oil well. Flaring that amount of gas per day at a well for one year burns enough gas to cover the heating and cooking needs at about 300 homes.
Lost gas also translates into lost tax revenue for Wyoming, according to to a 2018 report by the Wyoming Outdoor Council and Environmental Defense Fund. The groups concluded the state loses approximately $8.8 million to $16.1 million in revenue every year from wasted natural gas. The coffers of Converse, Goshen, Campbell, Laramie and Sweetwater counties each lost an estimated half-million dollars from wasted natural gas, according to the report.
If the company plans to exceed the daily flaring limit, it must head to Wyoming's Oil and Gas Conservation Commission to make a case for flaring.
"Natural gas is a valuable energy resource, and any time that's wasted, we would prefer that doesn't happen," said Erin Campbell, the state geologist and a commissioner on the Oil and Gas Conservation Commission. "Our role is to uphold the regulations that are in place."
Why flare at all?
Flaring emits climate-warming pollution including volatile organic compounds, carbon dioxide, soot and other contaminants that can compromise local air quality.
But it could be worse, industry experts said. Flaring stands as a less environmentally destructive practice than venting. When venting, operators release uncombusted natural gas straight into the air.
Requests to flare often come before the state's oil and gas commission when an operator plans to drill in a remote area, but lacks critical pipeline infrastructure, Campbell explained. Operators hope to eventually build a pipeline, if they can tap oil at the site. But there's often a gap between when production begins and when a midstream company arrives to build a pipeline.
"What they're trying to do is get the data to attract that midstream operator and reduce the risk," Commissioner Doelger explained. "Those are keywords — remote and risky."
To attract midstream pipeline companies to take a risk and invest in an unexplored area, operators test out wells and collect data. Companies will likely not make the investment in a pipeline if there's too many unknowns.
Other operators will turn to the commission for a permit to flare more than 60,000 cubic feet per day if they are drilling for oil, but have too much gas on their hands during production. Stopping mid-production also can cause severe damage to oil infrastructure.
"It's very onerous and expensive to shut in and restart,"said Pete Obermueller, executive director of the Wyoming Petroleum Association. "You don't want to get anywhere near that."
From his point of view, the state flaring rules work.
"I think the process we have in Wyoming is good and there is not an effort to relax flaring limitations," he continued. "Those limitations are set, and we're not trying to relax those at all."
While the oil and gas commission regulates the amount of flaring, Wyoming's Department of Environmental Quality monitors the air quality around the facilities engaged in the practice.
"When we look at flaring, our agency is looking at emissions," said Keith Guille, the department's public information officer. The agency monitors the emissions, conducting inspections at facilities around the state and maintaining air quality monitoring devices.
"Flaring is a control device," he noted. "The other option if you're not going to flare is venting, which obviously, we don't want to see."
Wyoming operators self-reported flaring 428 million cubic feet above the daily limit last year, according to the Wyoming Oil and Gas Commission monthly reports. Operators flared 35 percent of the approximately 1.2 billion cubic feet of gas the commission authorized for flaring above the daily limit. The total amount of flaring recorded last year in Wyoming hit 5.9 billion cubic feet, according to the commission.
In the first half of this year, Wyoming operators reported flaring about 297 million cubic feet of approved gas above the daily limit.
But several conservation groups aren't convinced the problem is solved. To its critics, even lower levels of flaring can cause damage to the environment and human health. More can be done to ensure flaring is the least destructive — to the state's pocketbook and environment — as possible, they contend.
Tightening the rules
At the Sept. 10 Wyoming Oil and Gas Conservation Commission hearing, a landowners group opposed six permit applications to flare above the 60,000 cubic feet per day limit.
"We are hearing concerns from landowners and mineral owners about the increasing number of oil wells flaring natural gas in the Powder River Basin," the Powder River Basin Resource Council stated in the letter to the commission. "...We believe the information presented in the docket fails to justify the flaring and waste of natural gas for the requested time and volume."
The commission acknowledged but dismissed the objections, ultimately approving all permit applications to flare.
Developers have flocked to the Powder River Basin to drill in recent years. Several landowners, like the Turners, worry for the region's air quality and water.
"I consider flaring a necessary evil," said Jon Goldstein, director of regulatory and legislative affairs at the Environmental Defense Fund. "It's not about stopping drilling ... it's about minimizing the negative environmental impacts to air quality and the climate to public health as much as we possibly can."
Goldstein still thinks the commission's regulations could have more teeth. The state or commission could ban venting, impose stricter efficiency requirements for flaring or make flaring data more transparent, he said.
Some environmentalists see natural gas as a nonrenewable resource that, though not always profitable now, could be in the future, and should not be depleted.
Just because natural gas has little to no market value does not mean it should be flared, said Clark Williams-Derry, director of energy finance at the Sightline Institute, an environmental think tank.
"You have to wonder what our grandkids are going to think about all this," Williams-Derry said. "We're using up their gas, and giving them all the costs and burdens of a warming climate. Gas is actually a valuable resource being treated as valueless."
The business news you need
With a weekly newsletter looking back at local history.