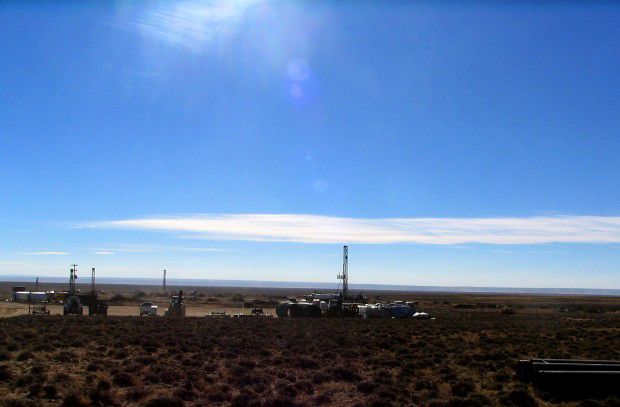 Wyoming regulators decided Tuesday that the flash gas phenomenon that arose in the Wamsutter field won't require an update to current rules and regulations.
Earlier this year, a couple companies encountered a challenge in the gas fields as they developed horizontally in a traditional vertical-well area: spontaneous gas flashing off hydrocarbon liquids.
BP America and Southland Royalty were burning off some of that gas, an action noticed by staff at the Wyoming Oil and Gas Conservation Commission as it violated Wyoming standards.
Flaring is not allowed from gas wells in Wyoming. It is permissible, within limits, from oil wells. These new horizontals encountering flash gas fell somewhere between the rules for oil and the rules for gas.
The companies reported Tuesday, and Wyoming Oil and Gas Conservation Commission staff confirmed, that most of the gas is now able to be captured.
OGCC Deputy Supervisor Tom Kropatsch compared it to a bottle of soda and the sudden rush of carbon dioxide released when the bottle is opened.
You have free articles remaining.
"They are capturing all the gas that's able to be captured off that well," he said in an interview. "There is that de minimis volume that there is no good way to capture."
The Wamsutter field has extensive vertical well production. BP has 1,800 wells in the area across a half-million net acres. Flash gas was not an issue historically.
"The vertical wells drilled in this area produced mainly gas and there is an extensive gathering system to capture and sell the gas," Kropatsch wrote in an email. "BP and Southland began developing horizontal wells that are targeting liquid rich zones producing larger volumes of liquid hydrocarbons and gas from these wells."
That's when they encountered flash gas.
The companies were brought before the commission earlier this year to explain the challenge and offer commissioners an opportunity to decide how to regulate flash gas. Commissioners decided to let the companies, and commission staff, continue to work on best practices to capture the gas before making a decision on what to do next.
Kropatsch said the current rules on venting and flaring are sufficient to deal with the existing challenge. The work done is also a foundation for the problem if it arises in future production in Wyoming gas fields, he said.
"Liquid hydrocarbon rich wells may have these issues, but it is highly dependent on site specific situations such as production volumes of gas and liquids, wellhead and production equipment pressures, and pipeline pressures or capacity," he said.
"As drilling and completion technologies change or are tested in more areas (such as the horizontal drilling in the Wamsutter area by BP and Southland) we may see an increase of flash gas in other areas."
The companies will report their progress to commission staff in six months and to the Oil and Gas Conservation Commission in one year.
Follow energy reporter Heather Richards on Twitter @hroxaner