KEMMERER — The Gunters have collectively worked the Kemmerer coal mine for 200 years. Countless times over those decades, they've donned hard hats and made the short drive from town to the mine that is the lifeblood of this southwest Wyoming community.
Dating back to 1950, Uncle Otto was an officer in the local miners' union that is nearly as old as the state of Wyoming. Uncle Roger spent 40 years in the mine. Cousin Bobby Gunter was the union president. Ron, was a rancher turned miner who put in 35 years. Ron's son, Jimmy, followed his older brother, Larry, into the mine in the '70s, past the hill towns of Kemmerer and Diamondville, past the power plant and its billowing clouds. That plant, Naughton, consumes the coal pulled from the earth for decades by the Gunters and hundreds of other miners. From that earth, the towns of 3,500 has drawn life.
All of the family but Larry's sister, Patti, have retired. They have reaped the benefits of their decades of service in the mines: a modest pension and full health benefits, successes of their union and the strikes it undertook to protect them.
"That pension ain't worth s—-," Larry Gunter said in mid-February from a brown recliner in his Kemmerer home. He'd had surgery on his right foot the day before. The 67-year-old promised his wife he wouldn't curse and kept his word for about 10 minutes.
"But it's good with that medical. That's what we fought for. That's what we all stood together for."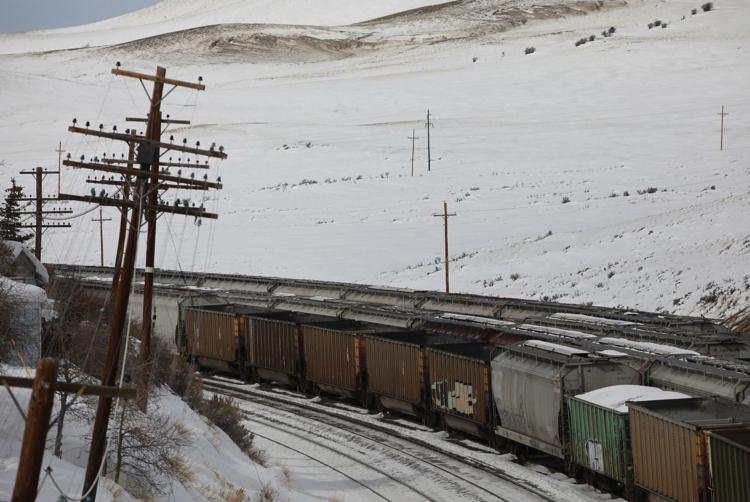 The benefits paid for the births of Gunter's three daughters. The copay was $20 apiece, or $200 for an out-of-network hospital. It paid for the life flight that took his youngest to Salt Lake's Primary Children's Hospital when she wouldn't wake up from her tonsil surgery. It covered his father's emergency flight after he had a heart attack. Without those benefits, Gunter would be bankrupt, he said.
Now, those benefits are under siege, and the walls that have protected them for decades are crumbling. The coal industry is in decline. Westmoreland Coal Company, which owns the mine, is bankrupt. To attract a buyer for Kemmerer, it asked a Texas judge in late 2018 to strip the retirees of the benefits they had worked for, had agreed to, had planned on. All this, the retirees say, for a company drowning in debt that's pulling them into the abyss with it.
"They just file bankruptcy and to hell with everybody else, with the workers?" Gunter asked. He's a Kemmerer native. Even if Westmoreland is washing its hands of this town, its homes built into the hills, its streets as steep as ski slopes, Gunter will not leave.
Gunter is proud, his gaze strong. A tall man with thinning white hair, he limps upstairs in his black walking boot to put on a collared shirt for a photo. He speaks fondly of his more than 46 years in the mine, mostly spent working on a blasting crew. He holds his head high and laughs often, even as he talks about a daunting future.
He was a member of the United Mine Workers of America, local 1307. The promise of benefits was more than that. It was a guarantee. It was a deal, an agreement signed and legally binding. The union had accepted smaller raises to keep their medical benefits intact. They had gone on strike.
"It wasn't the workers who ran this thing into the hole. It's poor management. Last year they made money in this mine. ... Say I had a bad shot, well what's that going to cost?" he said, referring to the use of explosives at the mine. "They'll get through it. But these are million dollar screw-ups they're making. Mine might be what, $2,000? That's the difference on your goddamn calls being made out there."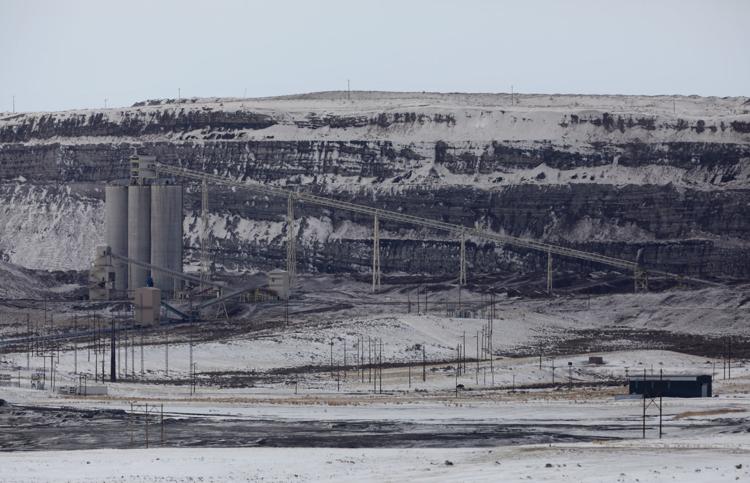 He is on Medicare and is less than two years into retirement. He costs Westmoreland nothing in medical costs, but his wife — a dental assistant a few years away from qualifying for Medicare — relies on the insurance. Gunter's 46 years earn him a pension of $2,300 a month. Should his medical benefits be lost, that money will not go far.
"I have no idea what we'd do," he said, when asked about losing the benefits. "We'd figure something out. But who wants a 67-year-old? But really. Everything's computers now. I'm not the guy I was 10 years ago. I can't answer that question about going back to work."
Gunter kept returning to the fights of the past. The union fought and the miners fought, through repeated sales of the mine, to protect those benefits. Westmoreland, who took over in 2012, was not there for those struggles.
"These guys, they act like they want to rape the coal out of there and see what happens," he said. "I don't know."
"All I'm saying is all the stuff we fought for and just — mainly the wages and stuff we gave up to keep the benefits," he continued, "and all of a sudden with a stroke of a pen ..."
On Tuesday, a week after Gunter spoke with the Star-Tribune, a Texas judge approved the sale of the Kemmerer mine to a Virginia businessman. The deal, worth millions, included abandoning retiree benefits.
***
More than anything, Gunter and the other retirees who spoke with the Star-Tribune couldn't understand how this could happen. It wasn't that they didn't understand the technical "how." It was the moral one.
That's Larry Hinton's confusion, his frustration. Like Gunter, he put in more than 40 years in the mine. He's been retired for about a year, after spending much of his time working as a field mechanic. He moved to Kemmerer as a teen, graduated from high school here, was determined to leave and then moved back, the adventurous spirit of youth replaced with the comfortable memories of home.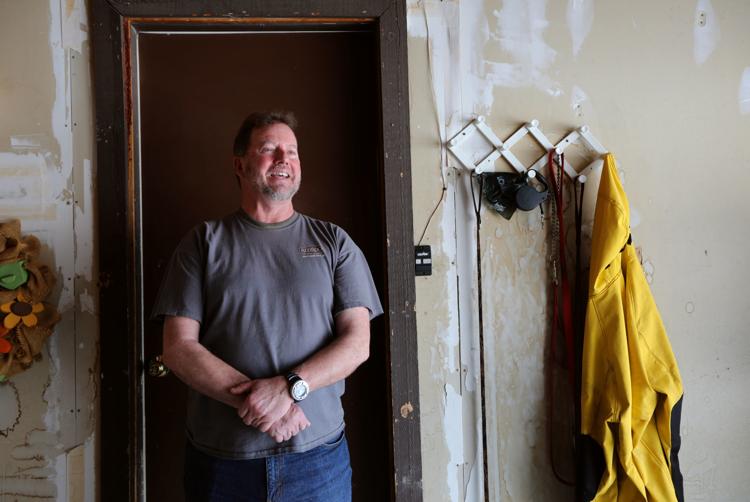 In mid-February, he too did not yet know what the judge would rule. He held out hope, at least outwardly, that the right thing would win out. But he knew bankruptcy courts tilt in favor of corporations, not the men and women who hold them upright.
"I think if Judge (David) Jones has a shred of common decency in him, he can't just turn his back on the miners and just leave us out there," Hinton said. "I can't imagine anyone doing that. Maybe I'm just naive, but I can't imagine that happening."
Like Gunter, he is proud. But his eyes betray the anger and exhaustion the battle has forced on him. He's under 65 and doesn't qualify for Medicare. He's built like a coal miner, with a weathered face and a quick laugh. He has twice traveled to Denver to picket Westmoreland, to show the company that there is a face behind the numbers on their books. He had planned to spend retirement scuba diving with a high school friend, hunting elk and traveling with his wife, Donna, who is — was — a year away from leaving her job as a circuit court clerk.
"Donna and I just — we kind of had to put all of our plans on hold because so much rides on the judge's decisions on all these different filings, and you don't know really where you're going to land for sure," he said from his home, built atop a hill and a frequent stopping point for a herd of mule deer. "If the medical is gone or greatly reduced, we're back to figuring out on paper exactly where we're at, how we're going to afford it and stuff like that. It's going to be over $1,000 a month for Donna and I to acquire some insurance that's anything close to being called good."
"I might have to go look for employment."
He doesn't want to do that. He put in his time in the mine. He upheld his contractual obligations as a worker and expects Westmoreland to do the same as an employer. He took pride in that work, enjoyed the people he worked with and feels attached to the mine.
"We actually felt really tied to that coal mine," he said. "I didn't have it on paper, I was never granted this on any management of the mine. But I always felt in here" — he tapped his chest — "that I had ownership in that mine. I really tried to do a good job for whatever company it was. I really feel part of that mountain out there."
He has a few years to go before he qualifies for Medicare. He'll return to work as a mechanic if he has to, he said again, but he won't like it.
When he poses for a photo, he brings a smile to his face by saying "Westmoreland sucks."
***
They gather the night before at a bar popular with coal miners in Diamondville, the town that bleeds into Kemmerer. It's small and opens up in the back, pool tables and booths. The liquor bottles that line the wall behind the bar provide the only light in the front room.
At a table just inside the door, where a previous owner would demand miners remove their boots or mop up the tracks they left, Hinton shared beers with a pair of fellow retirees. He spoke highly of the life the mine let him and his family live.
"We didn't live a lavish lifestyle, but it kept a roof over our head and we lived comfortably," he said.
They talked about the old days, about previous owners — Kemmerer Coal, Gulf, Chevron — and how they honored the union's contract and the workers weathered the change. Donna stood next to Hinton. As the night wore on, and Donna and Hinton prepared to leave, again the question of what the men would do next. Hinton joked darkly about going to work as a greeter for Walmart.
Forty-one years in the mine. He turned his head and stared off into space.