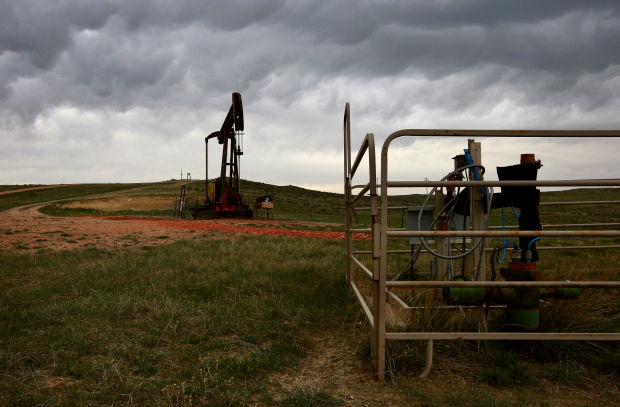 More than four years after Bearcat Energy filed for bankruptcy, the Wyoming Oil & Gas Conservation Commission on Tuesday voted to require the natural gas operator to forfeit $2.25 million in bonds for the plugging and reclamation of its abandoned wells.
Bearcat, which bid close to $1.2 million for approximately 100 Wyoming coal-bed methane wells in 2010, ceased known operations in 2016. It failed to provide nearly $200,000 in additional bonds requested by the commission in 2016 and stopped submitting production reports in 2017, violating commission requirements for well monitoring during bankruptcy.
The company filed for chapter 11 bankruptcy — known as "reorganization" bankruptcy — in early 2017. Corporations that successfully undergo this type of bankruptcy often continue to operate throughout the proceedings, retain many of their existing assets and emerge with reduced debt.
Wyoming's regulators prefer to wait to revoke reclamation bonds from oil and gas companies undergoing chapter 11 bankruptcy until they can determine whether the companies will resume operations at idle wells.
"Oftentimes, we try to let the dust settle in some of these cases, because something might emerge from bankruptcy, or a purchaser may come and be able to turn these wells back on," said Micah Christensen, the assistant attorney general representing the commission staff, during the hearing.
In Bearcat's case, the bankruptcy filing was converted last year from chapter 11 to chapter 7 — liquidation — leaving the company with no chance of revival. But another operator is attempting to take over some of the company's wells prior to its dissolution.
"If we give ourselves a window of time where the forfeiture of the bonds takes place, that will probably be the best for all parties, including the state, to make sure that we go forward with an abandonment for these wells that clearly need to be forfeited, but also provide an opportunity for that other operator," Christensen said.
The commission will require Bearcat to surrender up to $2,250,430 in bonds by Oct. 15. But that's unlikely to cover the full costs of reclamation, according to Lottie Mitchell, an organizer with the Powder River Basin Resource Council.
Though past reforms have improved the bonding program, "it's still just not enough to cover the costs of actually plugging and reclaiming all of the wells that a company has," Mitchell told the Star-Tribune.
Dozens of wells owned by four other oil and gas companies — WC Operator, Urroz Oil & Gas, Salt Creek Operating and Lodestone Operating — were declared abandoned by the commission during Tuesday's hearing.
The companies' reclamation bonds had already been revoked, giving the oil and gas commission authority to plug their wells. "But there's generally some amount of oilfield equipment left on that site, and so in order to remove that equipment, we have to perform this abandoned equipment process," Joe Scott, the commission's natural resources supervisor, said during the hearing.
Abandoned property proceedings like the four heard Tuesday usually take place at the end of such companies' lives, sometimes years after the wells' orphaning.
Pete Obermueller, president of the Petroleum Association of Wyoming, emphasized in an interview with the Star-Tribune that such proceedings occur most often when companies are undercapitalized and especially susceptible to market downturns, and represent only a small share of operators.
Of the four companies whose wells were declared abandoned, Urroz is the only one still active. Lodestone and Salt Creek shuttered in 2019. WC closed in 2020.
"This is an ongoing problem," Mitchell said. "We just saw four operators today. But every month, there's going to be more and more operators where this is an issue, because the boom and bust nature of the oil and gas industry is just such that companies are always going bankrupt, and there's not a good way to actually get the money for plugging and reclamation right now."