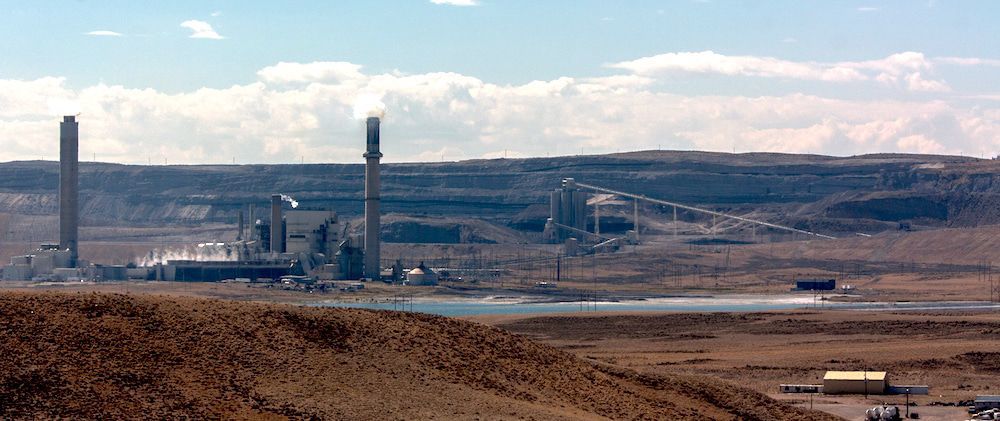 Gov. Mark Gordon announced Thursday he plans to allocate additional resources to the Wyoming Public Service Commission to bolster an investigation into a controversial energy plan published by the state's largest utility.
The commission launched an investigation into Rocky Mountain Power on Nov. 13, following the release of the company's Integrated Resource Plan. The plan maps out the company's energy strategy for the coming decades.
But the plan has not sat well with a majority of Wyoming lawmakers who have seen it as an attack on Wyoming's robust coal industry.
Under the utility's most recent plan, two-thirds of its national coal fleet will be retired by 2030, including units at Naughton in Kemmerer, Jim Bridger near Rock Springs and Dave Johnston in Glenrock. To save ratepayers significant costs, PacifiCorp will retire Jim Bridger's unit 1 in 2023, four years earlier than the company once projected. Another unit at Jim Bridger will retire in 2028, nine years early. In addition, Naughton's units 1 and 2 will shutter in 2025.
"Because the (Integrated Resource Plan) filed by Rocky Mountain Power will significantly impact the state of Wyoming and her workers, it is critical that we have a full understanding of how the company reached its conclusions, and whether the analysis that was conducted was correct, thorough and unbiased," Gordon said in a statement.
For 16 months, a team at PacifiCorp (Rocky Mountain Power's parent company) researched how potential shifts in energy regulations, prices and technology could affect ratepayers' prices and the stability of the grid down the road.
"The goal of the (Integrated Resource Plan) is to produce a least-cost, least-risk portfolio of resources to provide safe, reliable electric service to all of our customers," Spencer Hall, a spokesman for Rocky Mountain Power, said in a statement Thursday.
Results from advanced modeling revealed the company would need to transition away from coal-fired power plants in order to save ratepayers substantial costs down the road.
This is not the first time Wyoming has scrutinized the decisions of its leading utility. The commission also launched an investigation into a coal study it published last year. A hearing for that investigation will take place next month in Cheyenne, according to Mary Throne, deputy chair of the Public Service Commission.
When a utility files an integrated resource plan, the commission typically accepts it after scrutinizing it during a public comment period. But the commission can also instigate an investigation and hold a contested case proceeding.
"The Governor, under his budgetary authority, will provide the funding necessary for the Commission to issue the (request for proposal) and obtain the information it needs to properly analyze the (plan)," the news release stated Thursday.
The exact amount of appropriated funding will be determined after the governor reviews bidders, a spokesman for the governor told the Star-Tribune. The request for proposal will likely be issued by the end of the year.
Hall, of Rocky Mountain Power, said the utility looks forward to responding to the Public Service Commission's inquiries but stood by the integrity of the plan.
"We note that the process with the 2019 (Integrated Resource Plan) included participation from many interested Wyoming residents, including industry groups, elected officials from city, county and state levels, and Wyoming environmental advocates — in addition to customary utility regulators and interveners," Hall noted in a statement.
"In preparing these long-range plans every other year, the company engages in an extensive open public process with meetings over many months, where utility regulators, elected officials or any interested member of the public can attend, ask questions and submit comments as the process develops toward the final plan," he added. "Each plan receives a shorter update in the intervening year to address changing economic and operational conditions."
PacifiCorp's plan includes significant renewable energy and transmission line projects, many of them bound for Wyoming. Utility companies saddled with the mandate to keep electricity prices low for consumers have been attracted to the increasing cost effectiveness of wind energy in recent years.
Of the thousands of megawatts of new wind generation anticipated under the plan, most will occur in Wyoming. The state's prime wind resource, along with existing transmission infrastructure, make it a ripe site for additional wind development.
Solar development will also take a leap forward in the state, if the plan is implemented as drafted. PacifiCorp said it will add solar generation to Wyoming starting in 2024. That's in addition to adding 354 megawatts of battery storage and hundreds of miles in transmission line construction. The other side of development involves extending transmission line capacity to move the energy generated from Wyoming to PacifiCorp's service territories across multiple states.
"Rocky Mountain Power continues to invest in Wyoming's energy future, including nearly $3 billion in new wind energy developments," Hall said. "These new renewable energy projects benefit rural communities across Wyoming by creating hundreds of construction jobs and adding millions of dollars in ongoing tax revenue to the state."
A commission will hold a public hearing on May 5 and 6.