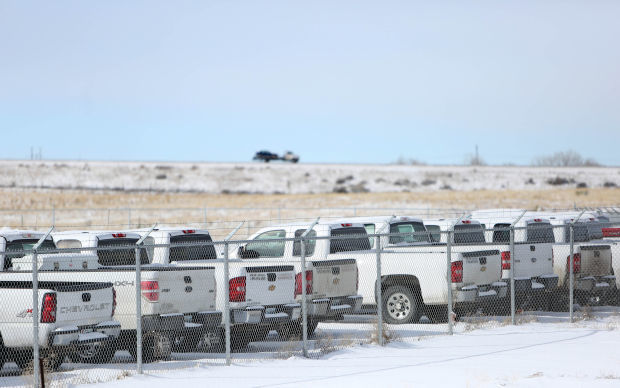 International energy company Halliburton has announced it will lay off 650 employees in the Rocky Mountain region, including an unspecified amount who work in Rock Springs.
"Halliburton made reductions to its employee workforce in Rock Springs due to local market conditions," Emily Mir, a spokeswoman for Halliburton said in a statement. "Making this decision was not easy, nor taken lightly, but unfortunately it was necessary as we work to align our operations to reduced customer activity."
The layoffs hit workers in four states: Wyoming, Colorado, New Mexico and North Dakota. But the company declined to specify how many Wyoming workers were impacted. Wyoming Workforce Services said it was not provided details.
Halliburton said it aimed to provide most employees with the opportunity to relocate to other company locations.
The news did not come as much of a surprise to Rick Lee, CEO of the Rock Springs Chamber of Commerce.
"We understand the nature of their business. It's cyclical and up and down," he said. "We prepare ourselves for the good and the bad, and this would be the bad."
But overall, Lee does not anticipate the layoffs to have a detrimental impact on the local economy.
"I think we'll be able to get through," he noted.
The Department of Workforce Services in Wyoming has rapid response kits available, training funds and resources to help workers file for unemployment. The agency is prepared to support unemployed workers in making any necessary job changes, according to Linda Orchard, manager of Workforce Services in Rock Springs.
Pete Obermueller, executive director of the Petroleum Association of Wyoming, pointed to the downturn in natural gas prices as a likely precursor to the loss of permanent jobs.
"For Wyoming, it's disheartening," Obermueller said of the layoffs. "For us, the vast majority of natural gas is produced over in western Wyoming, and prices are really troubling. The Powder River Basin and DJ Basin are strong in terms of oil play, but obviously the price there is not fabulous either."
In February 2016, Halliburton laid off an unspecified amount of workers in Casper and Rock Springs as part of a larger, 5,000-worker job cut.
According to the latest data released by Wyoming's Economic Analysis Division, the oil and gas industry provides about 12,500 jobs to workers throughout the state, a 2 percent decline from the same time last year.
The business news you need
With a weekly newsletter looking back at local history.