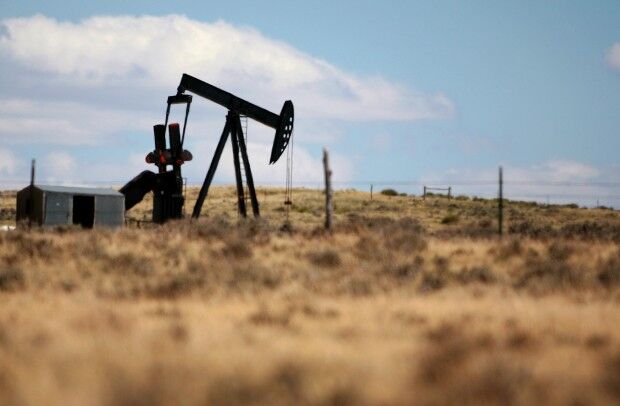 President Joe Biden signed an executive order Wednesday suspending the issuance of new leases to oil and gas companies from federal land, a move scorned by Wyoming political leaders and industry groups fearing the economic fallout but applauded by conservationists hoping to see the system reformed.
The order requires the U.S. Department of Interior to stop approving new oil and gas leases for public lands and minerals "to the extent possible." The order does not indicate how long the moratorium will last.
In doing so, the federal agency will have time to undertake a "rigorous review of all existing leasing and permitting practices related to fossil fuel development," according to the order.
The leasing moratorium was one part of a suite of executive actions all aimed at combating climate change and putting the U.S. on a path to eliminate carbon pollution from its power sector by 2035 and achieve a net-zero economy by 2050. That includes the formation of an interagency working group tasked with investing in communities relying on coal, oil and natural gas as the country transitions to new power, carbon-free power sources.
"It's not time for small measures, we need to be bold," Biden said Wednesday, moments before signing the order. "So let me be clear, that includes helping revitalize the economies of coal, oil and natural gas and power plant communities. We have to start creating good paying jobs, capping those abandoned wells, and reclaiming mines."
Wednesday's order builds on another order issued by the Interior on Jan. 20, requiring a 60-day pause on new leases and permits, to also give the federal agency time to reassess the program.
Both orders will not apply to oil and gas leasing or activity taking place on tribal nations. Oil and gas operators with existing leases or permits in hand still hold rights and will likely be able to continue drilling, according to energy experts.
"We're not going to ban fracking," Biden emphasized on Wednesday. "We'll protect jobs and grow jobs."
Big impact in Wyoming
The actions could have wide-ranging consequences for fossil fuel dependent states like Wyoming. Here, over half of oil production and nearly all of natural gas production comes from federal minerals. The state has come to deeply rely on oil and gas production for revenue, especially as money from coal production disappears.
Fossil fuel production from federal minerals provides significant tax revenue to Wyoming. The revenue comes from severance taxes, ad valorem taxes, federal royalty payments and lease payments. In addition, oil and gas companies must pay property taxes, as well as sales and use taxes. These payments fund the bulk of public education, infrastructure, local and state governments, and more.
The Interior Department will need to issue more specifics on the executive order's rollout before the extent of its impact on Wyoming's economy can be fully assessed. However, for hundreds of Wyoming workers and companies involved in oil and gas exploration and development, the ripple effect of pausing new federal leases generates an enormous amount of fear and uncertainty.
"The President's decision to halt Federal leasing on oil and gas under the guise of a 'pause' is beyond misguided," Gov. Mark Gordon said in a statement Tuesday. "The lost jobs and revenue caused by this action inhibit Wyoming's ability to invest in CO2 capture and likewise the ability of the oil and gas industry to contribute to those projects. In the longer run, Wyoming may find itself with no choice but to increase the costs of doing business on other energy sources to balance our budget."
Wyoming's three congressional delegates have also come out against the pauses to oil and gas leasing of federal minerals, saying the economic consequences would be grave, and the environmental returns too small.
Restoring balance?
Yet a number of conservation groups across the state welcomed Biden's order, saying reforming the federal government's approach to leasing public land to oil and gas companies is long overdue. Many have also noted Wyoming has needed to diversify its revenue base for decades to make it less vulnerable to oil and gas markets or federal energy policy.
"Public lands are the backbone of Wyoming's economy and way of life," Alan Rogers, communications director for the Wyoming Outdoor Council, said in a statement. "They support all of our core industries — energy, tourism, and agriculture — and Wyoming people want a balance on their public lands that allows these special places to sustain wildlife, recreation, open space, and cultural values while also generating a financial return for taxpayers."
But to the Wyoming Outdoor Council, that balance has not been maintained for several years.
"The federal government has offered up millions of acres of public lands in Wyoming for leasing — indiscriminately offering lands with low development potential in sensitive wildlife habitat, pristine backcountry areas, and cultural and historic sites, while ignoring public input."
The U.S. Bureau of Land Management currently manages 13,270 authorized leases in Wyoming, encompassing a total acreage of 8.8 million acres.
The BLM, a branch of the Interior, auctions parcels of federal land to oil and gas companies for mineral development four times a year. The fate of Wyoming's upcoming first-quarter sale in March remains unknown.
The Powder River Basin Resource Council, a conservation organization representing landowners, also cheered the Biden administration's pursuit of a rigorous evaluation of how the federal government doles out leases for energy development.
The U.S. Government Accountability Office placed the federal government's handing of oil and gas leasing on a "high risk list" of programs needing reform and attention.
"Thousands of acres of federal subsurface resources are already leased and undeveloped, so this pause in breakneck leasing will neither harm producers with economic resources nor slow our energy economy," Bob LeResche, a board member of the Powder River Basin Resource Council, said in a statement. LeResche is also a former commissioner of natural resources for Alaska and executive director of the Alaska Energy Authority who now operates a ranch in Wyoming. "What it will do is give our nation time to thoughtfully rationalize and restructure management of our vast national energy resources to meet America's future needs of climate, restoration, multiple use, and revenues.
"World energy markets are evolving very fast, and we'll be left far behind if we continue down the same path we've been on for half a century," he continued. "This leasing moratorium will give us room to look ahead and remain competitive in a carbon-constrained economy."
As part of the newest executive order, federal agencies under Biden are also required to "eliminate fossil fuel subsidies as consistent with applicable law and identify new opportunities to spur innovation, commercialization, and deployment of clean energy technologies and infrastructure."
Economic worries
Associations representing oil and gas companies in Wyoming and around the country slammed the Biden administration's approach to cut carbon emissions by halting federal leasing to oil and gas.
"We share President Biden's goal for addressing climate change, marked by U.S. innovation and powered by American energy and skilled union workers," Mike Sommers, American Petroleum Institute president and CEO, said in a statement. "Unfortunately, today's executive action to halt leasing is a step backwards both for our nation's economic recovery and environmental progress, threatening to cost thousands of jobs and much-needed revenue while increasing emissions by slowing the transition to cleaner fuels."
The Petroleum Association of Wyoming also echoed these concerns just minutes after Biden signed the executive order.
"Today's announcement is another step in the administration's plan to eventually shut down all production of natural gas and oil on federal lands," the association said in a statement. "This misguided policy does nothing to reduce the demand or to improve environmental outcomes, but rather increases reliance on foreign sources of energy not beholden to America's environmental, labor or safety standards while increasing energy costs for consumers."
"Some are trying to argue that a lease ban is not that big of a deal," the statement continued. "We beg to differ. A ban on federal leasing could devastate Wyoming's economy and upend our way of life. Last year, oil and natural gas contributed $1.67 billion in revenues to the state including $740 million to public education, $28 million to higher education and $132 million to local governments."
Sen. Brian Boner, R-Douglas, expressed dismay over the sweeping change implemented under the new order, saying he was "deeply disturbed."
"In Wyoming and throughout the West, federal minerals are interspersed among private and state-owned minerals," he explained in a statement. "With oil and gas wells often drilling up to two miles laterally in order to be economically viable, areas with even a modest federal nexus will be affected. Additionally, in split estate situations the privately owned land overlaying federal minerals is also significantly affected. As a state legislator representing an area with significant potential for future oil and gas development and a rancher personally effected by this illegal decree, I will do my part to fight this misguided policy."
The Western Energy Alliance filed a lawsuit on Wednesday against the Biden administration, alleging the it acted illegally when pausing the issuance of federal mineral leases to oil and gas company.
Follow the latest on Wyoming's energy industry and the environment at @camillereports