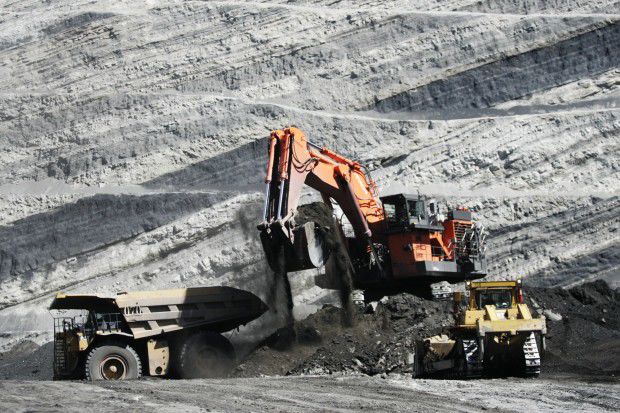 The coal firm that operates the Kemmerer mine in western Wyoming has secured $110 million from a majority of its existing creditors to help ease financial pressure.
The cash injection will buy Westmoreland Coal Co. time to plan for long-term viability ahead of a likely bankruptcy filing, some experts said Tuesday.
"To me, this looks like the last step before a major debt write-off and/or bankruptcy filing," said Clark Williams-Derry, director of energy finance for the Sightline Institute, a think tank promoting a transition away from fossil fuels.
The Colorado–based firm has coal mines across five states, including Wyoming. Coal watchers have been anticipating a bankruptcy given Westmoreland's financial straits.
Calls to the company for comment were not answered and a messaging service for the Colorado office was not receiving new messages.
You have free articles remaining.
Westmoreland faces many of the same pressures irritating the coal sector nationwide, including competition from cheap natural gas and environmental regulations that made some older coal units too expensive to keep running.
Kemmerer, for example, is facing uncertainty given that Rocky Mountain Power plans to close one of its coal-fired units at the Naughton power plant – the sole buyer of Kemmerer coal.
Wyoming Public Media reported in April that a single share in the firm had fallen by 97 percent over the year and that the company's overreliance on mines that serve a single customer, like Naughton, had decreased the coal firm's ability to adapt to a rapidly-changing coal market.
The town of Kemmerer's reliance on both the Naughton plant and the Kemmerer mine was a point of worry for lawmakers meeting Monday in Lander. As Rocky Mountain Power looks at shedding the coal side of its business for customers on the West Coast, coal communities like Wyoming face an unknown threat. The utility is also closing older units rather than investing money to meet environmental standards, a problem looming for one of Naughton coal units and the Kemmerer mine.
Westmoreland put out a statement Tuesday saying the new financing would simplify its capital structure and pay off the San Juan loan – about $120 million in debt picked up in 2016 to buy the San Juan coal mine in Arizona. Westmoreland also acquired the idle Haystack Mine outside Evanston in 2016.
Williams-Derry, of Sightline, said it would be interesting how the company's restructuring plays out. A portion of existing lenders did not go along with the new financing, he noted. Those who did will likely receive something significant out of a debt write-off or restructuring should Westmoreland file for Chapter 11. Those sitting on the sidelines are likely holding out for a better deal, he said.
"I think you may find that there are some aggressive hedge fund types holding Westmoreland debt," Williams-Derry said. "And they'll try to squeeze every dollar they can out of the "restructuring" process."
Follow energy reporter Heather Richards on Twitter @hroxaner