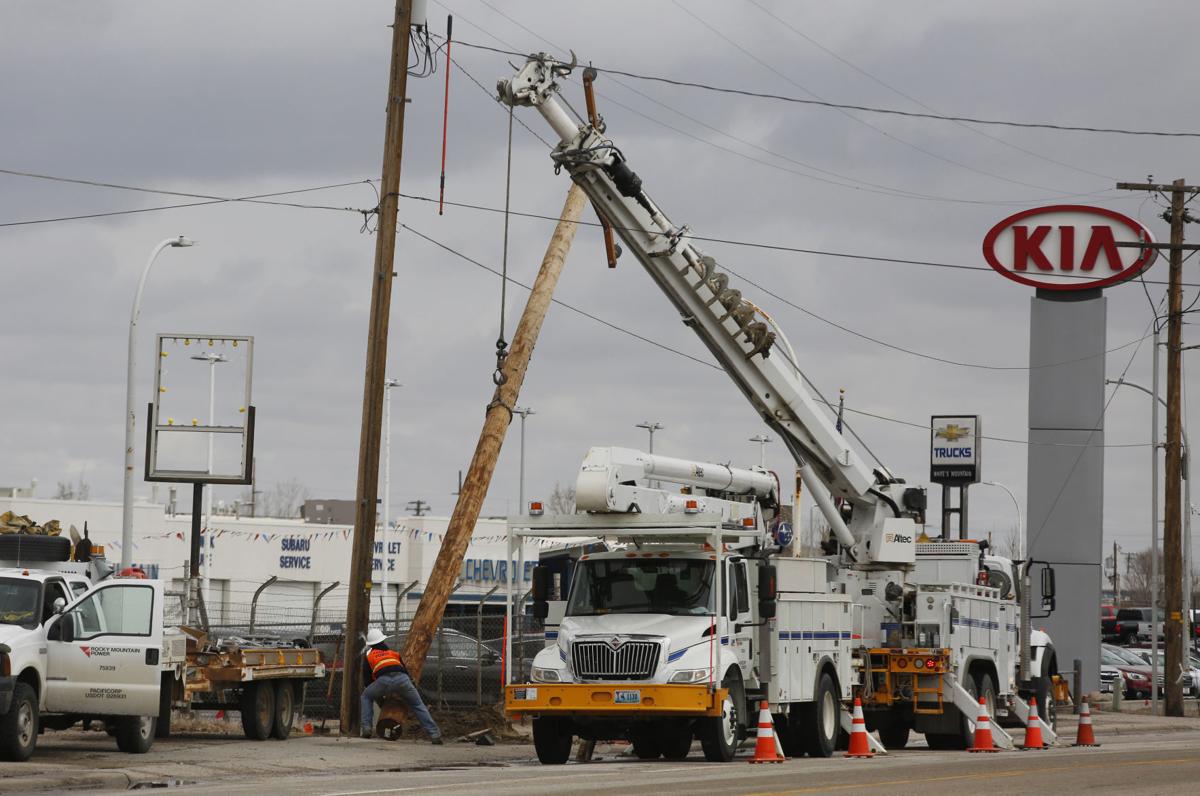 About two years ago, California established an overflow energy market to sell outside its borders — a way to siphon off pulses of renewable energy that flooded the grid when the sun shone and the wind blew.
But the bust in Wyoming and the green energy legislation in the Golden State have had a ripple effect on people's energy bills.
Part of the plan is required household accounting, lining up a year of electricity charges with the actual costs of providing it, which last year was cheaper than forecast.
But the more interesting question in Wyoming is what the rate decrease and pledge reveal about both long-term trends in electricity costs and the state's complicated relationship with its distant neighbor on the coast, home to anti-fossil-fuel policy that infuriates many in the Cowboy State.
RMP's pledge is in part a result of evolving energy economics across the West. As gas prices sloped downward, the wholesale market for energy, aided by California's large supply-and-demand market, was flourishing. The western grid can access cheap renewable energy at peak hours, which means the cost of electricity is declining, and experts say that will likely continue.
Energy superhighways
Western transmission lines used to be fairly straightforward. They were built to take power from a source to a user. They are now more like superhighways, conduits that allow energy to travel rapidly across 11 states, northern Mexico and Canada. Energy is bought, sold and moved at a rapid clip.
Onto this grid are flowing new sources of energy power, largely solar and wind. Though California is an major contributor, smaller producers are rapidly tapping in with solar and wind farms of their own in many western states and selling that energy to larger utilities.
"The availability of renewables has changed significantly how we operate our power plant fleet, all of them," said Dave Eskelsen, spokesman for Rocky Mountain Power.
California, where aggressive renewable energy standards have caused renewable generation to outpace demand at times, offers practically free electricity at peak hours, when prices are traditionally highest, said Rob Godby, Center for Energy Economics and Public Policy at the University of Wyoming.
That has a far-reaching impact on pricing in places like Wyoming.
"Rocky Mountain power is really large, so it can take advantage of spot markets for electricity, and they have a large enough system that they can wheel it across their system and sell it to somebody else or take advantage of it on their own," he said.
RMP has been adapting to that arrangement for a few years.
For example, the company keeps its two new coal-fired plants in Utah burning at night but turns down the power plants in the morning when the sun rises and the renewables begin pumping out power, particularly from California.
"You have to keep a coal plant running. If you shut it down, it takes about four hours to get started up again, so the key has been how low can we take them?" said Eskelsen, the company spokesman.
Natural gas plants are more flexible to stop and start than coal, so RMP uses the two together to guarantee energy is always at the ready in Wyoming and Utah, while still taking advantage of intermittent zero-fuel-cost energy when it's available from the West Coast.
"It's been very beneficial because what we've found out is [coal plants] are a very effective shock absorber to the system as variable energy comes on," Eskelsen said.
Cheap coal versus subsides
The price of electricity is also declining because of a system that's been in place on and off since the 1990s: the production tax credit.
Renewables receive federal subsidies, meaning wind and solar producers make a profit per megawatt hour, even when their energy is worth next to nothing. They will even pay utilities to take it, as long as the amount they pay is less than the subsidy they receive.
That system has some years left. The federal tax credits will sunset in 2020. Companies that have new wind generation online by the deadline will keep the subsidy for 10 years after the sunset.
It's a federal helping hand that fossil fuel producers, currently climbing out of a downturn, find categorically unfair. As federal help encouraged renewable growth, it further eroded fossil fuels' dominance of the electricity market. And as producers expand their renewable fleets, some of that investment falls back on consumers in the form of higher rates, they argue.
For its part, Rocky Mountain Power has said it does not expect its planned wind expansion to result in rising rates, thanks to increasing energy efficiency, the wholesale market and federal wind subsidies.
To help coal producers, lawmakers in industry states and Washington, D.C., have been pushing for deregulation on emissions that have hampered the once-robust coal industry. President Donald Trump recently signed an executive order requiring all agencies to review regulations that challenge the country's economy in a push for national energy independence. Proponents of fossil fuel companies say this will help level the playing field and give coal a chance to compete.
The staple fuel for electricity remains a cheap and reliable source of energy, providing 30 percent of electricity demand in 2016 according to the Energy Information Administration. But standards that seek to reduce carbon dioxide emissions have already been hard on the industry, and increasing expectations of emissions regulations in the future, despite a regulatory respite from the current political administration, have stilted projections of growth.
The majority of electricity is provided by fossil fuels, but renewables are taking increasing chunks of the market as a whole — about 15 percent last year.
Bottom line: Cheaper electricity
"Renewable energy is the cheapest form of new capacity on the grid, and if you just look at capacity prices going forward, they are only going to go down," said Godby, the economist.
The outlook for electricity prices in the immediate future is good, said Bryce Freeman, administrator for the Wyoming Office of the Consumer Advocate, which works for fair utility pricing.
"We are swimming in natural gas in the country, so I don't see [the price] going up precipitously anytime soon," he said. "I don't see, frankly, how wholesale prices can be much lower than they are now."
The deregulation of fossil fuels will also benefit electricity production, he said.
"Now that we are not dangling under the (sword of) Damocles with the federal government emissions regulations ... that takes some pressure off the coal price, too. It's going to be a buyers' market," he said.
And utilities like RMP are ready to buy, metaphorically speaking, allowing the company to make promises, as it did last week, not to raise rates in the short term.
"We don't have any big capital projects coming into the rate base right now, plus net power costs tend to be manageable," said Eskelsen, the company spokesman. "Wholesale prices are low and not expected to be particularly volatile. We've done a pretty good job of controlling the costs we can control, our operating and maintenance budgets ... It is a strong promise."
Follow energy reporter Heather Richards on Twitter @hroxaner