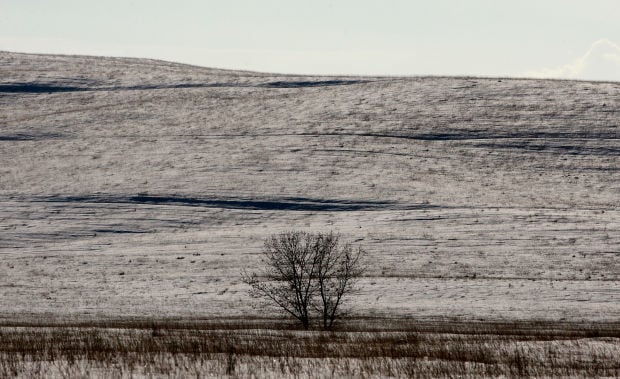 An organization representing landowners filed an appeal last week challenging the decision by Wyoming environmental regulators to grant a mining permit to a coal technology firm. The permit allows Ramaco Carbon to dig for coal at a former mine site eight miles outside Sheridan.
Last month, the Wyoming Department of Environmental Quality's director issued a mining permit, with 12 conditions, to Brook Mining Company LLC (a subsidiary of Ramaco Carbon), after years of intensive internal reviews and public debate.
But the landowner group asserts the mine permit application submitted by the coal company was deficient on multiple grounds. They allege it lacked an adequate subsidence control plan and full traffic plan for haul roads, among other requirements under the Wyoming Environmental Quality Act. The company's plans have also reported inconsistent coal production estimates, according to the appeal.
The Wyoming Department of Environmental Quality is reviewing the appeal, according to Keith Guille, a spokesman at the agency. He declined to comment further.
According to the final permit issued by the agency, Ramaco's "Brook Mine surface coal mine permit application substantially complies with Article 4 of the Wyoming Environmental Quality Act and all other applicable State and Federal Laws and regulations."
Ramaco Carbon stood by the integrity of its permit application and the Wyoming regulators' decision. "That permit has been subject to eight years of both independent review and now two separate approvals by State regulators," Ramaco Carbon CEO Randall Atkins said in a statement. "PRBRC is the only party which has appealed. As is the design of the PRBRC, this of course creates another round of time consuming and costly review which costs Wyoming taxpayers and delays creation of Wyoming jobs."
The company bought mineral rights at a former coal site for the purpose of complementing its forthcoming research buildings nearby, and forming a vertically integrated facility. Ramaco Carbon aims to use the coal produced at the proposed Brook Mine for commercial uses beyond electricity generation, like carbon fiber and graphene.
"With responsible mining, innovative research and new forms of manufacture of advanced forms of carbon products and material, Ramaco looks to keep Wyoming's youth in Wyoming, and with hopefully better jobs and a better future," Atkins continued. "That way we can all jointly build the New Carbon Valley (SM) for coal, which we call 'carbon ore,' right here in Sheridan."
The dream is for carbon fiber's demand and price point to hit a sweet spot and catapult coal back into the running. The company hopes to pivot away from thermal coal generation to carbon materials in light of the downturn in the thermal coal market, according to Atkins.
"Ramaco has already invested millions over almost ten years to attempt to create new local energy, research and manufacturing jobs in new fields," Atkins added in his statement. "We are interested in building a new future for both coal and for Wyoming. In contrast, PRBRC is only interested in their own agenda of raising money for themselves, stopping the progress of any new form of fossil fuel project and in ultimately costing Wyoming taxpayers jobs and revenue."
The company anticipates employing 30 to 40 employees when the coal mine initially opens.
"This is an opportunity for families to stay together," said Jeff Barron, a consulting engineer with WWC Engineering who has worked closely with Ramaco on preparing and revising the Brook Mine permit. "Granted, as an engineer, I would like to see technical, STEM jobs grow in our county, and there's not a lot of them. There's a few, but we would like to see more of that. Ramaco is trying to develop something, and they're trying to innovate and be forward thinking. They're taking a big risk, but if it does (come to fruition) there are so many winners in this game."Ramaco's permit application underwent a dozen technical reviews by state environmental regulators after the company originally submitted it in 2014. The Environmental Quality Council rejected the permit application in 2017, but a federal court judge remanded the decision, sending the permit application back to Director Todd Parfaitt in the Department of Environmental Quality.
Along the way, the Brook Mine has faced strong opposition from nearby landowners in the surrounding Tongue River Valley. A number of residents have concerns the company has insufficiently assessed the potential consequences the mining could have on the environment, recreational opportunities and public safety in the Tongue River Valley, according to interviews conducted with nearby landowners.
Across the road from the proposed mine, landowner Anton Bocek cares for his family's 100-year-old farm.
When he was growing up, Bocek said he and his sister, Joan Tellez, would help load the hay and tend to the chickens and cows. When they weren't lending a hand, they would "fish and float" in the river, run in the wide open pastures and bring their buckets along to collect tadpoles in the creek. Bocek worries for the future of his family's land. He is worried Ramaco Carbon's mining activity, like blasting, could damage his 500-foot well, a source of water he relies on every day.
More than anything, he wants the area to stay as it is: "We would like to see this whole valley stay agriculture really," he said. "Instead of having a bunch of industry around, we enjoy the simple farm and ag life."
Bocek clarified that he wasn't against coal mining.
"I worked in a coal mine, my father worked there and my grandfather," he shared. "I still use coal (for) the farm. It's not that we're against it. It's just that we would like to have some truth around here, and know what is really up with the mine."
Bocek said he's worried about the company's history of mining in West Virginia, and he wishes he received more communication from the company on how the mining could affect him. Ramaco resolved an outstanding civil penalty from an operation in West Virginia on July 6, according to the Wyoming Department of Environmental Quality's compliance review. It had no violations in the Applicant Violator System when the permit was issued on July 7.
Several public officials in and around Sheridan have expressed support for the company and its plans for Sheridan.
Project proponents cite the positive economic growth the research and mining could spur for Sheridan County and the state, especially at a time when demand for thermal coal has dramatically declined and local economies are hurting from the COVID-19 pandemic.
"I don't understand how a company that meets every requirement can get slapped down multiple times," Norm Anderson, the mayor of Dayton, told the Star-Tribune. "The area in question has a long history of mining and it is the perfect location, and with not wanting to use the coal for fuel but using it for carbon fiber 3-D printing is a clean industry that also will create jobs. Ramaco has put a lot effort into the permitting process and have proven they are reputable and followed all the rules. I really think that those opposed need to admit defeat."
Ramaco Carbon plans to open its coal technology research facility, called iCAM (Innovation of Carbon Advanced Materials) this fall. The company is working in collaboration with National Energy Technology Laboratory and Oak Ridge National Laboratory to discover new uses for coal beyond electricity generation, like carbon fiber, graphene and even life science products.
"Ramaco has shown they are fully compliant with the Department of Environmental Quality's rules and that they are absolutely worthy (of this permit)," Rep. Cyrus Western, R-Sheridan said in a phone interview. "DEQ made the right call in granting the permit."
"At the end of the day, I think we have to ask ourselves: Are we pro-business or not?" Western added. "This is an opportunity to create a lot of jobs in Sheridan and we should let them try."
The business news you need
With a weekly newsletter looking back at local history.