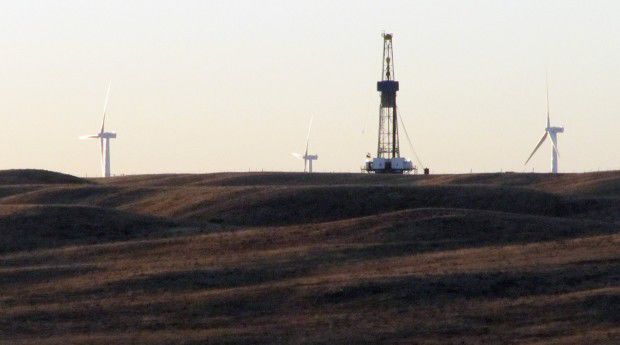 A potential drilling project could bring oil and gas development to a highly populated area just northeast of Cheyenne.
But the proposal has Laramie County landowners worried. Several have protested Samson Energy's plans, citing health and safety concerns.
"Unlike most drilling spacing units, this one is in the eastern part of Cheyenne in an area that is highly populated and has a lot of rural subdivisions," said Alex Bowler, president of the Cheyenne Area Landowners Coalition. "It's a little bit on the unique side."
According to the coalition, over 1,000 homes, three churches, one elementary school and several businesses fall within the drilling spacing units.
The operator, Samson Energy, received leases for drilling spacing units in Laramie County in 2015. Last year, it drilled 11 wells at three different well pad locations, tapping into the Codell and Niobrara formations in Wyoming's mineral-rich DJ Basin.
The company hopes to develop 10 to 15 additional wells some time next year, after its application to drill receives approval from the Wyoming Oil and Gas Conservation Commission.
Part of the leased drilling and spacing unit bleed into Cheyenne's city boundaries.
You have free articles remaining.
But drilling would not take up the entirety of the 12-square-mile drilling spacing units, according to Steve Trujillo, a spokesman for Samson. The company also intends to keep drilling at least 1,000 feet away from any residents or occupied buildings. (Wyoming regulations require operators to drill at least 500 feet away from existing structures).
"We've been around houses and we know how to operate our production and drilling operations safely, efficiently and environmentally friendly," Trujillo told the Star-Tribune. "We take a lot of pride in that. We've always gone above and beyond."
But Bowler and other landowners don't want drilling within 1,000 feet of an occupied building within the subdivision boundaries.
They point to a study published this year by scientists at Colorado State University that assessed the health risks oil and gas operations may pose to nearby residents.
"The study does not determine any elevated risk of chronic health impacts from any single substance at 500 feet or greater," according to the Colorado Department of Public Health and Environment. "The study shows slightly elevated risk of blood and nervous system effects from multiple chemicals at 500 ft but not at 2000 ft."
Though the study indicated certain health impacts could hypothetically occur within close range of oil and gas operations, ultimately the modeling study found residents were likely not at risk of chemical exposure above guideline levels.
Samson Energy stands by its safety standards, which it contends often go above and beyond the state's requirements.
"We would never want to drill in an unsafe location," Trujillo said. "We would certainly not want to create any issues for nearby residents, and the community we live and work in as well."
The company plans to hold a public outreach meeting in Cheyenne in January.